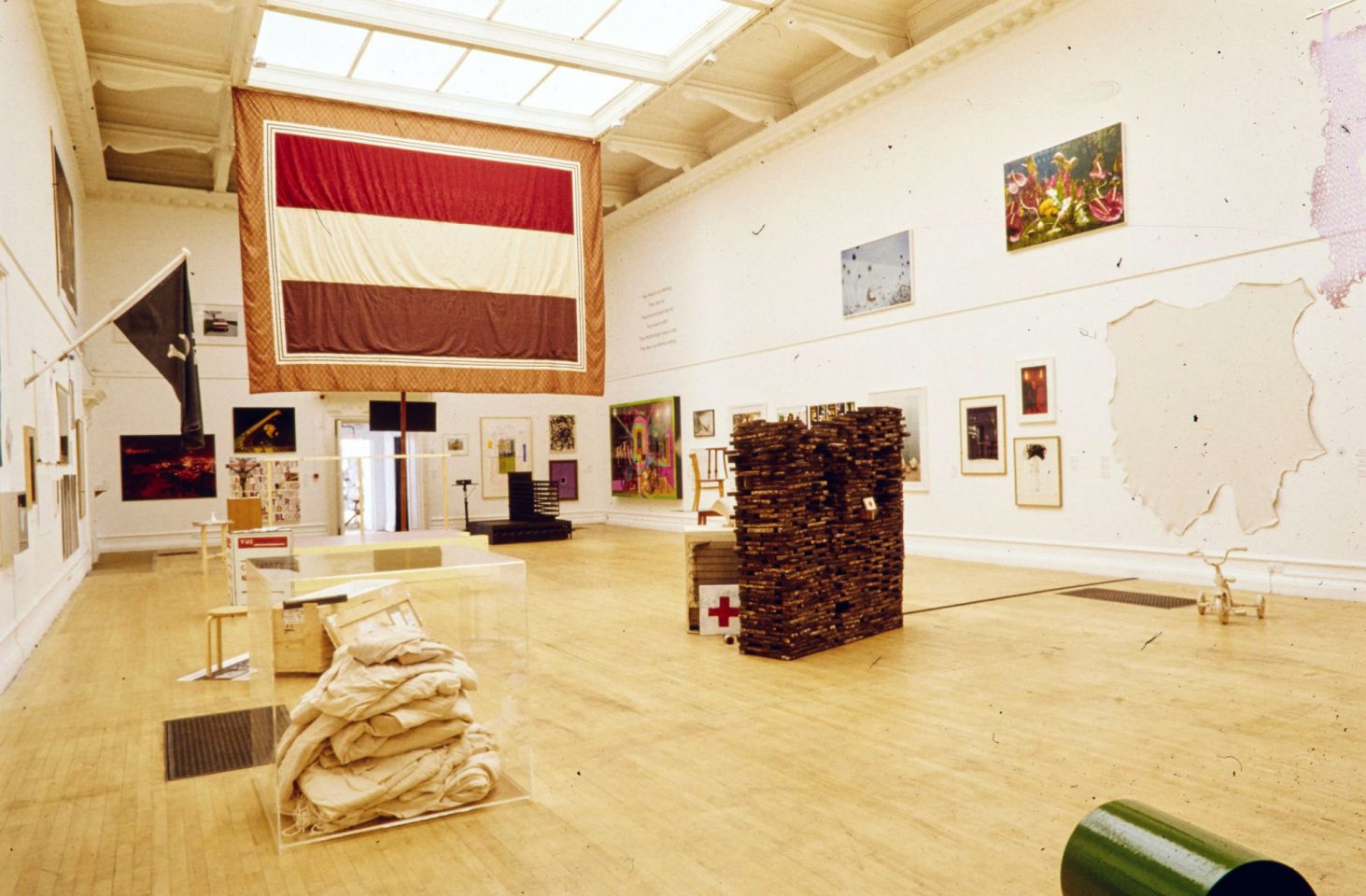 In 2003, the South London Gallery will separate from Southwark Council, of which it has been a part for nearly a century, and will operate as an independent charitable trust. To celebrate this newly independent status, more than one hundred artists, from Barbara Kruger and Tracey Emin to Keith Tyson and Lawrence Weiner, are contributing work to 'Independence', arguably the most ambitious and experimental exhibition ever staged at the South London Gallery.
Taking the subject of independence as a point of departure, local, national and international artists who have been involved in the gallery over the past ten years have been invited to exhibit works relevant to the theme. Ranging from the political to the personal, issues raised in this exhibition span international, national and individual liberty, cultural and sexual identity, individuality, democracy and freedom of expression.
In the recently vacated gallery offices, a project by Christian Boltanski opens the exhibition out to any artist who wishes to participate. Relying on the principle of starting a rumour, artists from all over the world have been invited to fax through a work during the show on the basis that all those received will be exhibited and then offered for sale as photocopies at £1 each. Whatever the response, the project democratises the exhibition-making process. In Marcia Farquhar's installation visitors can add their thoughts on independence to hand-written quotes from well-known speeches on the subject and Jeremy Akerman has placed a stage in the main gallery space to provide an arena for visitors to air their views.
At a time when the meaning of words like freedom, democracy, liberation and independence have taken on a new and urgent significance, a number of artists in the exhibition have chosen to show overtly political works. Gustav Metzger premiers his video work of children in Britain demonstrating in the lead up to the war in Iraq while Nathan Coley's model of the Manchester branch of Marks and Spencers, which was bombed by the IRA in 1996, is a reminder of conflicts closer to home. Faisal Abdu' Allah's work focuses on images of racial stereotyping and cultural identity whilst Yinka Shonibare's work looks at the history of imperialism. Mark Wallinger's Union Flag in green, white and gold directly confronts the situation in Ireland and American artist, Barbara Kruger has made a new billboard especially for the show.
More personal reflections on independence include AK Dolven's photograph of a lone, naked woman sitting on the edge of a lake, whereas Gillian Wearing's image of a teenage girl points to a time of life when we can be at our most self-consciously independent. In different ways, the sculptures of Jacqui Poncelet and Franko B both evoke a child's first steps toward adulthood. Sexual politics are the subject of works by Michael Petry, Isaac Julien and Ann Sofi-Siden.
With such a wide range of artists giving their perspectives on Independence, this will undoubtedly be a fascinating and thought-provoking exploration of a subject that is significant to us all.
Artists
Art & Language; Faisal Abdu' Allah; Jeremy Akerman; Carlos Amorales; Fabienne Audéoud; David Austen; Artlab; Franko B; Fiona Banner; Anna Best; Zarina Bhimji; Simon Bill; Rut Blees Luxemburg; Christian Boltanski; Monica Bonvicini; Stuart Brisley; David Burrows; Marc Chaimowicz; Jake & Dinos Chapman; Maria Chevska; Adam Chodzko; Nathan Coley; Keith Coventry; Andrew Cross; Juan Cruz; Adam Dant; Mark Dean; Richard Deacon; Rod Dickinson; AK Dolven; Sokari Douglas Camp; Tracey Emin; Cosey Fanni Tutti; Marcia Farquhar; William Furlong; Twin Gabriel; Ori Gersht; Leon Golub; Antony Gormley; Ron Haselden; Mona Hatoum; Matthew Higgs; Georgie Hopton; Gary Hume; Inventory; Kurt Johannesson; Sandra Johnston; Gareth Jones; Isaac Julien; Thomas Kilpper; Barbara Kruger; La Ribot; Michael Landy; John Latham; Neil Cummings & Marysia Lewandowska; Rachel Lowe; Jeff Luke; Chad McCail; Tom McCarthy; Bruce McLean; Gustav Metzger; Jonathan Monk; Paul Morrison; Mike Nelson; Paul Noble; Derek Ogbourne; Paul O'Neill; Mimmo Paladino; Cornelia Parker; Janette Parris; Simon Periton; Michael Petry; Tom Phillips; Jacqui Poncelet; Pedro Reyes; John Russell; Yinka Shonibare; Ann-Sofi Sidén; Santiago Sierra; Ross Sinclair; Bob & Roberta Smith; Terry Smith; Simon Starling; Georgina Starr; Sarah Staton; Barbara Steveni; Jake Tilson; Milica Tomic; Gavin Turk; Keith Tyson; Bill Viola; Jessica Voorsanger; Mark Wallinger; Gillian Wearing; Lawrence Weiner; Richard Wentworth; Cathy Wilkes; Stephen Willatts; Richard Wilson; Bill Woodrow; Cerith Wyn Evans.