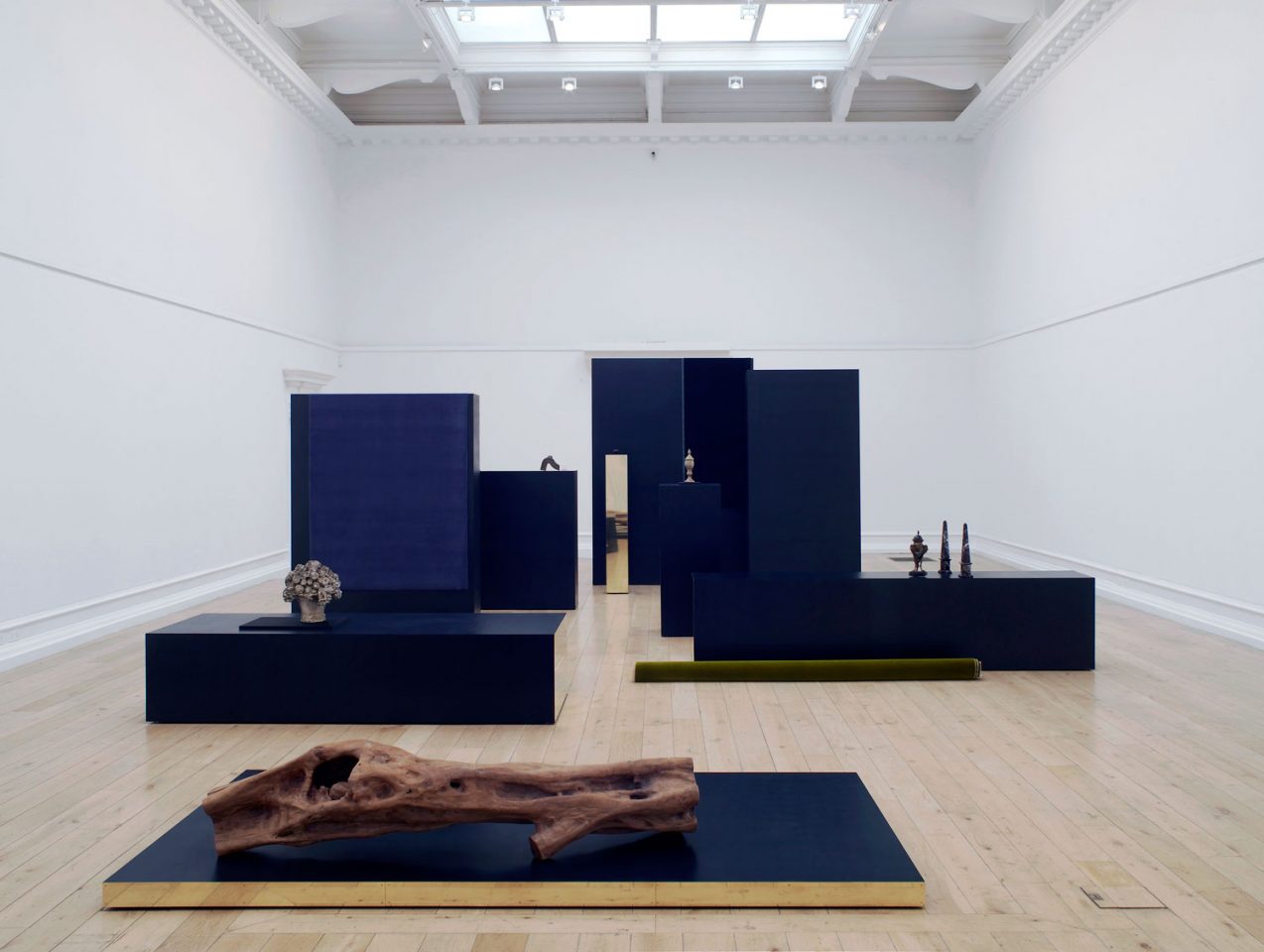 'Paysage avec poussin inspires a roaming encounter…unlike Brancusi and Serra, Cornaro organizes her objects to the principle of classical perspective: her plinths marshal the body and the eye' Andrew Witt in Artforum
'Things are not what they seem in Isabelle Cornaro's exhibition double bill' Skye Sherwin for the Guardian
The South London Gallery and Spike Island, Bristol, present a two-part solo exhibition by French artist Isabelle Cornaro. The South London Gallery (SLG) hosts an existing large-scale installation while the presentation at Spike Island focuses on new and recent work.
At the South London Gallery, Cornaro presents the sixth in the series of installations entitled Paysage avec poussin et témoins oculaires started in 2008. Each of these installations is loosely based on a classical landscape painting by the 17th-century artist Nicolas Poussin (1594–1665) created as three-dimensional interpretations using sets of pedestals and standing walls in varying dimensions to display objects in meticulous arrangements. The objects are selected by Cornaro for their specific form or decoration. Grouping them by size, lines of perspective and for their light and shadow effects, she puts into question their aesthetic and cultural value. The clearly structured composition reinforces the illusion of perspective and visitors can experience the work from different viewpoints whilst also being able to walk between the pedestals, encountering fragments of Cornaro's constructed 'landscape'.
To accompany this work in the SLG's main space, Cornaro's short films Figures (2011) and Premier rêve d'Oskar Fischinger (2008) will be shown in the first-floor galleries.
Cornaro works with painting, sculpture, film and installation, to explore the influence of history and culture on our perception of reality. As a trained art historian specialising in 16th century European Mannerism, her visual language draws on a wide array of references from the Baroque to modernist abstraction. In her work, Cornaro uses found objects imbued with symbolic potential or emotional value, which she presents in different types of display and media to reveal the subtle shifts of meaning provoked by processes of reproduction and translation.
Borrowed from domestic, decorative or functional contexts, these artefacts are often linked to Western culture as a means of power, their combination and arrangement in the artist's work invites spectators to question the relationships between systems of representation and our understanding of the world.
Artist
Isabelle Cornaro (born 1974, France) lives and works in Paris and Zurich. She studied at the École du Louvre and at the École Nationale Supérieure des Beaux-Arts de Paris, from which she graduated in 1996 and 2002 respectively.
She has exhibited extensively across France as well as internationally, including solo exhibitions at M – Museum (cur. Valerie Verhack), Leuven; Hannah Hoffman Gallery, Los Angeles; Balice Hertling, Paris; Kunsthalle Bern (cur. Fabrice Stroun), Bern; Le Magasin (cur. Yves Aupetitallot), Grenoble; Frac Aquitaine (cur. Claire Jacquet), Bordeaux; Collège des Bernardins (cur. Jean de Loisy and Alain Berland), Paris; and 1m3 (cur. Jeanne Graff), Lausanne.
Recent group exhibitions include Musée d'Art Moderne de la Ville de Paris, Paris; Palazzo Cavour, Turin; Public Fiction, Los Angeles; Palais des Beaux-Arts, Paris; Palais de Tokyo, Paris; Mercer Union, Toronto; Fondazione Sandretto Re Rebaudengo, Turin; and SculptureCenter, New-York. Her work can be found in a number of collections including those of Centre Pompidou, Paris; Fonds National d'Art Contemporain, Paris; Musée d'Art Moderne de la Ville de Paris, Paris; Fonds Régional d'Art Contemporain Île-de-France, Paris; and Fonds Régional d'Art Contemporain Aquitaine, Bordeaux.