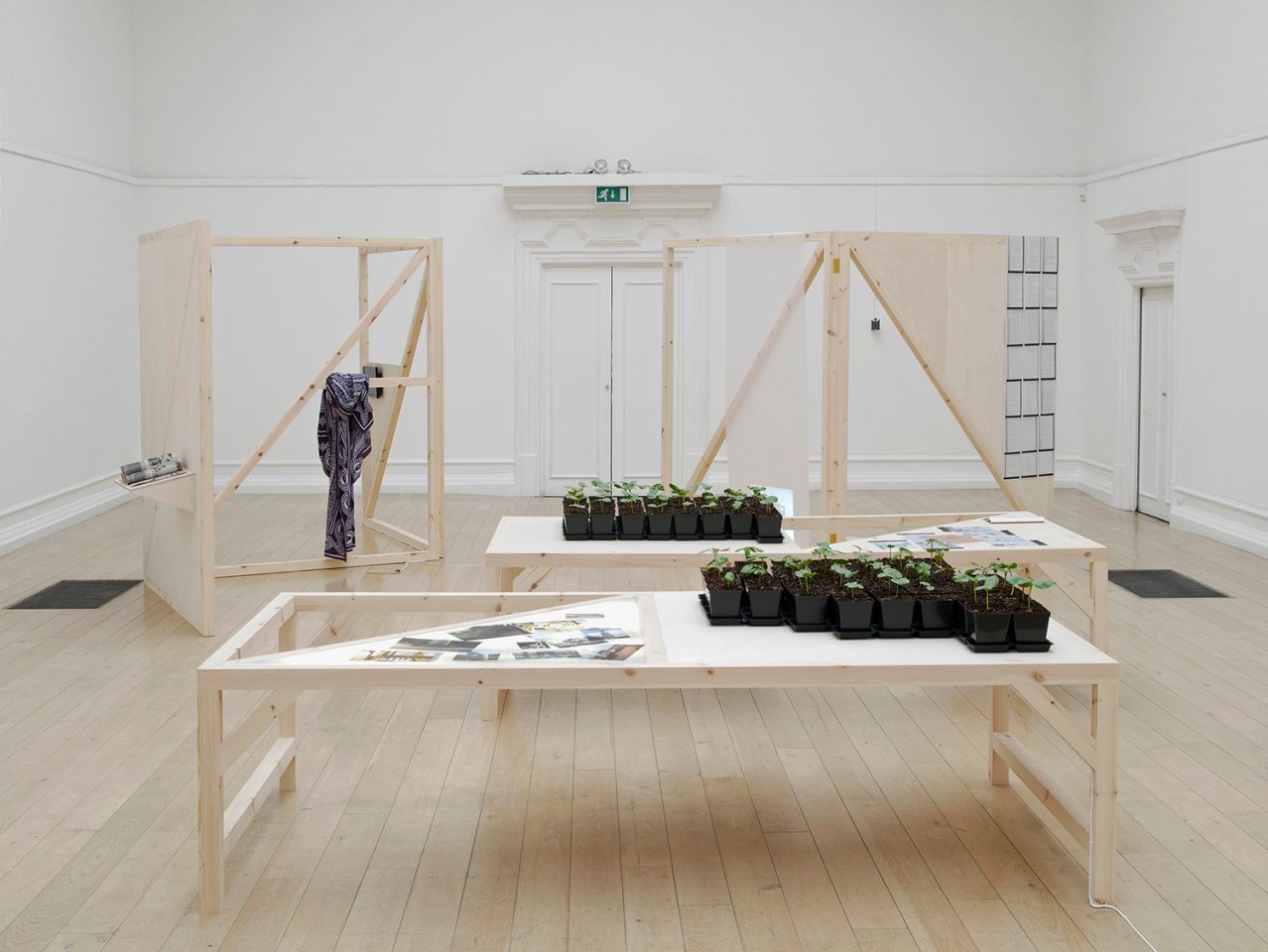 What we identify as history is shaped by a mixture of elements, frequently less bound to sanctioned facts than to other more intangible belief systems. This inquiry stands at the core of the work of Canadian artist Kapwani Kiwanga whose practice interweaves a research-based investigation influenced by her earlier training in social sciences, with a more subjective and fictional observation of culture.
For her first UK solo exhibition, Kiwanga continues her research into the legacy of the 1905-1907 Maji Maji uprising against German colonial rule in what was then Tanganyika, German East Africa. According to oral history, the rebellion was fuelled by the prophecies of the spiritual medium Kinjiketile, who galvanised the Maji Maji fighters against the colonial rulers with his belief in a sacred water, which would make anyone who consumed it invincible to the German bullets. Kiwanga uses this event, and its adaptation in folklore and popular culture, as a starting point from which to trace how historical accounts linger in consciousness and weigh on a nation's identity long after their occurrence.'
Kapwani Kiwanga's versatile practice takes shape through video, sound and lecture performances. For Kinjiketile Suite, she translates her research-based practice into the exhibition space, weaving together material from various sources. These source texts are represented as recordings and performances by actors, who interpret the transcripts both in English and Swahili.
Additional ephemera and archival matter compiled in the course of Kinga's research is housed within a custom-made exhibition architecture. The exhibition also features a large collection of castor oil plants (Ricinus communis 'Zanzibarensis') which is cultivated across the gallery space and will continue to grow throughout the duration of the exhibition. According to accounts, this fast-growing species, native to Tanzania was one of the secret ingredients that made up the sacred water that Kinjiketile distributed to his followers.
Interspersed throughout the exhibition space is a sequence of short audio vignettes delivered by Kiwanga herself. The narration offers a subjective and personal entry point to the story of the Maji Maji uprising, and functions as a fragmented guide through the show.
Biography
Kapwani Kiwanga (b. 1978  Hamilton, Canada. Lives Paris, France) studied Anthropology and Comparative Religions at McGill University, Canada. She has been artist-in-residence at École Nationale supérieure des Beaux-Arts, Paris (France); Le Fresnoy: National Contemporary Art Studio (France); MU Foundation, Eindhoven (Netherlands); Le Manège, Dakar, Senegal.
Her film and video works have been nominated for two BAFTAs and have received awards at international film festivals. She has exhibited internationally including at Centre Pompidou, Paris, France; Foundation Ricard, Paris, France; Glasgow Centre of Contemporary Art; Paris Photo; Bienal Internacional de Arte Contemporáneo de América del Sur; and the Art Catalyst, London.
Recent and upcoming exhibitions include Jeu de Paume, Paris; Berlin Ethnographic Museum, The Swedish Contemporary Art Foundation, Galerie Marian Goodman, Paris; Fondation Ricard, Paris, Salt, Istanbul, Irish Museum of Modern Art, Tiwani Contemporary, London, Tanja Wagner, Berlin.