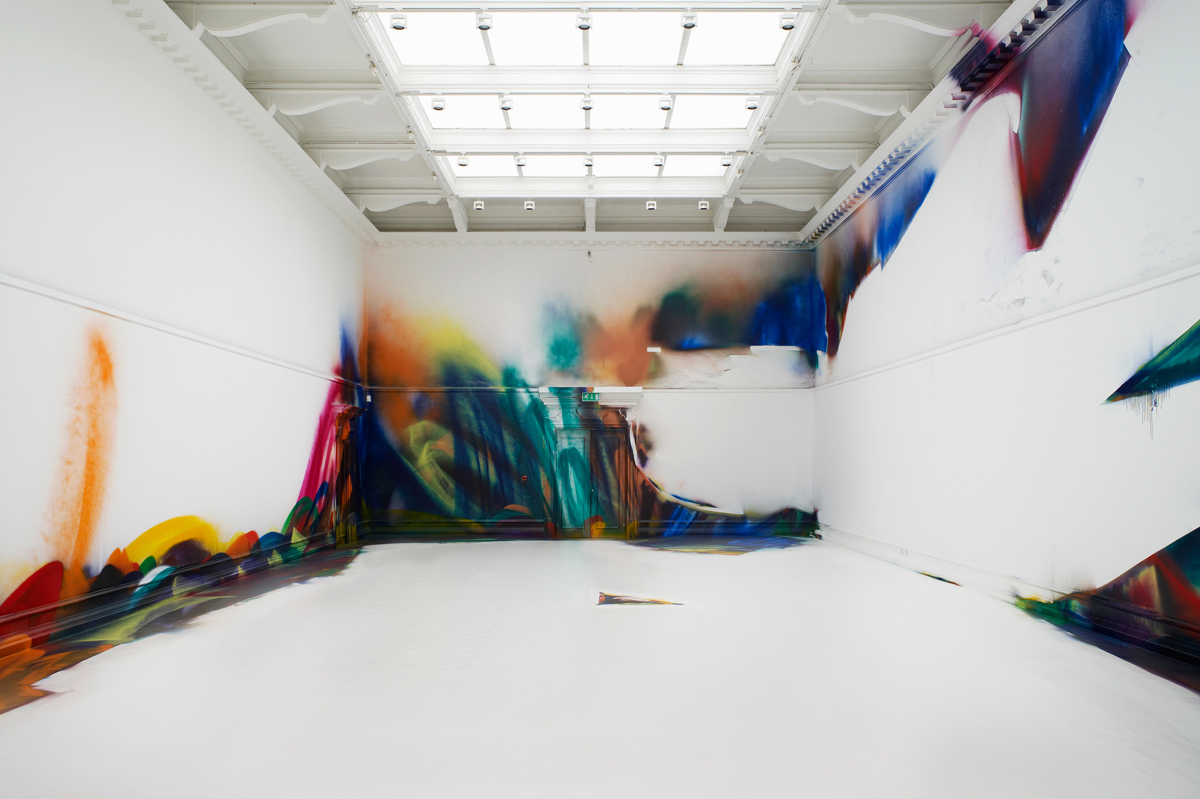 Free exhibition
Main & First Floor Galleries
Not only is it an effective takeover of the environment, it torpedoes, one by one, the assumed limits of painting.
For her first institutional solo exhibition in London, Katharina Grosse presents a new work, This Drove my Mother up the Wall, painted in situ at the South London Gallery (SLG).
Grosse's large scale and site-specific works engulf both interior and exterior spaces, unhindered by the traditional boundaries of the pictorial field.
In the main exhibition space, Grosse has made the void the dramatic centre of her project, masking the floor with a large foam stencil, then painting over it and the surrounding walls. Once she removes the stencil, a bright, white area of floor is revealed, untouched by the veils of colour and broad, propulsive marks spreading to all sides. This filtering technique is also evident in Grosse's recent canvas works, where stencils are placed over areas of the canvas at various stages of the painting process, resulting in chromatic layers that record her thoughts and actions.
Screening in the first-floor galleries are two documentary films Grosse has selected, intended to frame her creative practice and research interests. In the short documentary from the series Women Artists (2016) written and directed by Claudia Müller, Grosse curates a fantasy exhibition by ten other female artists and discusses her selection of artists and artworks, and the relationship between their practices.
The second documentary film is The Gleaners and I (2000), by Belgian director Agnès Varda, a source of inspiration for Grosse's installation that deals with the marginal, the residual, and the invisible. Filming and narrating the film herself, Varda travelled around France, profiling gleaners, from those who follow the country harvests through to urban scavengers, and an artist who finds objects and transforms them into sculpture, and Varda herself, who ponders the gleaning nature of digital filmmaking.
BIOGRAPHY
Grosse was born in 1961 in Freiburg, Germany, and now lives and works in Berlin. Her work has been featured in international solo and group exhibitions, as well as major arts projects and biennales. Grosse's most recent site-specific installations include Rockaway! for MoMA PS1's "Rockaway!" program (2016) and Untitled Trumpet for the 56th Biennale di Venezia (2015). Notable solo exhibitions include "Constructions à cru," Palais de Tokyo, Paris (2005); "Atoms Outside Eggs," Serralves, Museu de Arte Contemporânea, Porto (2007); "Hello Little Butterfly I Love You What's Your Name," ARKEN—Museum for Moderne Kunst, Copenhagen (2009); "Two younger women come in and pull out a table," De Pont Museum of Contemporary Art, The Netherlands; "WUNDERBLOCK," Nasher Sculpture Center, Dallas both (2013); "yes no why later," Garage Museum of Contemporary Art, Moscow (2015); and Museum Frieder Burda, Germany (2016).
DURATION OF THE VIDEO WORKS
The Gleaners and I
A film by Agnès Varda
1 hour 18 mins
Screenings daily at 12.30pm and 4pm
Additional screening every Wednesday and the last Friday of the month at 7pm
Women Artists: Katharina Grosse
Written and Directed by Claudia Müller
Featuring artists Isa Genzen, Emily Kame Kngwarreye, Maria Lassnig, Judy Millar, Pamela Rosenkranz, Georgiana Houghton, Wangcehi Mutu, Valie Export, Liza Dieckwisch and Camille Henrot.
26 mins
Screenings daily on a continuous loop