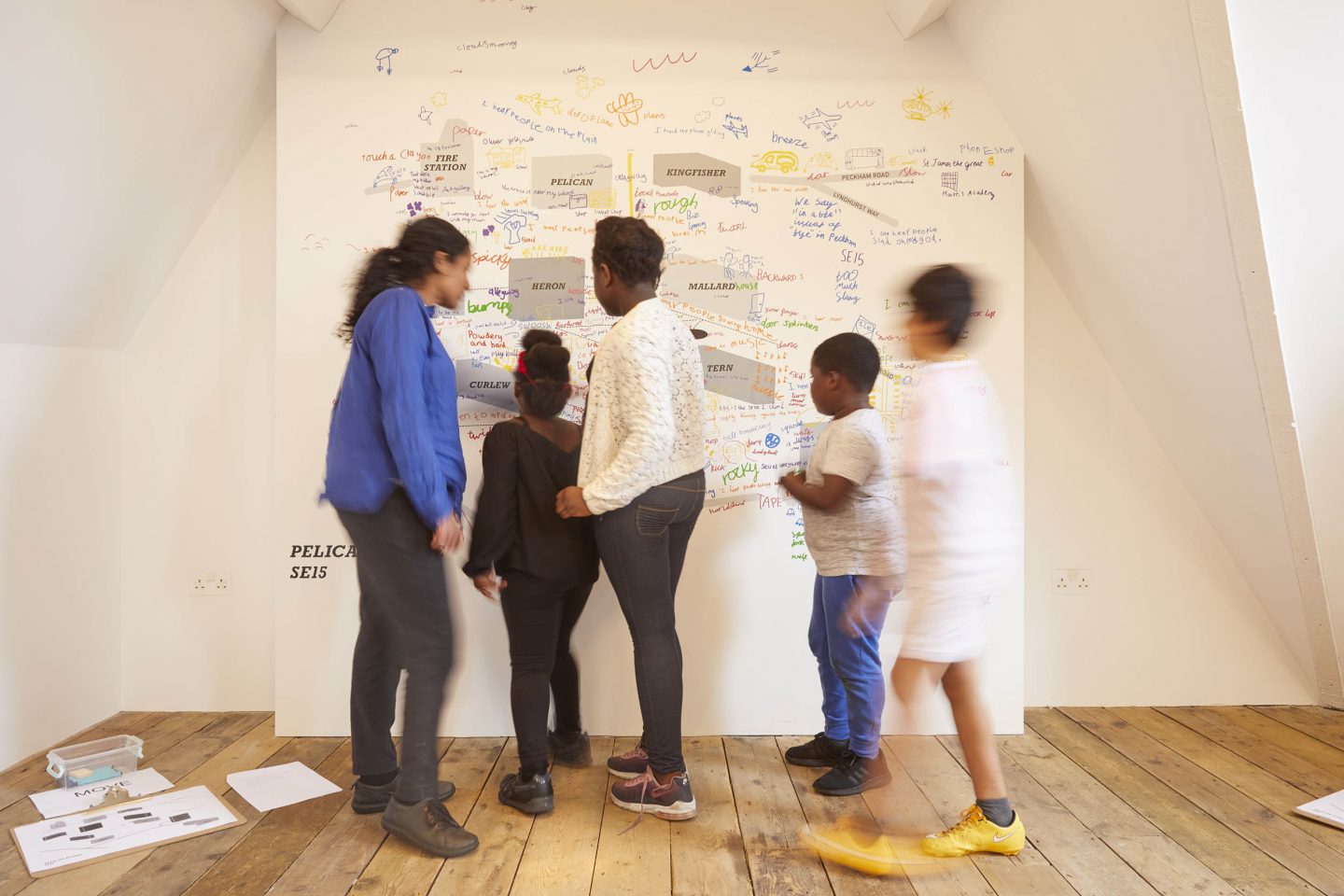 Free exhibition
Studio, Fire Station
During summer 2019, SLG hosted Sydney-based artist Keg de Souza for a five-week residency across the SLG Fire Station and neighbouring Pelican Estate, in a joint commission for its Open Plan and Evidence of Us programmes.
Convivial City included 11 making and mapping workshops with local children and their families using urban geography and active citizenship strategies to articulate their experiences of life on Pelican Estate through observation, touch, listening and movement. These culminated in a series of temporary sculptural interventions on the estate – a periscope, touch boxes, listening booths and demarcated desire lines – and a large-scale map illustrating the children's local knowledge in the Fire Station Studio.
The project revealed the children's deeply personal understandings of where they lived, including ways they moved around the estate, out-of-bounds areas, playground preferences, the prevalence of noise pollution from passing planes and cars, and nuanced linguistic differences between children living on Pelican and other parts of Peckham. Drawing inspiration from colour theory and the 'Reggio Emilia' early years pedagogical approach, Convivial City supported child-led learning, and encouraged children to articulate their daily experiences, perceptions and perspectives using a multitude of physical, playful and creative languages.
ABOUT THE ARTIST
Keg de Souza is an Australian artist working with mediums such as inflatable and temporary architecture, food, film and mapping projects to explore the politics of space. Keg's investigation of social and spatial environments is influenced by her formal training in architecture and experiences of radical spaces through squatting and organising. Keg creates site and situation specific projects with people, with an emphasis on knowledge exchange. Keg is a member of various collaborative groups, such as SquatSpace Artist Collective and is represented by Booklyn Artist Alliance, NY for her artist's books and zines, which she has been self-publishing for over 15 years.
Recent exhibitions include; Common Knowledge and Learning Curves, Artspace, Sydney; spaced3: North by Southeast, Art Gallery of Western Australia (2018); The National: New Australian Art, Art Gallery of New South Wales (2017); 20th Biennale of Sydney, and Setouchi Triennale, Japan (2016); Temporary Spaces, Edible Places: Vancouver and Preservation; both Contemporary Art Gallery, Vancouver and Temporary Spaces, Edible Places: New York, AC Institute, New York (2015); Temporality in Architecture, Food and Communities, Delfina Foundation, London; Temporary Spaces, Edible Places, Atlas Arts, Isle of Skye, Scotland and If There's Something Strange In Your Neighbourhood, Ratmakan Kampung, Yogyakarta, Indonesia (2014); 5th Auckland Triennial, 15th Jakarta Biennale and Vertical Villages at 4A Centre for Contemporary Asian Art, Sydney (2013). She also received a Creative Australia Fellowship from the Australia Council for the Arts in 2013.