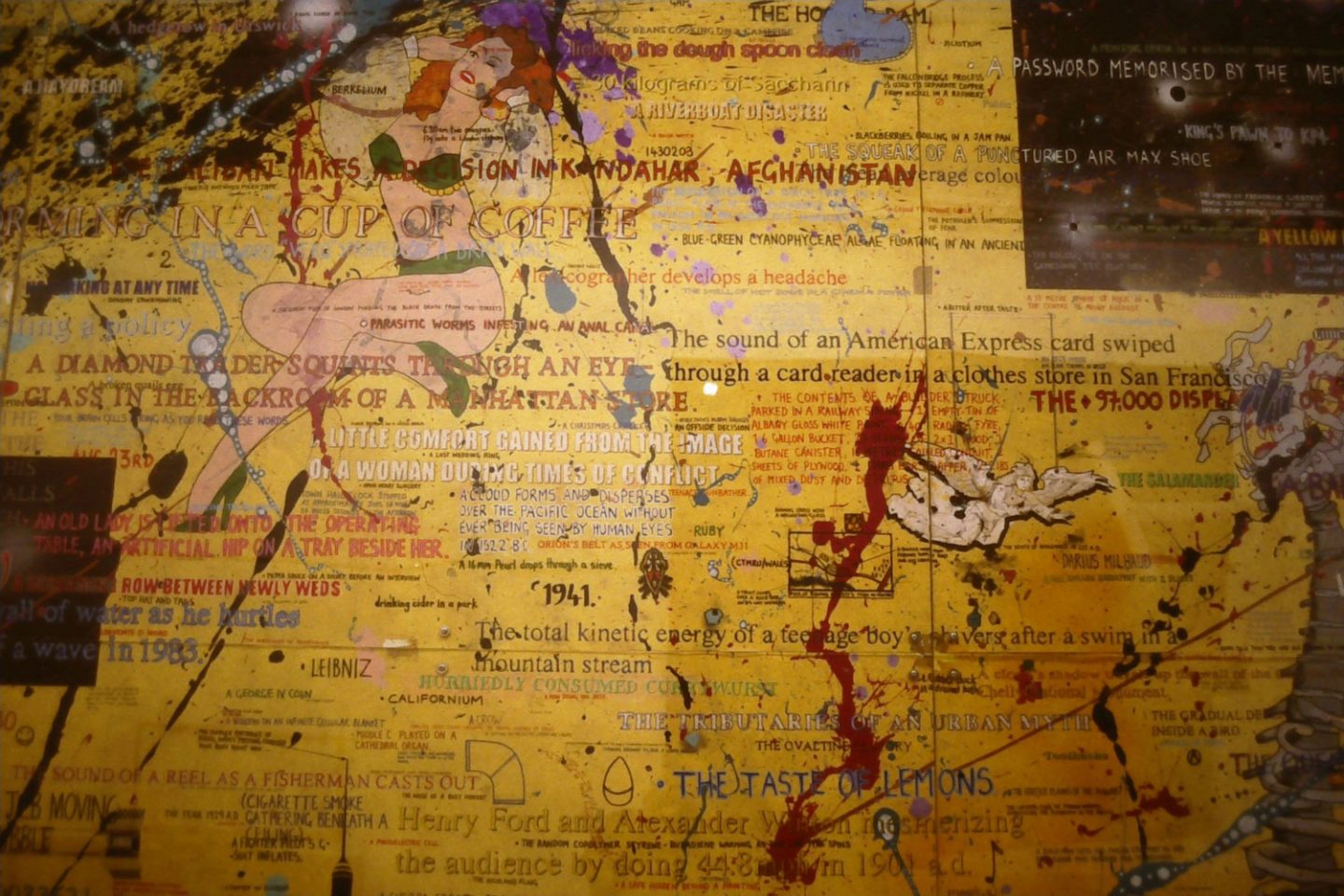 Keith Tyson is emerging as one of the most interesting artists working today. For his solo show at the South London Gallery (SLG), Tyson has made an impressive new body of work born of his on-going fascination with complex scientific concepts. The exhibition title, Supercollider, is derived from the slang name for the CERN particle accelerator in Geneva.
Tyson is an avid collector of information, nourished by a daily diet of texts and conversations about this scientific theory or that philosophical argument. Talking with the artist almost inevitably turns at one moment or another to his latest line of enquiry, but it isn't a simple pursuit of knowledge which drives him. It is rather a desire to experiment, to use information to create extraordinary drawings, objects and systems which express something about our very existence. The works in Supercollider are visual manifestations of the artist's unique way of navigating the information-rich world we inhabit.
A giant glass sphere, two metres in diameter, gradually, almost imperceptibly changes colour, from blue to violet to red and back again as its heat sensitive surface reacts to heating and cooling elements inside, competing to impact on the pea-sized central core from which the work takes its name, A Tiny Bubble of Complexity. Field of Heaven Long Shot Magnet is a motorised model which makes real pieces of planets and meteorites, including a chunk of the moon, rotate around each other in an orbital arrangement which would never occur naturally.
In Tyson's world, probability provides an endless source of inspiration. A Night in a Billion is an enormous, twelve-part drawing of stars. There are 460,000,000 ways of putting the twelve parts together, the chances of setting up the same configuration more than once being over a billion to one. The odds of being able to play Random Tangler No.1 the same way twice are comparably small, as this giant, beautifully crafted board game relies on mathematical knots and systems to ensure there are endlessly different ways to proceed.
The SLG is known for its striking, high-ceiling exhibition space. With three sculptures occupying the central area and the walls covered with studio drawings, some of which are so huge yet intricate that visitors will have to climb a ladder in order to view them, Supercollider promises to make impressive use of the space.
Tyson's room in the Italian Pavilion at the recent Venice Biennale received critical acclaim and he has a growing reputation in mainland Europe and America with two solo shows coming up in 2002. In 1999 he had a solo exhibition at Delfina, where he exhibited some of the results of his Artmachine Iterations, he was included in The British Art Show 5 and in Century City at Tate Modern. He is also one of the four artists representing Britain in the Sao Paolo Biennale in March 2002. An expanded version of the artist's South London Gallery exhibition will be shown at the Kunsthalle Zurich in April 2002.