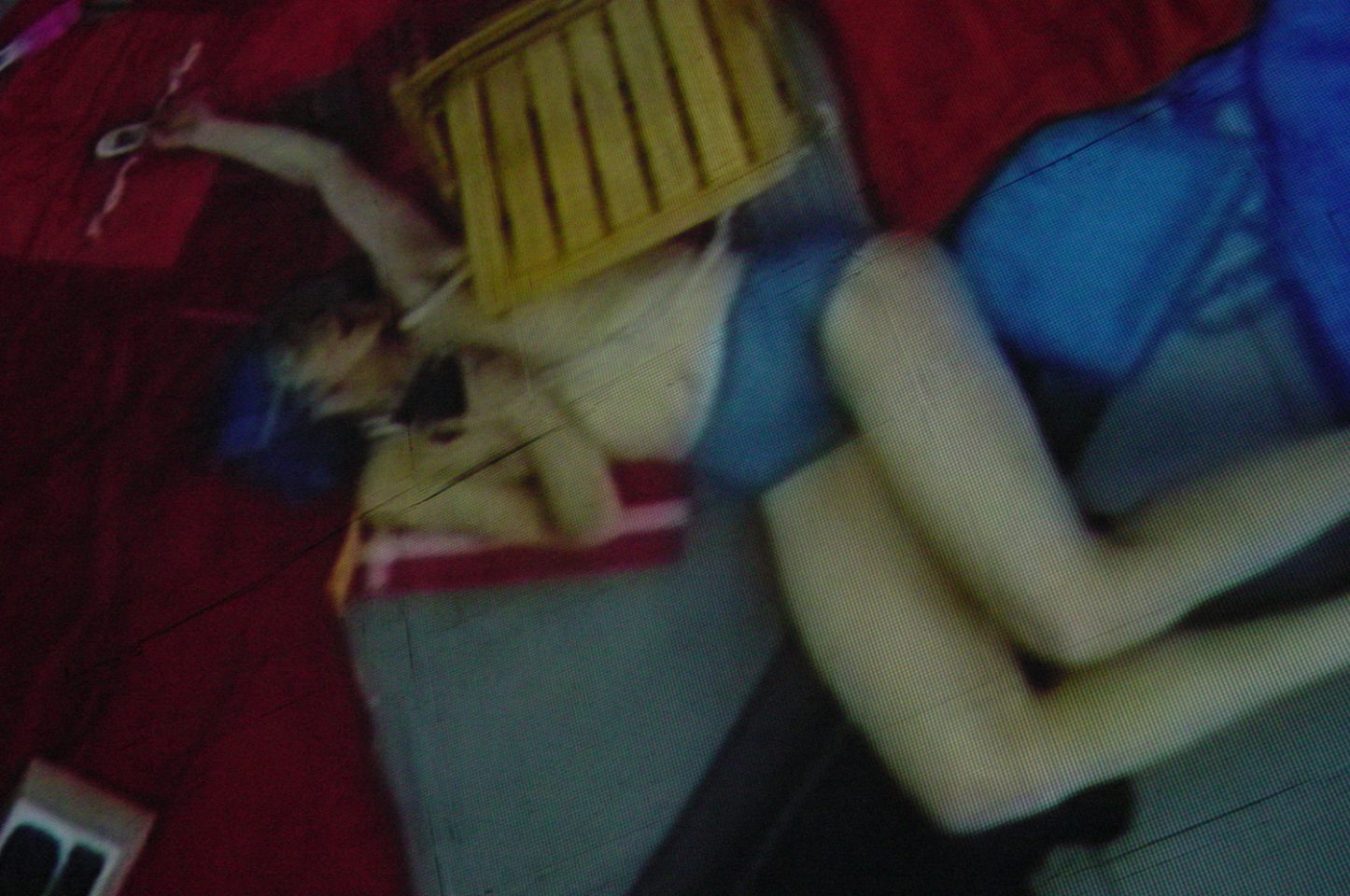 Take Off is the title for three pieces demonstrating La Ribot's unique ability to build upon a series of conceptual associations and tensions that emerge from the distinct worlds of performance, dance and visual art.
Filmed by two video cameras in one continuous 45 minute take, Despliegue, 2001, may be understood as a performance in itself. The camera positioned overhead witnesses La Ribot's careful disposition of objects, movements, texts, and postures. The second camera, held in La Ribot's hand, captures, aurally as much as visually, an intermittent world of rapid gesture.
London/Helsinki, 2003, is clandestine video of film shot from the underside of an aeroplane and filmed during take off from London and landing in Helsinki. Speed meets perspective, cabin chatter meets camera tremor and vertical runway becomes open sky in an experience of perceptual expansion.
Travelling, 2002/2003, Performed and filmed by La Ribot, choreographers Gilles Jobin and Olga Mesa, together with collaborator Eduardo Bonito, four monitors are used to reinvent dance from the bodily perspective of each artist. Vision is motivated by the movement of the camera in relation to the motion of bodies in space. The camera becomes a limb. Travelling is performed to the entracte from Bizet's Carmen.
Has there ever been such a warmly deadpan or self-mocking, enterprising performer as La Ribot? Donald Hutera (The Times)
La Ribot's metaphors are clever as well as enigmatic, throwing new light upon the connection between production and perception in art. Gerald Siegmund (Frankfurter Allgemeine Zeitung)
An Artsadmin project (London). Produced by La Ribot and 36 Gazelles (London) with the support of Arts Council England, Ministerio de Asuntos Exteriores (Spain) and the Spanish Embassy (London)
The exhibition at the South London Gallery coincides with La Ribot's presentation of Panoramix, her complete Distinguished Pieces series as part of Live Culture at Tate Modern, curated by the Live Art Development Agency, from 27 – 30 March 2003.
BIOGRAPHY
La Ribot studied modern, contemporary and classical dance in Madrid, Cannes, Cologne and New York, and has been creating her own pieces since 1985. For the last decade, she has created an exacting yet humorous vocabulary of geometric compression through her renowned performance series Distinguished Pieces. La Ribot's interest in the everyday functionality of video has led to the construction of actions filmed and experienced from the perspective of the body in motion. Consequently, the works presented consist of unedited, continuous takes that seek to "make time tangible".
La Ribot's choreographic and video work has been commissioned and presented at major international art galleries, theaters and performance festivals including Galeria Soledad Lorenzo Madrid, Theatre de La Ville Paris, and the South London Gallery in 2001. In 2000 she was the recipient of the Spanish National Prize for Dance.