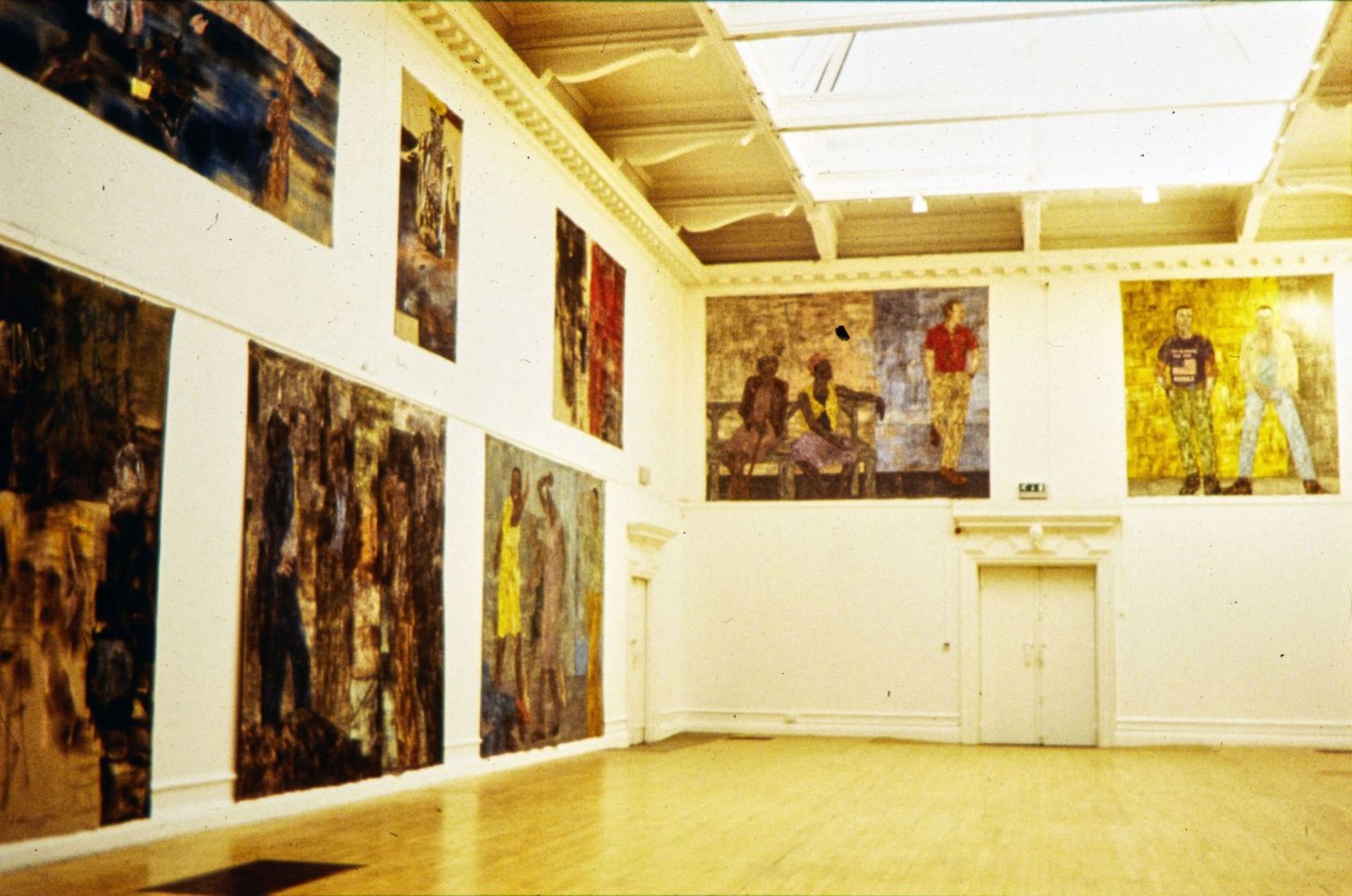 In 1954, the American artist Leon Golub (b.1922 Chicago) started painting realistic scenes of power, violence and war. In an age when Abstract Expressionism was at its peak, Golub chose to paint figuratively, portraying individuals personifying society as a whole. By means of paintings of battle, interrogation, torture, abuse and violence, Golub investigated notions of power and powerlessness and examined the human condition through the extremes of inhumanity.
His paintings made during the seventies and the eighties, for which he is best known here and on which his reputation as an artist of stature rests, are tough and commanding portrayals of the struggle between tyrannical and cruel forces and the weak. They are based on the artist's lifetime awareness of injustice and his articulation of the voice of those who are traumatised and subjugated by the vicious excesses of violent factions in society. More recently Golub's subject matter has moved from depicting the maltreatment that occurs through ruthless political bigotry to the everyday inequality and exploitation of the street. His life-size figures from the nineties refer to urban violence. These figures stand in front of blind walls on deserted streets. Their gaze is defiant, they knit their brows or stare dispassionately at their victims. Their expressions and poses are based on photographs Golub finds in magazines.
These paintings frequently include text, slogans incorporated into the paintings that are as ominous as the presence of the figures. Try Burning This One Asshole, 1991, shows two rough youths staring out from the canvas.
The challenge is clear, 'Burn this one if you're hard enough'. The T-shirt bearing the slogan was produced as a challenge to those on the political left who burned the US flag as a form of protest. A clear representation of political extremes that also captures the broader more general menace that poor urban life can muster. In a later phase, graffiti and comments are integral parts of the general image, but they also have specific significance. These texts warn, threaten and interrogate. From the mid-nineties, metaphors of death and damnation replace the iconography of violence. Golub's visual vocabulary now includes inscriptions, tattoos, skulls and animals.
The exhibition at the South London Gallery focuses on Golub's more recent paintings but includes one very tough work from the interrogation series of the early Eighties and some street life paintings from the late Eighties and early Nineties. The earliest painting on show will be Gigantomachy, 1966. This huge seminal work marks a point when Golub was moving away from the influence of primitive art and Art Brut, at a time when he was putting his political engagement into practice in a protest action against the Vietnam War. Based on a classical frieze the canvas depicts naked men engaged in a wrestling match as a universal illustration of violence.