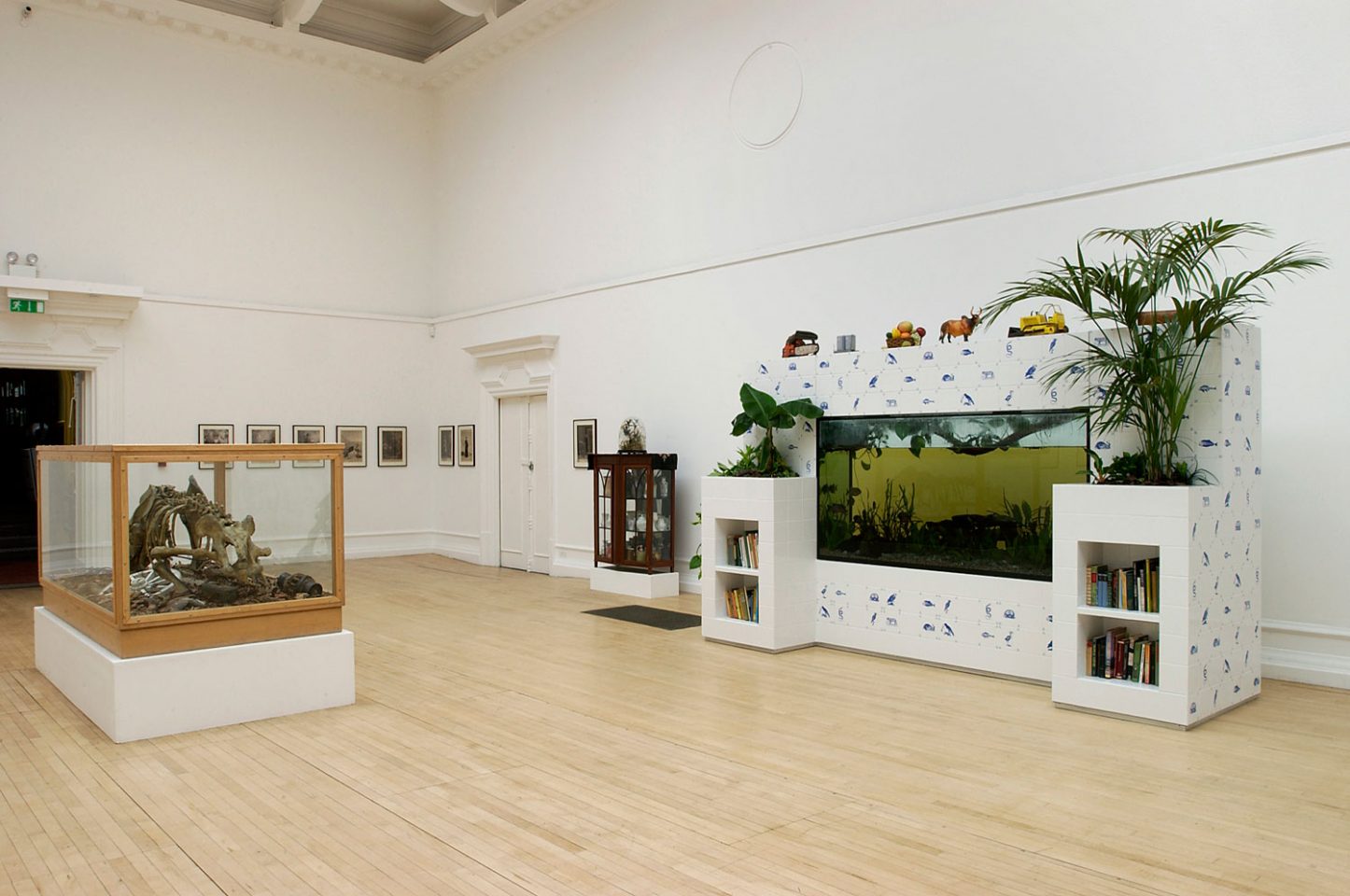 Prehistoric reptiles, gigantic mammals and live piranhas are among the curiosities used in the work of American contemporary artist, Mark Dion, in his first solo exhibition in the UK since 1997, Microcosmographia.
Dion is known for his eclectic projects both within and outside galleries. In the Gallery, huge creatures and fantastic visions from the natural world are used to explore the evolution of natural history while in the SLG's Secret Garden, Dion will make a new site-specific and evolving commission for the SLG.
The centre piece of the exhibition will be a life-sized replica of a beached prehistoric aquatic reptile, known as Ichthyosaur, with relics from the history of the natural sciences spilling from its belly. This air-breathing carnivore, whose name means 'fish-lizard' in Greek, measured up to three metres in length and moved through the water with limbs highly adapted for use as steering paddles. The discovery of the fossils of this unusual creature prompted confusion and argument between Victorian scientists over its genealogy.
The work of another 'gentleman scientist', Jean Henri Fabre, provides the inspiration for Les Necrophores-L'Enterrement. A giant mole, crawling in giant beetles, will be suspended by a noose from the Gallery ceiling. The work plays homage to this untrained nineteenth-century scholar who set out to prove the intelligence of insects through a series of bizarre experiments.
For Dion's new commission, Biological Field Unit, a team of botanists, entomologists and artists will conduct a detailed survey of plant and insect life in the SLG's Secret Garden. Working from a specially constructed research station, the team will collect, document and display their findings using traditional hand illustration and photographic methods.
In a survey of Dion's projects to date, the walls of the SLG entrance corridor and lounge space will be decorated in the style of Victorian drawing rooms with wallpaper designed by the artist and a 'salon' display of drawings, plans and photographs. These range from proposals for romantic grottoes and dystopian theme parks to illustrations of bird and plant life, and studio portraits of Victorian lady scientists played by figures from today's London art world.
Microcosmographia is the first major solo exhibition in a London gallery by Dion, whose previous successes include the Tate Thames Dig, 2000 and Rescue Archaeology, 2004 for MoMA, New York. This year Dion is involved in projects with the Bureau for the Centre for the Study of Surrealism and its Legacies at the Manchester Museum, using the Centre's archives to create a fictional office for the Surrealists, and the design and build of a bear enclosure, commissioned by Dundee Zoo and Dundee Contemporary Art.