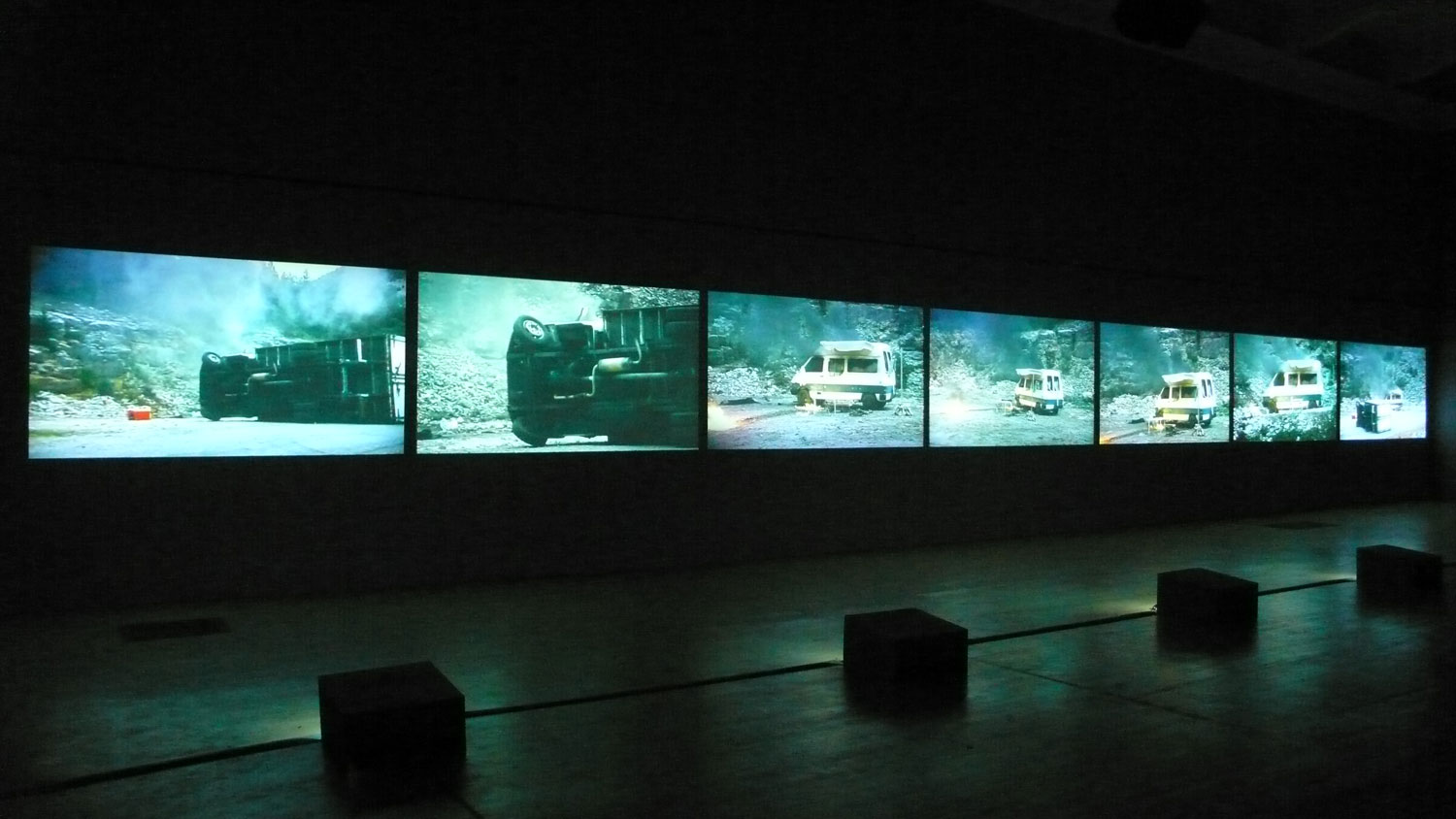 The South London Gallery is pleased to present Seven Minutes Before, 2004, an epic video installation and first solo exhibition in the UK, by French-Armenian artist Melik Ohanian. Ohanian has received international acclaim for works in a broad range of media that address issues of personal autonomy and identity, access to territory and information, as well as conceptions of time in today's global culture. With a background in documentary film-making and cinema, Ohanian expands on research into places, people and events to create poetic installations and interventions. This exhibition has been extended until 14 January 2007.
Filling the length of the South London Gallery's exhibition space, Seven Minutes Before is an immersive, dream-like video work shown on seven screens. A model city built in a mountain stream, a caged wolf, wandering musicians and mystic symbols all appear in the landscape at dawn to create a sense of magic and other-worldliness. Replete with references to cinema and contemporary art, music and cosmology, Ohanian brings together seemingly disconnected events into a cohesive whole. The extraordinary attention to detail in the scenography and construction of the images has an astonishing impact when the events on all seven videos come together around a single dramatic explosion. Each made in a single continuous take, the seven videos follow the journey of the camera roving across a 2km stretch of a valley floor in southern France. This highly choreographed and experimental approach to film-making proposes an alternative form of editing occurring in space rather than time.
To complement the installation will be a special presentation of Ohanian's Invisible Film, 2005, in a cinema auditorium. Invisible Film documents a projection in the California deserts, of Punishment Park, 1971, an independent movie banned in the UK as well as the USA for its anti-war stance following military action in Vietnam. Without a screen the image is projected unseen into the distance on the location in which the film was made. By overlaying fact and fiction, Ohanian comments on today's political situation.