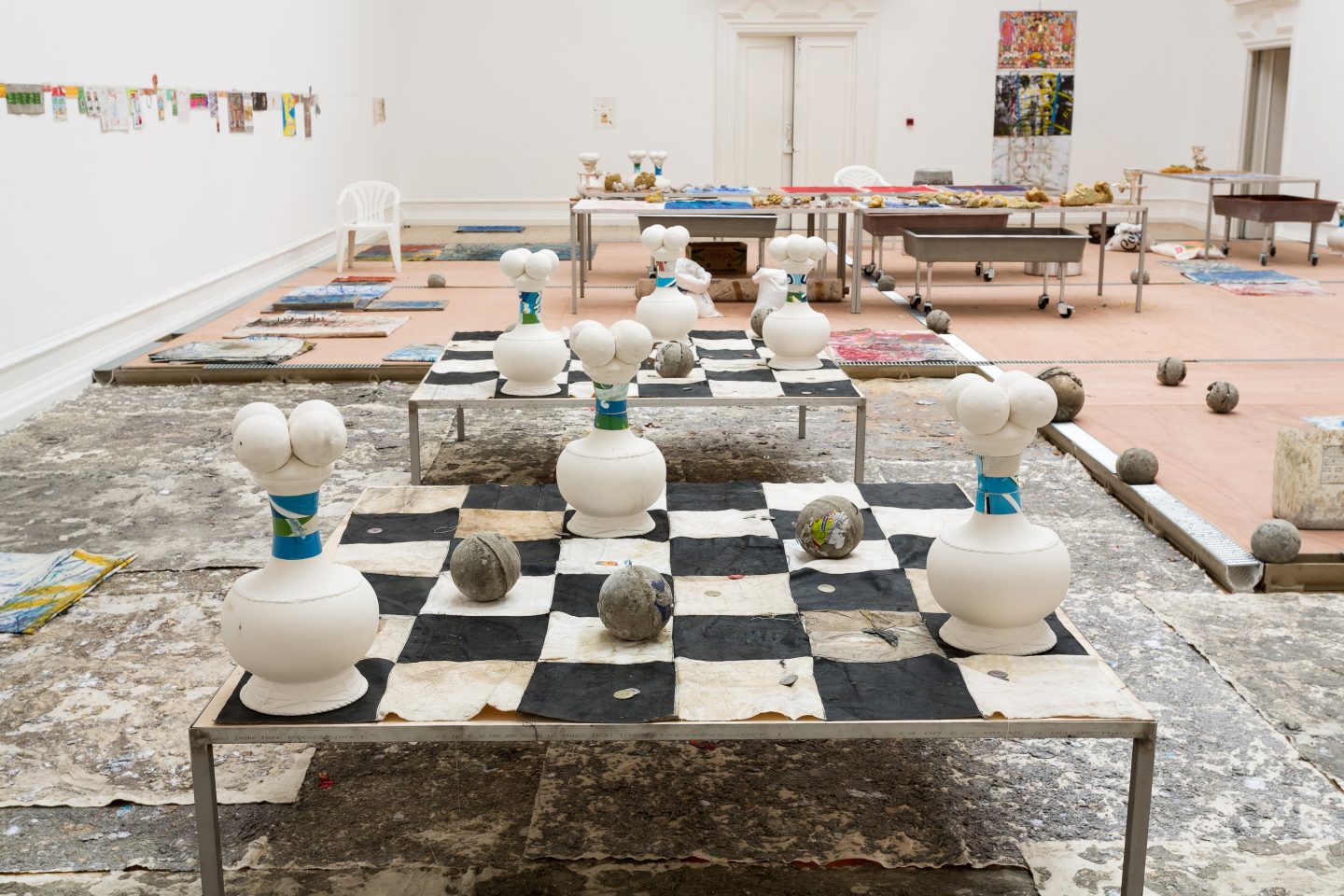 For his first major solo exhibition in the UK, if i was to draw a line, this journey started approximately 400km north of the equator, London-based artist Oscar Murillo empties his studio to present its contents in the main gallery space. Stitched canvases, drawings, sculptures and films, tables constructed from copper sheets, used as flooring in previous shows, and floor pieces made from masses of pulped biro drawings continue Murillo's practice of translating various aspects of studio endeavour into matter and then into form. Mobilising the physical remnants of distinct social situations, he exposes some of the contradictions and complexities apparent across socioeconomic, racial and cultural boundaries.
For this show, Murillo incorporates an active component in the form of a lottery, the individually screen-printed, artist-signed tickets for which are on sale from 2 September until 18 October and are displayed in the SLG's first floor galleries. The first, second and third prizes were each devised by Oscar Murillo and were revealed at a prize draw on 18 October.
Artist
Oscar Murillo (b. 1986, Colombia) lives and works in London. He completed a BA in Fine Art at the University of Westminster, London, followed by MA in Painting in 2012 at the Royal College of Art, London.
Recent solo exhibitions and projects include those at Isabella Bortolozzi, Berlin; Art Basel; Carlos/Ishikawa, London; MAMA Showroom, Rotterdam; Rubell Family Collection, Miami; Serpentine Gallery, London; Museo de Arte Moderno de Medelln, Colombia. Forthcoming solo exhibitions include Studio Museum Harlem, New York and The Mistake Room, Los Angeles.