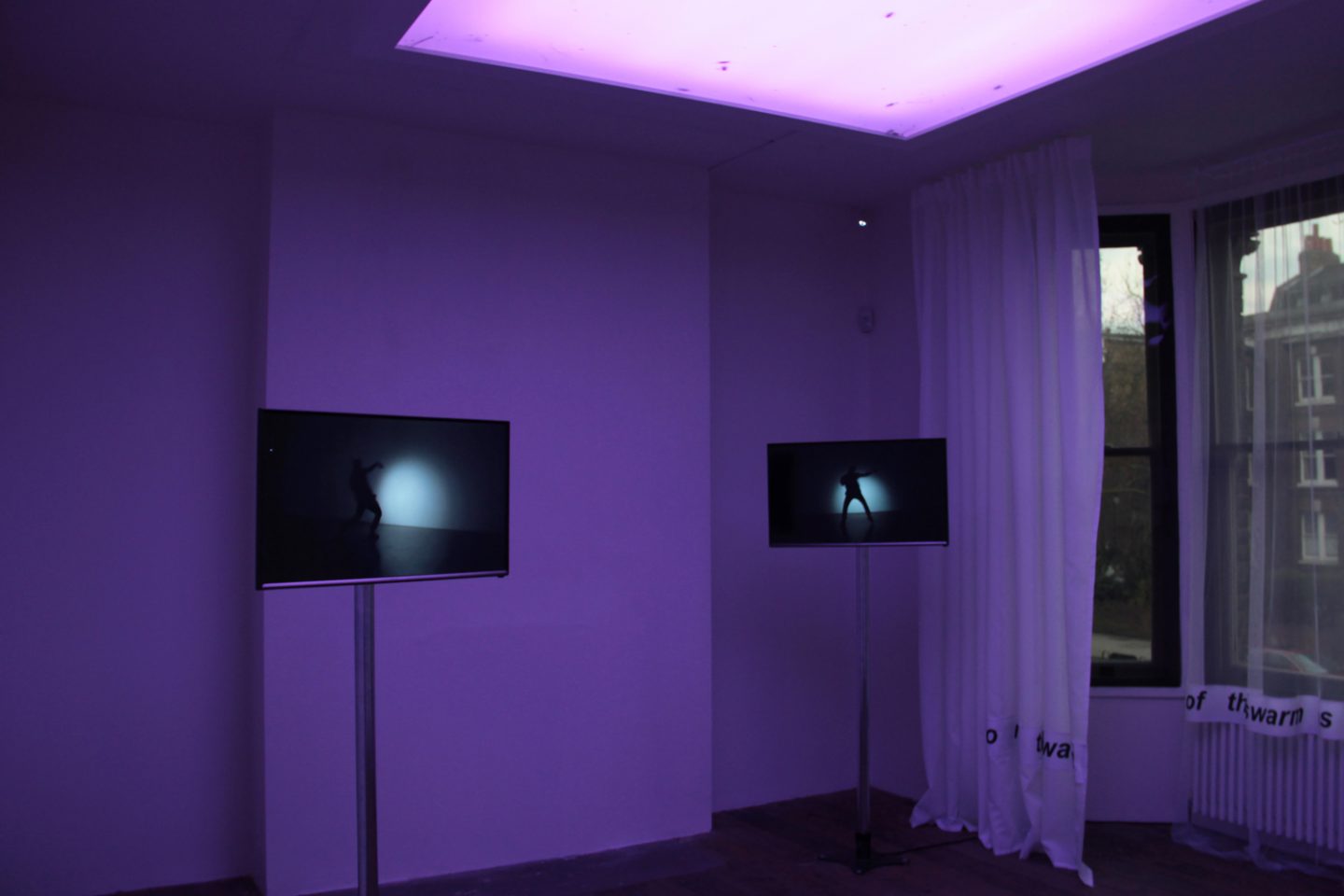 Following six months as the South London Gallery's Graduate-in-Residence in the Outset Artists' Flat, Paul Maheke presents I Lost Track of the Swarm, his first solo show in a public institution. Maheke's exhibition and accompanying events programme look at pulsating and desiring brown and black bodies as affective and political archives.
In the first floor galleries, a three-channel video installation features the dancing figure of the artist illuminated by a scanning light source. Maheke uses dance in his practice as a way to research physical memory through movement and to draw on the notion of the body as an archive and a territory with its own cartography and colonised zones. Through dance, Maheke proposes to defuse the power relations that shape Western imaginations and rearticulate the representations that emerge from them.
Above the video installation, a lavender light transforms the white rooms of the gallery into a vibrating space within which dance and music operate as means of resistance and gestures of remembrance. In his exhibition, Maheke aims to create a metaphoric and prospective space that centres the margins and avoids the principle of classification in order to explore the question of visibility through Georges Bataille's notion of formlessness (L'Informe). This suggestion is further developed through the arrangement of fabric curtains in the bay window of the gallery, which serve as a display for a text which Maheke considers as a subtitle for the show. Highlighting the architectural characteristics of the room and its domestic features, these fluid, layered curtains and the improvised performance of the filmed dancer, introduce poetic forms to convey a political agency.
In the second gallery, an immersive sound installation produced in collaboration with sound artist Nkisi of NON Worldwide, is composed of samples from a variety of musical backgrounds including electronic beats, traditional Congolese songs and West African club tracks. At certain intervals, the audio engages with the dancers' movements viewed in the adjacent gallery and builds to a climax with the aim of taking visitors on an empowering journey.
Artist
Paul Maheke lives and works in London.
He completed an MA in Art Practice at l'École Nationale Supérieure d'Arts de Paris-Cergy in 2011 and a programme of study at Open School East, London in 2015 where he pursued a period of research and a series of public conversations entitled 'Beyond Beyoncé: Use It Like a Bumper!'.
His current research imagines the body as an archive using its waters as pathways to information and knowledge. This investigation occupies a metaphorical space wherein which the body resonates and echoes with the broader socio-political and historical context that have birthed it.
With particular attention to dance, it proposes to rearticulate the representations of queer Blackness that emerge from Western imaginations by addressing History through non-human subjectivity.
It is also a way to question social and geographical relationships to places as they relate to a more personal inquiry that mainly deals with the unsettling idea of « main-ness ».
Upcoming projects include: Chisenale Gallery, London (2018, solo show); Baltic Triennial XIII (2018); The Centre Cannot Hold Itself, Lafayette Foundation, Paris (2018); Elements of Vogue, CA2M, Madrid (2017).