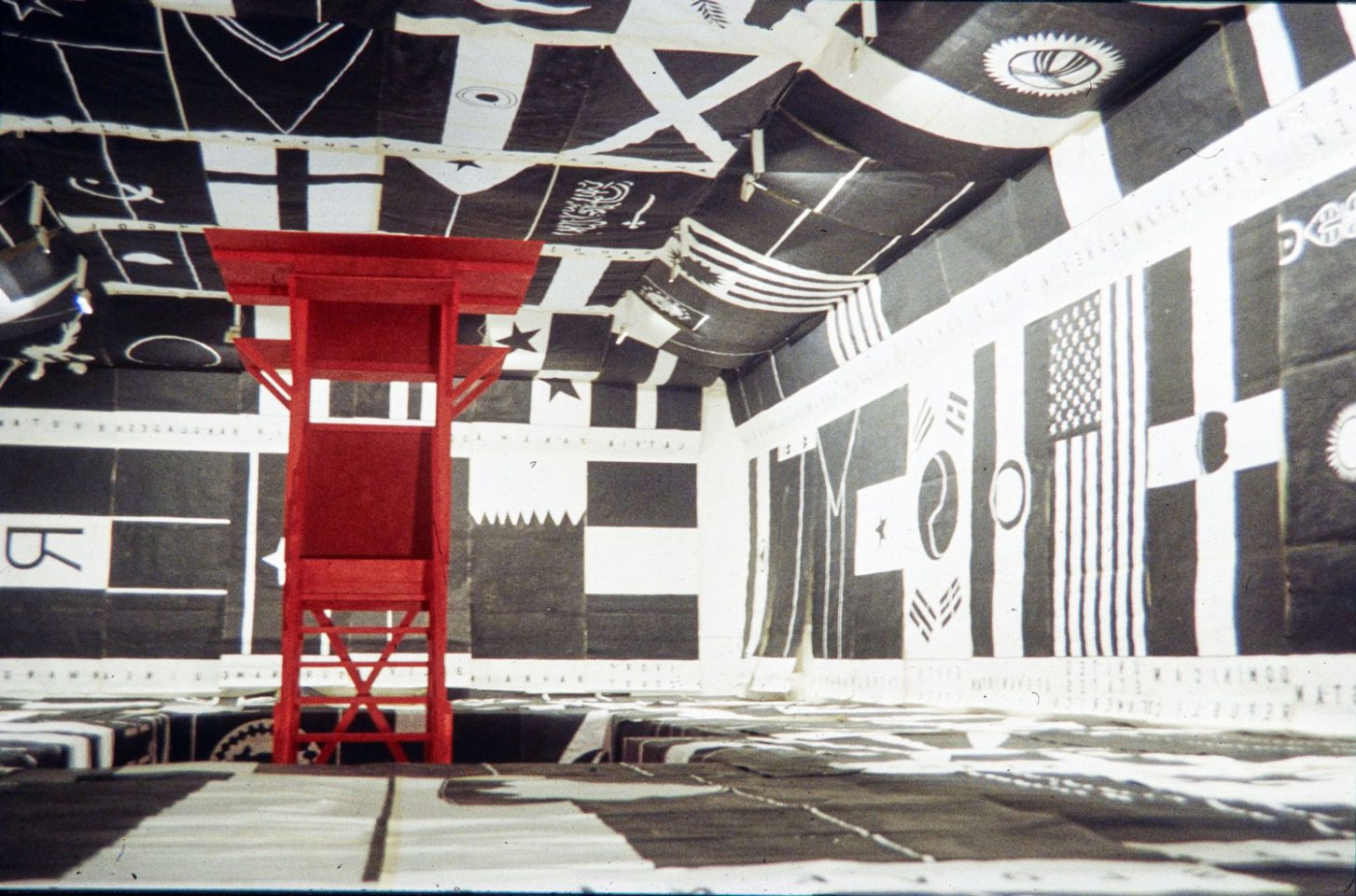 Dissolve all national barriers – Burn your passport – Open the borders – Melt the guns – Treat everyone else the way you want to be treated – Burn all money – Buy freehold – Destroy credit rating – Smash all clocks – Annihilate time – Let animals roam free.
Ross Sinclair has described his work as "a lifetime project that aims to engage as wide an audience as possible in a dialogue around the paradoxical gaps between life as it is lived by a society of individuals, and the aspirations afforded by 'spectacular life' as we absorb it through mediated images of ourselves and everything around us – in other words, it's ourselves alone versus the world."
For his exhibition at the South London Gallery (SLG), Sinclair is developing a project entitled Fortress Real Life (Peckham), designed to fill the entirety of the Gallery. This is the first time London audiences will be able to see his work on such a grand scale. Sinclair made a version of this project last summer at Kunsthaus Bregenz, Austria, which used 300 6 metre-long logs in its construction. The audience participated in the work by, amongst other things, painting whatever they wanted on over 500 placards which were then exhibited on the Fortress structure. Sinclair is currently developing new ways of constructing and operating 'Fortress Real Life' in order to engage with the people of Peckham, London and the World.
Sinclair's Real Life has been unfolding since 1994 when he had the words Real Life tattooed on his back confirming a lifetime commitment to the project. With works such as 'Studio Real Life', 'Real Life Rocky Mountain', 'Dead Church/Real Life' and 'I Love Real Life', Sinclair has sought to open a new space in which to observe and discuss our relationships with the institutional pillars that form the architecture of all our lives. By doing so he has slowly begun to construct a parallel vision of society and its component parts. His is a vision of the world, "not as it is, but as it could be."