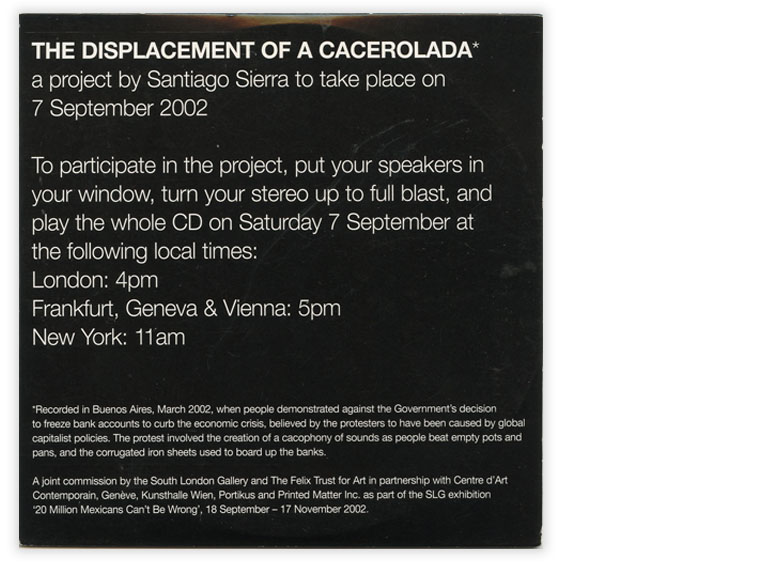 The Displacement of a Cacerolada was a project by Santiago Sierra which took place on 7 September 2002. The project was a joint commission by The Felix Trust for Art and the South London Gallery, in partnership with the Centre d'Art Contemporain Geneve, Kunsthalle Wien, Portikus Frankfurt, Printed Matter in New York, El Perro in Madrid and Resonance FM.
Seven thousand CDs were distributed in London, Geneva, Vienna, Frankfurt, New York and Madrid by the participating galleries with the following instructions in both English and Spanish:
To participate in the project, put your speakers in your window, turn your stereo up full blast, and play the whole CD on Saturday 7 September at the following local times: London 4pm, Frankfurt Geneva and Vienna 5pm, New York 11 am.
At that time the CD was also broadcast on local radio in central London by Resonance FM. The CD was a recording made in March 2002 in Buenos Aires, Argentina during protests and demonstrations against their Governments' decision to freeze bank accounts to try and curb their economic crisis. Many of the protests consisted of mainly of women banging cooking pots (a cacerolada in Spanish).
Two panels in English and Spanish describing the project were shown at the South London Gallery as Santiago Sierra's participation in '20 Million Mexicans Can't be Wrong', an exhibition of contemporary art from Mexico curated by Cuauhtemoc Medina which ran from September to November 2002. In January 2003 the exhibition toured to the John Hansard Gallery in Southampton.