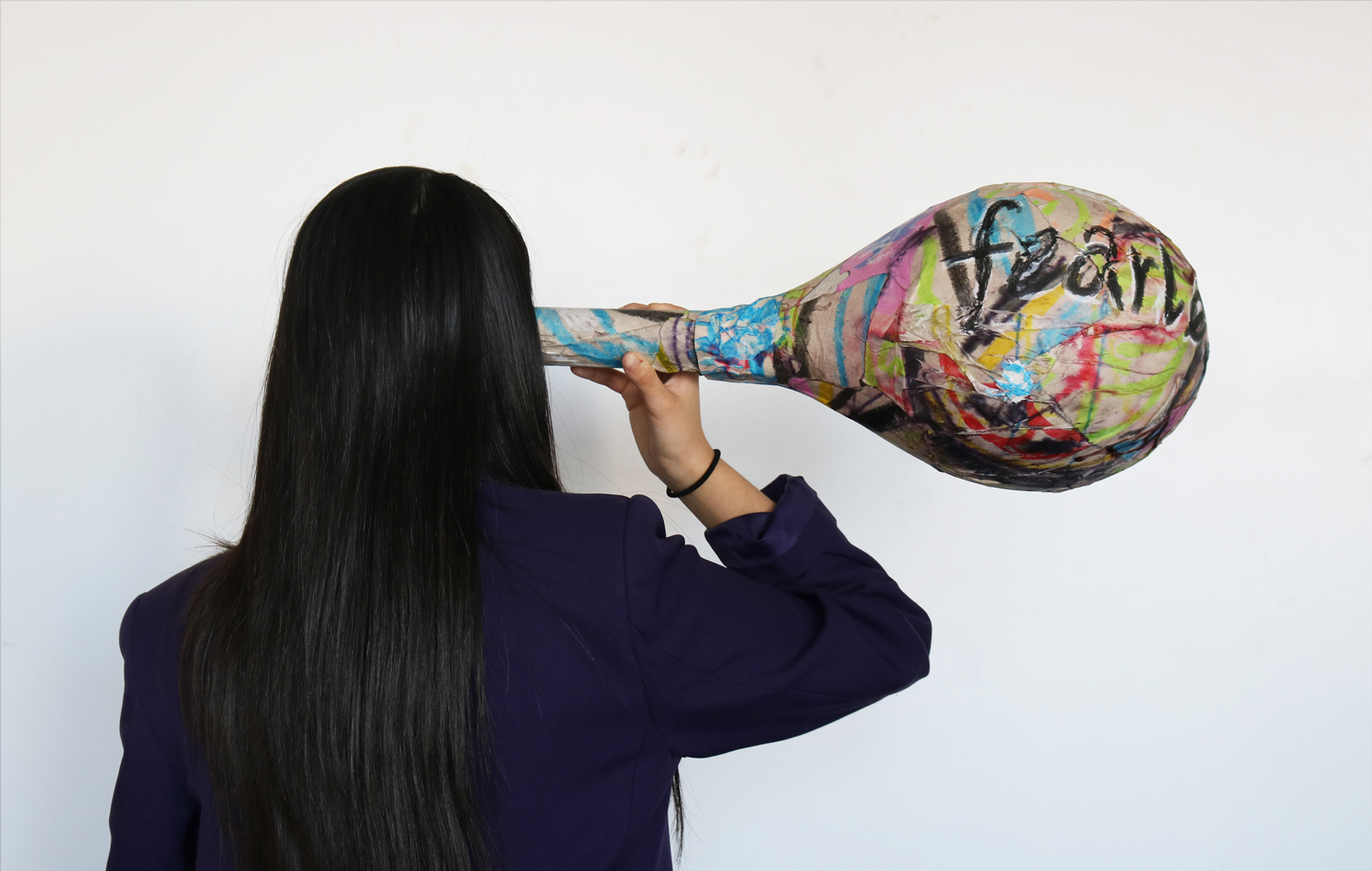 Wed 11 – Fri 13 Jul, 11am-3pm, clore studio
To mark the conclusion of the 2018 Start Programme, the South London Gallery presents works by pupils from ARK All Saints Academy, Compass School, Evelyn Grace Academy, Harris Academy at Peckham, Harris Girls Academy East Dulwich and Tuke School developed with artists Chloe Cooper, Marysa Dowling, Jacob V Joyce, Sophie Mallett, Nicole Morris and Helen Rousseau.
The exhibition looks at who we are: our bodies, our races, our nations and our memories. Artworks include national anthems, textile bodies and comics that bring to life forgotten characters from history.
ARTIST BIOGRAPHIES
Chloe Cooper is an artist and educator. She uses performative tours, instructional videos, storytelling and role play to challenge the politics of her audience as well as the institution within which her work takes place. Her work with people exploring sexual politics and relationships education is framed by and contributes to her involvement in Bedfellows, a group of people making tools together to re-educate each other about sex.
Chloe has recently exhibited and performed works at Internal Scratch at Battersea Arts Centre, London (2018); Mount Florida Screenings at GOMA, Glasgow (2017); Dancing on Borrowed Ground at Catalyst Arts, Belfast (2017); The Weekender and Performance Art Intensive at The Tetley, Leeds (2017); Feelings Feelings, Tate St Ives, St Ives (2017); What Happened Between? with Kerri Jefferis and Sophie Chapman, Lewisham Arthouse, London (2017); Love is Love, Catalyst Arts, Belfast (2017); Dedications, ArtReview Bar, London (2017).
www.chloecooper.co.uk
Marysa Dowling's photographic practice is participatory and rooted within portraiture. Many of her projects have an international focus as she works across several communities and cultures simultaneously to explore universal, human and democratic themes of communication and interaction. Participation and collaborative possibilities are vital to her process. Marysa is currently resident artist at Great Ormond Street Hospital with GOSH Arts, and is working on her first book of a 10 year portraiture project with Smith Design.
Dowling has worked on commissions, projects and residencies in the UK, Ireland, Los Angeles, Cuba, South Africa, Mexico, India and Lebanon. Exhibitions include Journeys | Recoriddos with the Los Angeles County Museum of Art, The Movement of an Object at The Photographers' Gallery, How We Learn at Belfast Exposed and Reach Out at Tate Modern & MARCO Mexico, Portraits: Shared Experiences, Galeria Jardin, Mexico. www.marysadowling.co.uk
Jacob V Joyce is a non binary interdisciplinary artist that disrupts commercial and community spaces with queer and anti-colonial, creative interventions. Currently Joyce is the artist in residence at Nottingham Contemporary Gallery. As well as practicing fine art Joyce works as a freelance illustrator creating the art work for international human rights campaigns as well as comic books and zines addressing personal and global instances of systemic oppression. http://jacobvjoyce.com
Sophie Mallett's practice is concerned with forms of belonging and exclusion, and how these manifest through national borders, capital and migration. Through music, radio, video and installation she pursues a practice focused on sounds' intersection with affect, politics and value, concentrating on the connections between sound, music, history and place.
Educated at London College of Communication, Open School East, and Conservatorium of Music, University of Sydney, Mallett's practice is both interdisciplinary and collaborative, with a reflexive emphasis on how individuals work together. http://sophiemallett.com
Nicole Morris makes work within sculpture, performance and moving image. Through the sensorial and tactility of a body, she is interested in how an artwork can reclaim space through scale and how this can move a viewer both physically and emotionally. The sculptural work is process led and often takes time to produce, which naturally lends itself to working collectively, as in processes such as sewing or printing. Here the work has potential to open up a space for dialogue and exchange, with the body object/subject at the centre.
Nicole graduated from the Slade School of Fine Art in 2011 with an MA in Sculpture. Recent exhibitions include Space In Between, London (2017) The National Gallery, Prague (2016); Open Space, Baltimore (2015); Jerwood Space, London (2014); V22, London (2013); Embassy Gallery Edinburgh and Malmö Konsthall, Sweden (2013); ICA and Liverpool Biennial (2012); Galeria Magda Bellotti, Madrid (2012); Galleria Rajatila, Finland (2012); Laure Genillard, London (2011). In 2013 she was nominated for the Max Mara Art Prize for Women. Recent curatorial projects include The LOCOMOTION Moving Image Festival, London (2014). https://nicolemorris.co.uk
Helen Rousseau works with drawing, sculpture and installation. Through processes of making, she pursues a network of logic tuned within the formal and sometimes humorous structures of the work. She was awarded an MFA in Sculpture from the Slade School of Fine Art in 2005. Solo and group shows include Ida and Extractors, Extractor Space, London; What Appears May Stick, Bond House Project Space, London; Mind Out, APT Gallery, London; The 1% concept, The Artists Association MAERZ, Austria; Contemporary: Partnering, with respond/reply, Wysing Arts, Cambridge; Being is what it is, Elderfield Road, London and Favorite, Outpost, Norwich. She is the founder member of the Mis-reading group.
Work within a variety of learning contexts extends Helen's studio practice through an interest in the processes and possibilities of collective making; she has worked with organisations including Tate, The British Library, South London Gallery and the National Maritime Museum. www.helenrousseau.co.uk