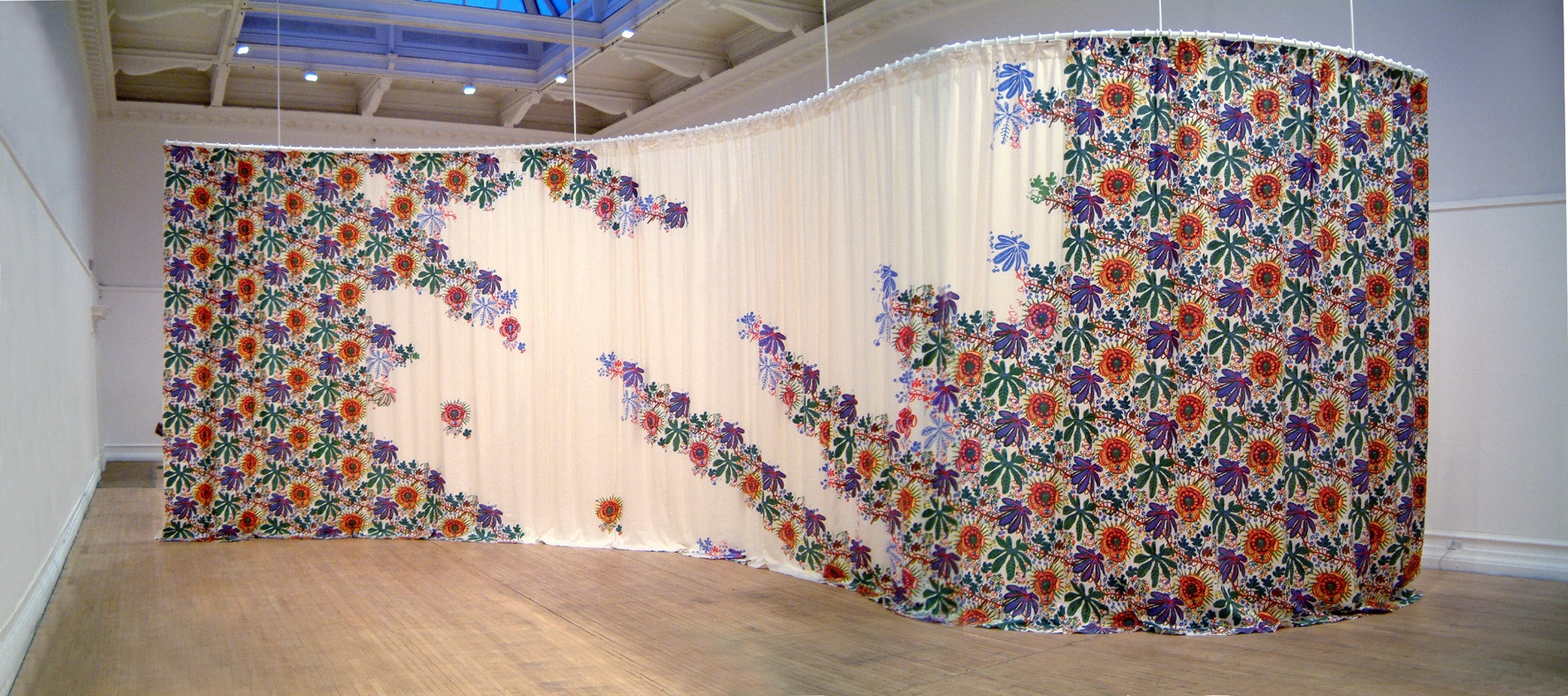 Simon Starling is fascinated by the ways in which objects come into existence and by the processes involved in transforming one object or substance into another. He makes the viewer look at things with fresh eyes by drawing us into his own, very particular take on the processes by which objects come into existence, discovering unlikely relationships between seemingly disparate things. Starling's work involves meticulous research, and tracking down source material for what he calls his 'experiments' has taken him as far afield as Surinam, Ecuador, Puerto Rico, southern Spain, Romania, Poland and, for the work in his South London Gallery show, to Trinidad.
Blue, Red, Green, Yellow, Djungel 2002 (djungel is Swedish for the word jungle), explores the transition of a West Indian cedar tree, felled in New Grant in Trinidad on 22 March 2002, to a huge curtain, spanning the entire width of the gallery, which has been hand-block printed by the artist with a botanical furnishing print. Designed in the 1920s by Josef Frank, who spent most of his working career in Sweden, the print design was based on jungle imagery found in children's books rather than first-hand experience as Frank had never visited the tropics. Starling's curtain provides a more direct connection with the original source of Frank's design, the jungle, by using a Trinidadian tree to make the wood blocks with which the curtain is printed. The finished work brings together the curtain and evidence of the processes involved in its making: the artist's improvised printing table, a fabric printer, pots of ink, wood blocks and the huge West Indian cedar tree, including its vast root ball, cut into sections from which the printing blocks were cut.
In the project space Starling showed new work, Carbon, 2003, commissioned by SLG, that explored the notion of ingenuity and the multiple uses that simple tools can be adapted to perform. By bringing together a chainsaw and a bicycle he created a unique home-made, motorised bike.