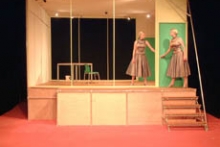 Internationally celebrated for its visionary live art events, Station House Opera takes over the South London Gallery this December with Mare's Nest, its first new work in three years. A development from the company's enormously successful Roadmetal Sweetbread, Mare's Nest is an intriguing mix of filmed and live action involving four performers (Katye Coe, Susannah Hart, Julian Maynard Smith and Mem Morrison) and their life-size video doubles.
A hoarding-like structure occupies the centre of the Gallery space and images projected onto either side of it present views into another world. The four performers occupy this half-physical, half-virtual world, alternating between real and imaginary space. Often they occupy both at once, a live performer being shadowed by a video double. Each of these characters has multiple existences, not only because each person has their own idea about who the others are, but also because they hold different ideas about who they are themselves.
Mare's Nest is a play about double, triple and quadruple lives. It displaces time, offering a view into the near future, where everyday extensions of ourselves will go far beyond the telephone, e-mail, video and internet.
Mare's Nest is co-produced by Artsadmin and La Batie Festival, Geneva and has received funding from the Arts Council of England, London Arts and the British Council.