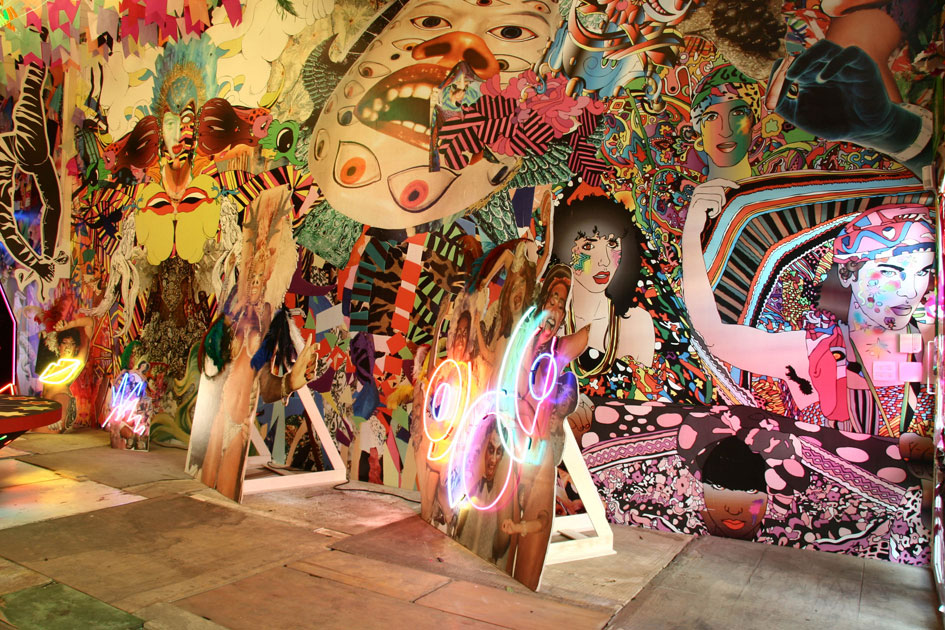 For two weeks this Summer the South London Gallery (SLG) will be transformed into The Weasel: a music venue showcasing artists working with popular music. Presented on a stage specially designed by Assume Vivid Astro Focus, The Weasel combines artists' film and video with live performances, which reflect upon and investigate the cultures and sub-cultures of popular music. The project will be documented with a unique 'bootleg' of photography and sound.
Art colleges have been notorious breeding grounds for some of the most influential bands in pop such as David Bowie, Pulp, Franz Ferdinand and the Artrocker phenomenon, while the impact of MTV has brought together image and sound more closely today than ever before. From protest song to electro pop, cabaret to rave, The Weasel presents a series of artists' films exploring social, personal and political meanings of the soundtracks that surround us.
Assume Vivid Astro Focus will transform the SLG in spectacular fashion with their psychedelic stage hosting performances by artist bands including Maxi Geil! & PlayColt, The Errorists and Slackers. Fresh from supporting the Scissor Sisters on tour, Maxi Geil! & PlayColt will launch their debut album of seedy glam pop as well as present their feature length film Nausea II.
A programme of artists' films during the day complements the live performances, with works that use and abuse the pop video format. Wilhelm Sasnal's Vincent Award winning gritty documentary The River features a series of studio recordings of New York bands. Other films include contributions from kitsch Californian pop stars Los Super Elegantes and Charles Atlas's video for Anthony and the Johnsons.
To record the project, a series of artists have been invited to create bootleg recordings from each evening, capturing not only the music, but also the incidental sound of the audience and ambience of The Weasel. The recordings will be brought together with accompanying photography and released upon completion of the project.
On the final evening of The Weasel, Beck's Futures winner, Matt Stokes will host a closing party with DJs playing music from the last three decades from old school house to Nu Rave. Live performances by Alexandra Bachzetsis and Giles Round will be incorporated with sound pumping from Stokes's replica of a mid-eighties acid house sound system.
Artists
Åbäke/Kitsuné, Darran Armstrong, Assume Vivid Astro Focus, Charles Atlas, Alexandra Bachzetsis, Kulwinder Bajar, My Barbarian, Johanna Billing, Richard Crow, THE ERRORISTS, Iain Forsyth & Jane Pollard, Maxi Geil! & PlayColt, Ludovica Gioscia & Karen Tang, Judith Hopf, Jason Nelson, Esther Planas, Giles Round, DJ Rubbish, SaltPeter, Wilhelm Sasnal, Slackers, Matt Stokes, Los Super Elegantes