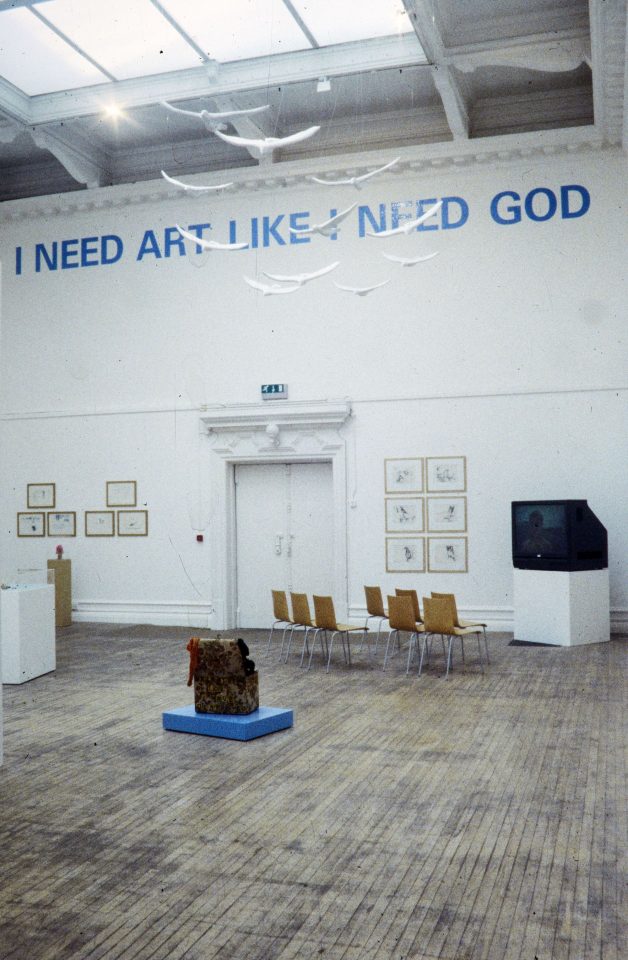 The exhibition I Need Art Like I Need God was a significant survey of Tracey Emin's internationally-acclaimed past work alongside more recent pieces. The exhibition created an opportunity for the artist to show a broad range of work in characteristically varied media including neon, photography, video, film, soft sculpture and hand-sewn texts.
Tracey Emin crafts striking and richly provocative art formed from a series of personal life experiences. Sensations of being alive, of knowing love and failure, seeing death and still having faith, are conveyed in a compellingly expressive manner. Often starting with the written word, Emin translates her personal works into visual representations and then accosts the viewer with moments of spiritual complexity snatched from the banal.
Emin's work addresses the human condition in a way that is personal but also accessible to a broad audience. Whether her works is in video, neon, or needlework, she uses the medium appropriate to her message and communicates in a direct and unambiguous way. This quality in her works gives the viewer access to layers of narrative and meaning that are both intimate and universal.
The exhibition was accompanied by a 64-page illustrated catalogue containing an essay by artist and critic Neil Brown, an interview with the artist by author and European gallery director Oscar van de Boudegaarde, and a series of vox pop statements about Emin and her art by Georgina Starr, Sarah Lucas, Carl Freedman and others. It also contained 10 pages of Emin's drawings and hand-written stories.