We've been missing Crane's Kitchen during our temporary closure and are delighted to share one of our favourite recipes from their lunch menu to make at home.
Perfect for spring, a galette is a type of open pie, delicious served with a salad or as part of a barbecue.
Crane's Kitchen makes these fresh every day for their customers at the SLG!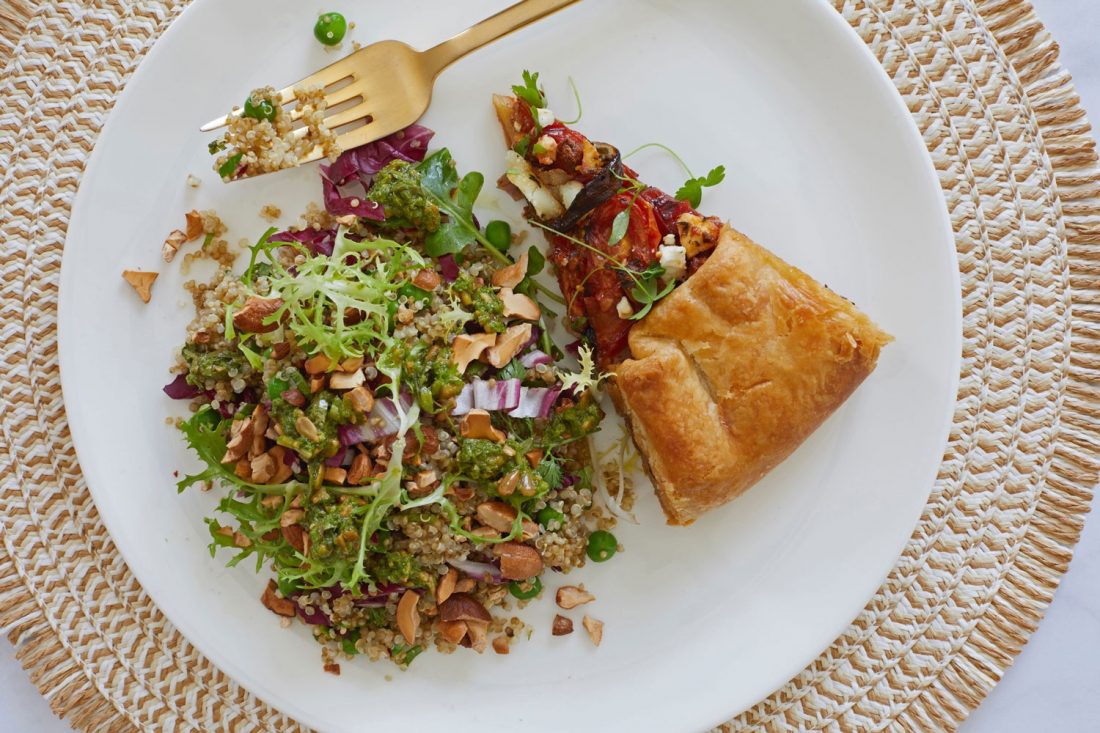 Ingredients
For the galette dough:
250g plain flour
½ tsp salt
150g unsalted butter, cut into small chunks and put into the freezer to chill
50ml cold water
For the galette filling:
1 small tin artichoke hearts, drained
½ small celeriac
250g ricotta
1 lemon
1 clove garlic
Sea salt
1 bunch chives, finely sliced
Optional: drizzle of truffle oil
Method
To make the galette dough, mix together the flour and salt in a food processor. Add in the very cold butter and pulse until it looks and feels like breadcrumbs. Pour in the water and bring the dough together with your hands.
Give it a quick knead on the table until the dough is smooth and soft. Wrap and leave in the fridge for a few hours or overnight to rest.
Meanwhile, prepare the filling. Squeeze the artichokes to remove any liquid and cut them into halves.
Cut the celeriac into manageable chunks and finely slice, either by hand or with a mandolin. Cover with cold water to prevent it from going brown.
Tip the ricotta into a bowl and season with the zest of a lemon, finely grated garlic clove and a pinch of sea salt to taste.
Preheat the oven to 180C Fan.
Once the galette dough has rested, roll it out on a lightly floured surface until it is a few inches larger than your baking tray, approximately 20cm. These edges will be folded in after the filling is added.
Make sure to place the dough onto the baking sheet before you fill it!
Spoon three-quarters of the ricotta onto the galette dough and spread out, making sure you leave a 2-3 inch crust to fold over at the end.
Drain the celeriac and dry the slices on a clean kitchen cloth before layering up with the artichoke on top of the ricotta.
Fold the rest of the dough inwards, brush with a little milk or egg wash to help the dough colour and bake in the oven for 30-40 minutes or until the dough is crisp and golden and the celeriac slices are soft.
Finish with finely chopped chives and a drizzle of truffle oil!