Christopher Obuh is a Nigerian photographer and visual artist based in Lagos, Nigeria. Using photography and video, his work focuses on environmental issues, social issues, post-colonialism and modernisation within the context of globalisation.
As part of our exhibition, Lagos, Peckham, Repeat: Pilgrimage to the Lakes, Obuh presents several images from his series titled No City for Poor Man. Beginning in 2014, Obuh has spent almost 10 years taking photos of Eko Atlantic, a new, planned city in Lagos State. He documents the scale of the development and its human impact.
We spoke to the artist about the series and what this development project means to him and Lagos. Hear about the work and find out more about his other project, No food for lazy man. 
Tell us a little bit about your practice. When did you first start photography? 
I'm a photographer and visual artist based in Lagos, Nigeria. My work focuses on social and political issues which affect human conditions in the spaces where I operate. Photography first discovered me in 2009 but I didn't listen until 2013 when I decided I wanted to be a visual storyteller. So far so good! We have been married and are really happy with each other. 
Tell us a little bit about
No City for Poor Man
, on display at the South London Gallery. What are visitors looking at in these images? What is your personal connection to this place and story?
No City for Poor Man is a photography project which focuses on the Eko Atlantic, a city built on 10 million square meters of reclaimed land from the Atlantic Ocean in Lagos Nigeria. Lagos is in a constant state of flux. It is a city where the economy is driven by people from the lower class and there is one major problem; accommodation. In 2005, the Atlantic Ocean was encroaching into Victoria Island, an affluent area of Lagos. A construction firm proposed to build a sea wall to keep the Atlantic at bay. 
After the success of that project, they decided to build something in this space to avoid coastal erosion and that was how the Eko Atlantic was born. The company behind the project promised a Dubai-style megacity to Lagosians, most of whom would not be able to afford homes in this space. Work began by dredging sand from the Atlantic Ocean to build massive skyscrapers to meet the needs of a small minority. The project poses threats to neighboring communities and the environment. A vacuum has been created in the seabed due to dredging and the area may not be able to withstand future coastal erosion in the future.  
No City for Poor Man questions the idea of the project, highlighting some of its complexities. Viewers are looking at a space that was formally part of the Atlantic Ocean that has been covered in sand retrieved from the bottom of the ocean for financial benefit irrespective of the longtime consequences. My personal connection to this space, was visiting a beach bar here where Lagosians went to enjoy a wonderful time with their family and friends. I have fond memories of this place but now all that is gone. I also belong to the group of people who will never be able to own a home here.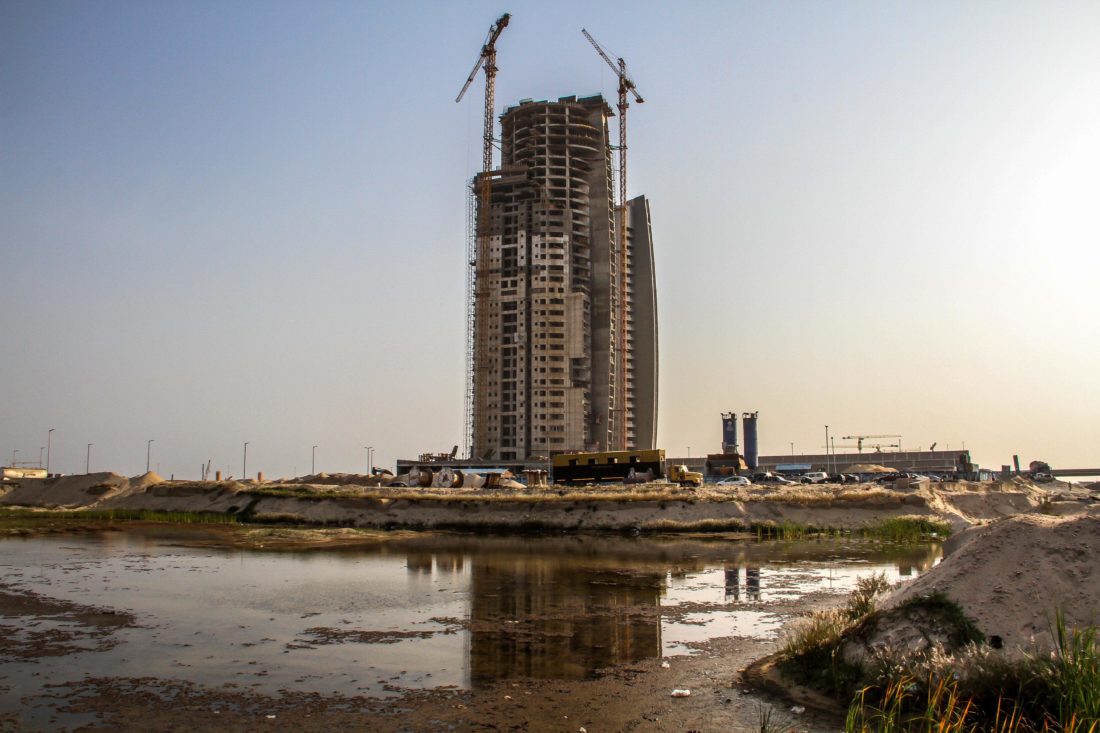 What would you like audiences in London to know about Eko Atlantic?
I hope the audience in London look at the project and imagine a similar project in London and how the citizens would react to it. I want them to understand the politics of space in Lagos and how the government have continued to exploit waterfront communities through gentrification; from Ilubirin to Otodo Gbame, Oworoshoki to Takwa bay.  
I am looking at the potential consequences of this project and what it will do to Lagos in the future. I hope audiences to the exhibition at the South London Gallery to engage with the work critically. I want them to think of what the $6 billion given to this project could have done elsewhere and the difference it could have made. Lagos needs good roads, Lagos needs affordable housing, Lagos needs to renovate hundreds of government managed properties like the National Art Theatre, the National stadium, the old secretariat.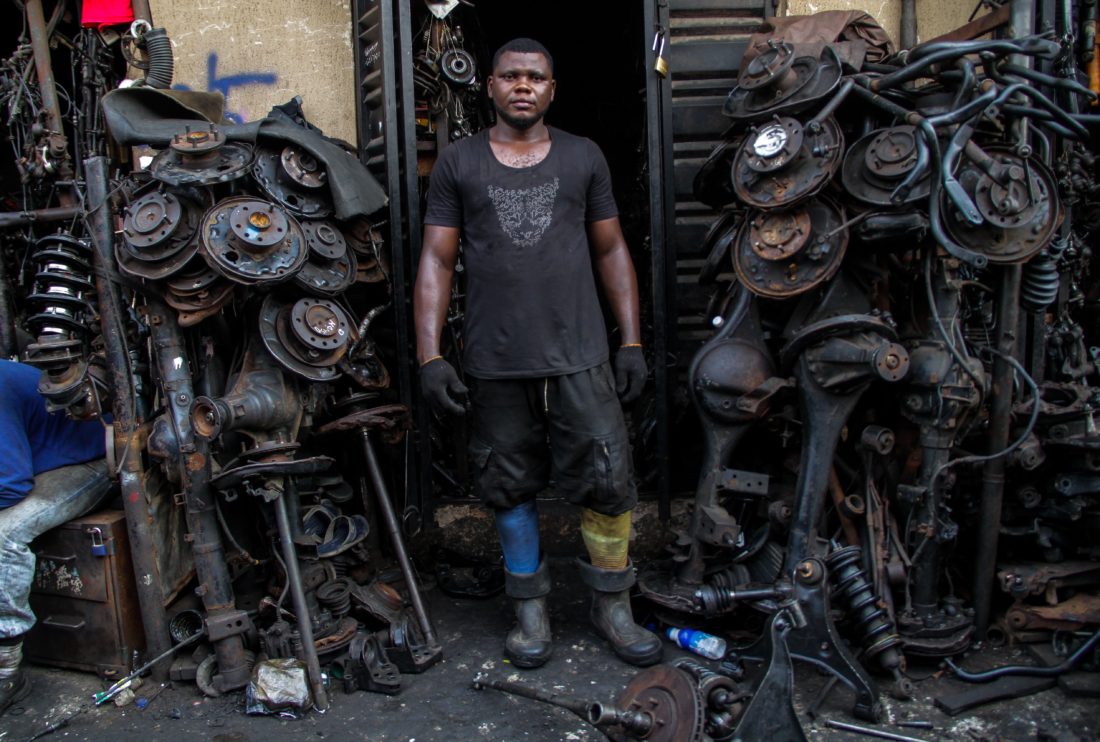 Tell us a little bit about another series you work on: No Food for Lazy Man. How did this series come about? Did you find it hard to get people at the market to pose for you?
As a photographer, sometimes I consider myself a wanderer. I wandered this marketplace on one of my numerous wanderings and found the energy in this space unbelievable and contagious. The subjects looked very strange and interesting at the same time due of their colourful outfits and their level of organisation. In my experience as a photographer all you need is access. I started working in the market as an apprentice to earn their trust, running errands for them and getting them to pose in my free time. 
I spent eight months in this space and in the process I have made friends whom I am still in contact with. They have invited me to meet their families and I have come to discover the duality that we all share as humans. You are this person in a certain space and someone else the moment you leave. In the market where they work, they are like lions looking for whom to devour, and at home they can sometimes appear very meek and quiet with their family and friends. The portraits gives you a sense of the ordinary people just trying to survive in a very highly contested environment.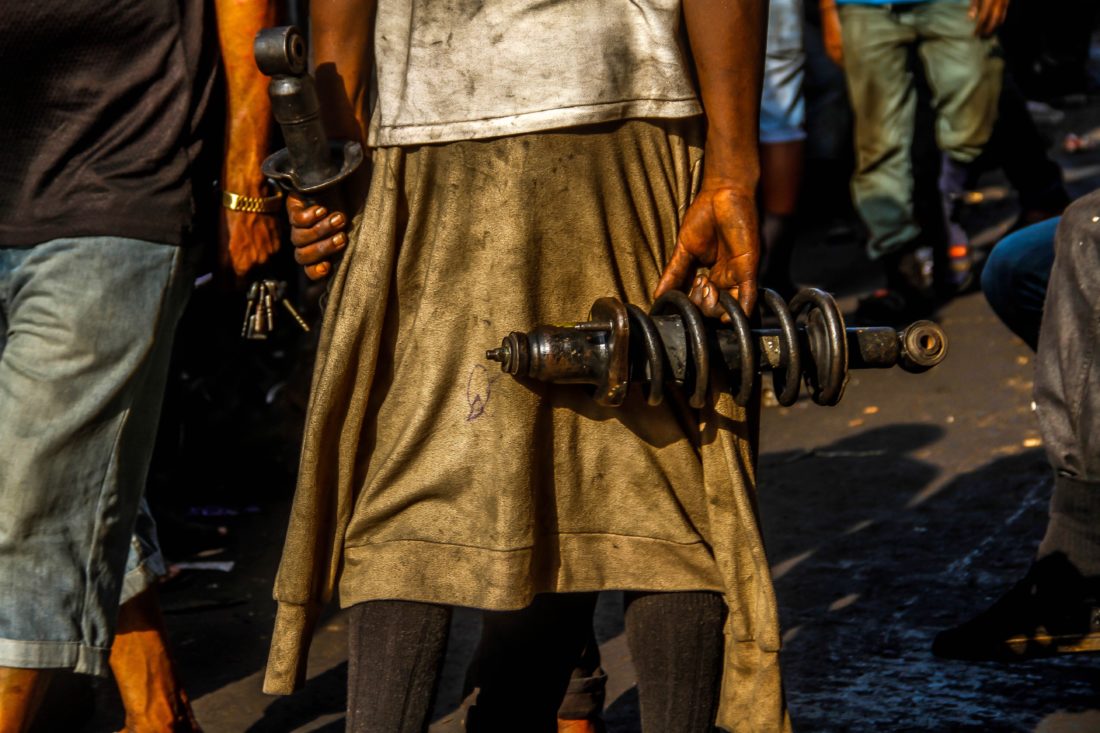 Tell us what you are doing now! What are you working on? What is up next for you and your practice? 
I just finished a film titled RED GOLD commissioned by the Goethe Institut, Lagos. it focuses on the process of making palm oil in the Niger Delta, exploring the human labour involved and its impact in eradicating poverty in these communities. I am working on a book for the No City for Poor Man project. I am also looking at Kora Musicians in West Africa beginning with Burkina Faso where I will be an artist in residence at the Opera village in Ouagadougou. I will have a solo exhibition of the No Food for Lazy Man project in Lagos in November, titled WELCOME TO BEDLAM.