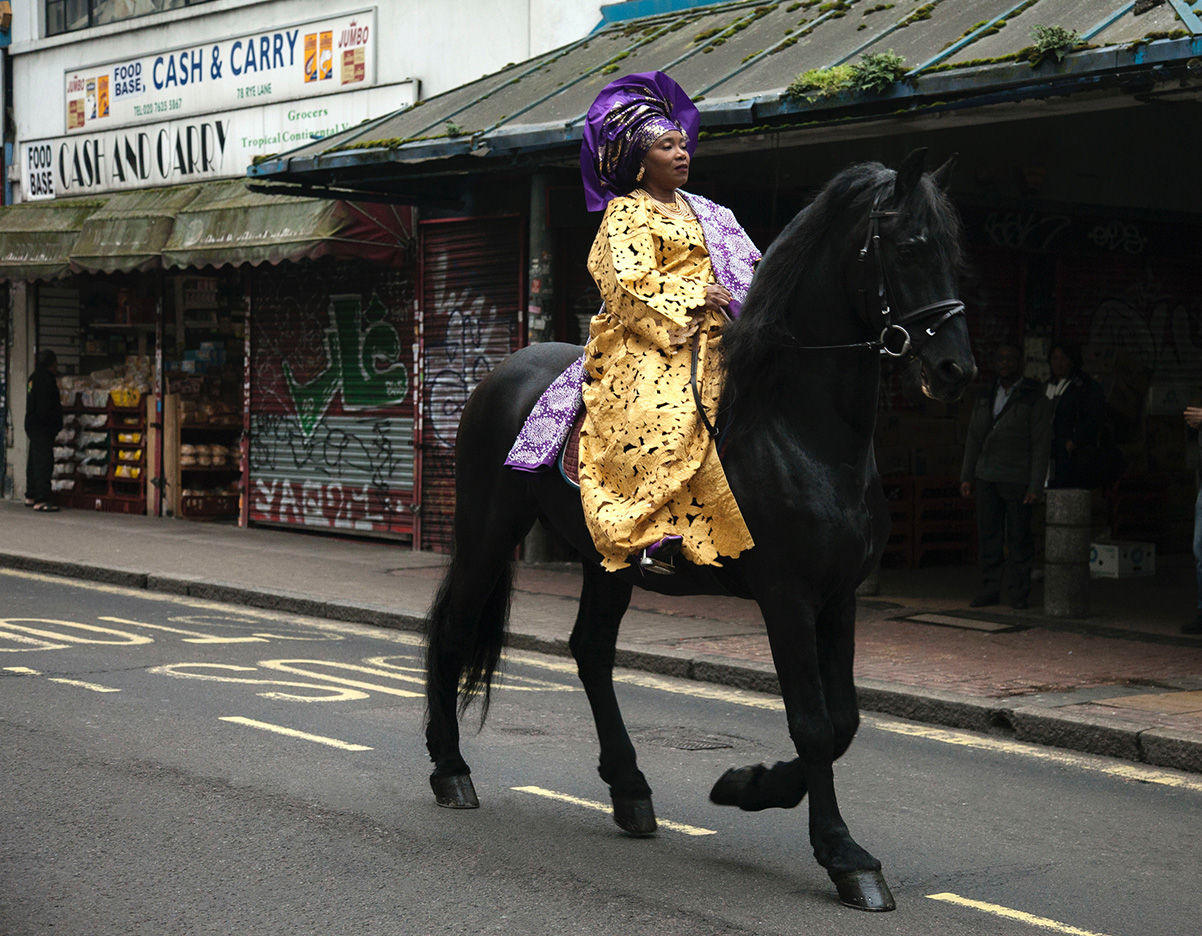 Free exhibition
Main Gallery & Fire Station Galleries
★★★★ – The Guardian
★★★★ – Evening Standard
★★★★ – Culture Whisper
Known as 'Little Lagos', Peckham is home to one of the largest Nigerian diaspora communities in the UK. Lagos, Peckham, Repeat: Pilgrimage to the Lakes is a major group exhibition looking at the connections between Lagos in Nigeria and Peckham in south east London. 
The exhibition highlights the relationships, culture, shared history, communities and art that link the two places. Themes explored include transnational exchange, a sense of place and the contemporary metropolis. 
The exhibition showcases works by thirteen Nigerian and British-Nigerian artists, bringing together sculpture, photography, sound and film.
"Lagos, Peckham, Repeat fascinates the most when it captures the commonalities between cities and communities across place and time, combining specific and shared experience."
– Joe Lloyd for Studio International
It features several new commissions, a site-specific installation and a collaboration with south London based brewery Orbit. The exhibition will also display work made during artist residencies, one in Lagos and one in Peckham, with an aim to further develop lasting creative relationships between the two places. 
Artists include:
Abdulrazaq Awofeso
Seyi Adelekun
Chiizii
Ndidi Dike
Victor Ehikhamenor
Onyeka Igwe
Lagos Studio Archives
Adeyemi Michael
Christopher Obuh
Emeka Ogboh
Temitayo Ogunbiyi
Temitayo Shonibare
Yinka Shonibare
The exhibition is co-curated by Folakunle Oshun, founder and director of the Lagos Biennial, together with South London Gallery. 
EXPLORE THE EXHIBITION
Find out more about Christopher Obuh and his work in the exhibition in our interview with the artist.
Read our interview with Ndidi Dike to explore the themes and visuals of her new installation.
Residencies
The SLG collaborated with GAS Foundation, Lagos resulting in UK-based artist Chiizii being hosted by GAS Foundation. 
Exhibition supported by

Additional support from
Duro Olowu;
James Cohan, New York; Stephen Friedman Gallery; Goodman Gallery;
Art Fund's Jonathan Ruffer Curatorial Grant;
Lagos, Peckham, Repeat Exhibition Supporters' Circle.
Graphic design: Kieron Lewis
Access
Quiet hours with lowered sound will take place every Tuesday and Thursday, 5-6pm
It is dark and loud in the Main Gallery
Do not touch any artwork in the Main Gallery
Seating, ear defenders, ear plugs, magnifying glasses and torches are available upon request
Please contact mail@southlondongallery.org with access requirements.

 

Content guidance: Gallery 5 contains nudity and photography from the colonial era
For more information on access at the SLG please read here.