'Goals' is a new project by YARA + DAVINA who worked with the young people at Art Block to think about their personal and collective goals through the mediums of art and football. Meet the artist duo, find out more about how they work and the project in our Q&A.
As a duo, you make 'social practice artwork'. What does this mean?
We see social practice art essentially as crafting conversations and meaning making. We respond to site, context and audiences to create artworks that are reliant on social moments of engagement and interaction, so they are with and for people.  In doing this we are challenging who art is for and the role and function of art: a political debate in itself. For example Goals was created with the young people from the Art Block, where the space has become an active space for playing football, reflecting on personal and shared goals and thinking about collective action. This illustrates how social and politically engaged work can be a powerful catalyst for positive change.
Tell us a little bit about yourselves and your practice. How did you begin working together as a duo?
We met in 2005, the year we both graduated from art school. Yara was at Slade and Davina was at Goldsmiths. We both loved using pop culture to make playful and accessible art that asked questions about the wider world and how we live; from geo-politics to love, life and death. We both loved using humour and lightness of touch, so it made sense to work together. When we became mothers in 2011 we decided to collaborate, and it's been brilliant and lots of fun!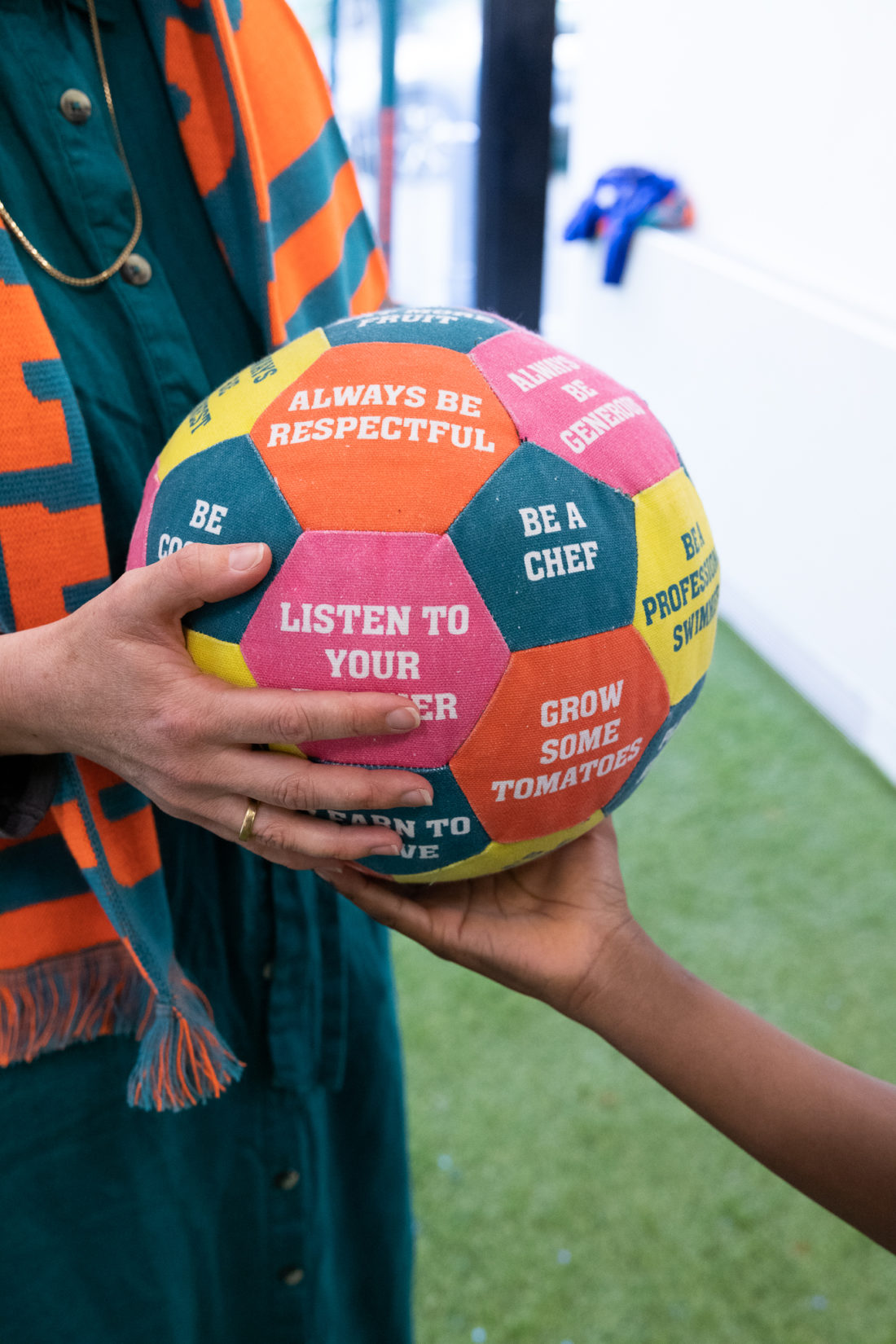 You've been working with the young people at Art Block on Goals. How has this experience been for you? Were you surprised by the response from the children?
We were surprised at how much joy the young people got from knitting and crafting. They really enjoyed seeing this connection between football and craft: the hand knitted scarves, the footballs as quilted hexagons and so on. It was really fun to get them talking about their futures and their goals. They really engaged with these ideas in a reflective and thoughtful way. It opened up spaces for us to talk about collective action, and our own personal goals in life, and what matters to them.
You came up with two slogans with the young people, 'be a defender' and 'occupy the field'. What do these mean to you and the group at Art Block? What do you hope they will mean to others?
'be a defender' and 'occupy the field' were two slogans that summed up the 50+ goals we created together. We loved making slogans that are rooted in meaning but also are subjective too, so while we do not want to fix a meaning, for us, 'Occupy the field' talks about agency, working hard and taking control of a situation.  While 'be a defender' talks about standing up for your rights, or the rights of others and belief in yourself.  We want these slogans to inspire people to take control and agency and be active citizens. We hope the young people will feel empowered to move forward, using these slogans and goals as mantras, or chants in their lives.

"Football scarves are a symbol of belonging, to a team but also a larger community.  We see our football scarves as a symbol of belonging to an idea, a tribe, in this instance  to Art Block and SLG, seeing a collective empowerment in wearing our team scarves."
Where did the idea of producing a scarf come about? How was the design process for this, working with both the young people at Art Block and MOMSO?
We had created football scarves previously and loved the idea of making one with the young people for Art Block. We workshoped the idea with the participants, and took  inspiration for the pattern, colours and their goals. The slogans came out of the overarching themes of the goals we collected. 32 of these goals are printed on hand stitched footballs, which will be used inside the Art Block. 6 goals have been printed on vinyl and wrapped around the goal posts too. For us the artwork has been the process of engagement, and development, but is also about the active state of play: people are invited to pick up the balls and read the goals, kick the balls into the goal posts and wear the scarves!
You previously explored football as a theme in More United Than Divided, a collaboration with the National Trust. Is this something that's of particular interest to you? Can you tell us a little bit about this previous work?
We were commissioned by the National Trust to make a social practice work in response to two of their NT sites: Souter lighthouse and the Lee's and Osterly House. We found a powerful connection to the history of women's football, and the suffragette movement and loved the connection to craft. This connection to sport, art and craft was powerful – they all bring people together and create community. Over 2 years we worked with local grassroots women's football teams and local women's groups to create two football tables with inspiring women replacing the traditionally male football players, an activity booklet, 2 exhibitions and our More United Than Divided Scarves (available to buy from the National Football Museum).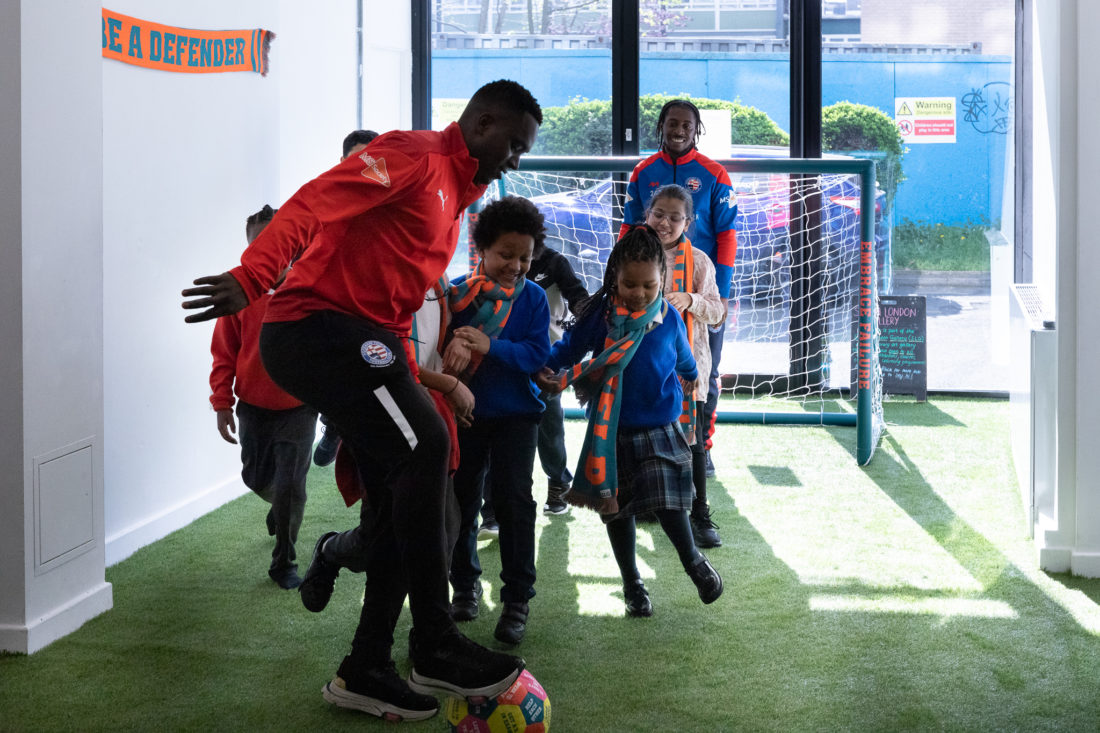 What do you hope the young people get out of this project?
We hope young people will have fun playing football, be inspired to think about their own goals for the future, to occupy the field and be a defender!
Tell us a little bit about your next project! What are you working on now?
Our long term project What's Your Cuppa Tea at the Museum of the Home will be launching its second phase soon, with a series of commemorative mugs that celebrate everyday people. This is part of a sustainable project that serves a series of teas we have blended for the Museum with residents from the local Arden Estate. This summer Davina will be hosting our touring Death Enthusiasm Bingo at the Good Grief Festival in Weston Super Mare, and we are planning for a busy 2024.
YARA + DAVINA worked with the young people at Art Block on Goals from 2022 – 2023 as part of the SLG's Open Plan Residents' Programme. The programme works with and for the South London Gallery's close neighbours who live on Elmington, Pelican and Sceaux Gardens estates, to deliver a long-term public art and learning project.
Open Plan is supported by Freelands Foundation, with additional funds from Southwark Council's Cleaner Greener Safer Fund and Charterhouse.