Installed in autumn 2020 for the culmination of her residency with the Big Family Press, Millie Nice presents BOLDLY, BOLDLY, BADLY, the second billboard installation in Oliver Goldsmith Primary School's Playground.
Using humour, costume and experimentation, the children who joined the weekly Big Family Press after school sessions explored different materials and techniques to create Bad Drawings as part of Bad Drawing Club – click here to read more about the project.
Rather than focus on 'making art', Millie encouraged everyone to experiment with a range of mark making and artists' materials, and used these doodles and creations to produce a striking, collaborative artwork that joyfully demonstrates the significance of small things.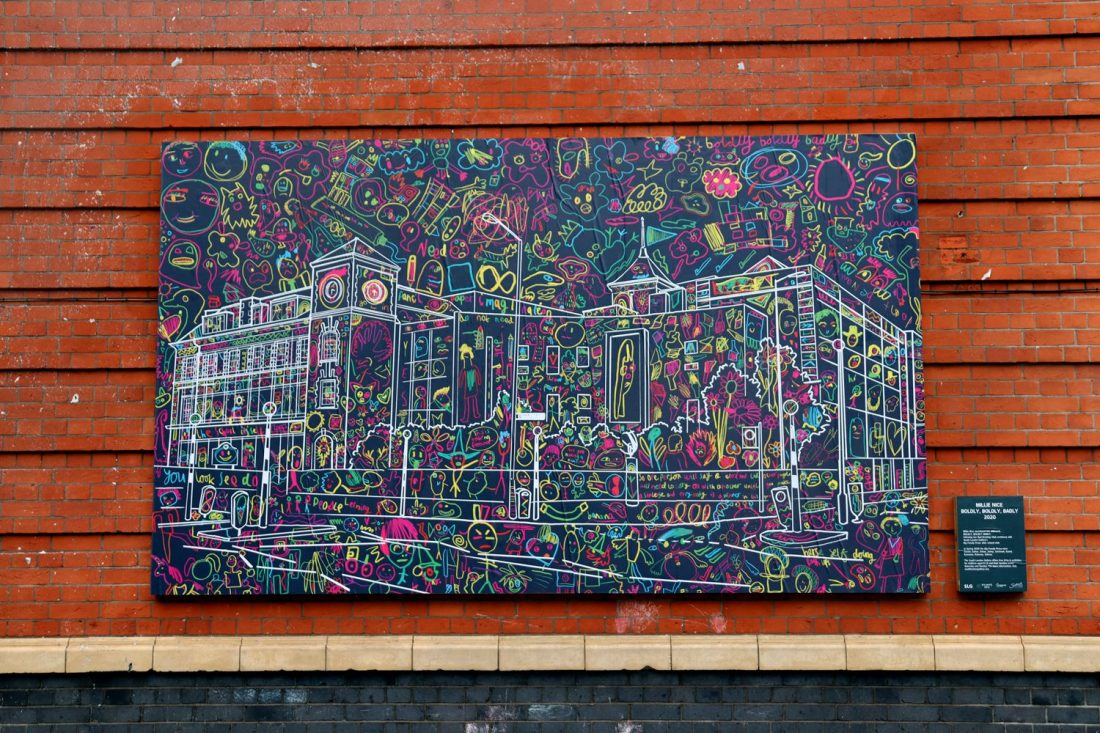 The final image, BOLDLY, BOLDLY, BADLY, gives us the view of Oliver Goldsmith Primary School from the Big Family Press workspace in the Fire Station attic. Interspersed with the outline of the school are the drawings, games and tips created during the Bad Drawing Club.
About
The Big Family Press is commissioned through the South London Gallery's critical heritage programme, Evidence of Us.
Millie Nice is an illustrator and art historian. She draws pictures inspired by the past and finds the fun side of fine art with audiences of all ages. Millie divides her time between illustrating and working with galleries and heritage sites to explore what the art of the past can mean to modern audiences. Her previous work includes the zines Artphabet: The Alphabet of Alternative Artists; Art History Health Warnings; and The Drawing Workbook with The Guardian.
Supported by the National Lottery Heritage Fund and Southwark Council's Neighbourhoods Fund. Children & Families programme supported by Mercedes Zobel