Visual artist Mai Omer runs a series of workshops on Elmington Estate's playground from April – July 2019.
PlayClaim was a series of workshops combining scrap materials with storytelling, encouraging local children to re-imagine and transform their playground into new landscapes. The group turned play equipment into a foil kingdom, made giant banners and costumes and created large-scale spider webs with string.
Children learned new building techniques and made furniture to be installed on the playground for a final celebration before the summer holidays.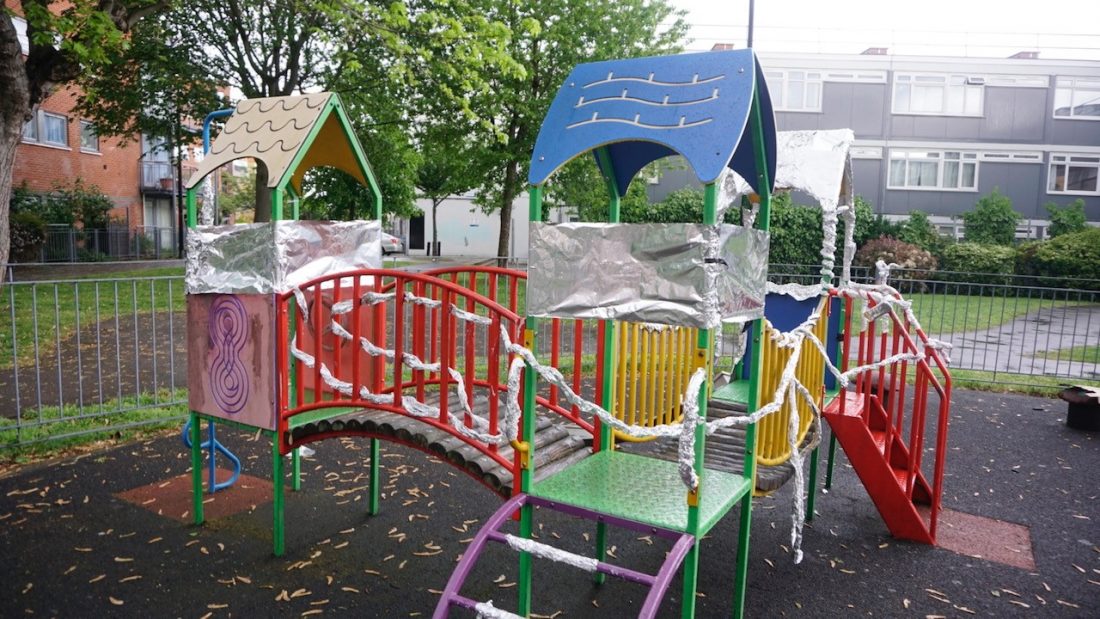 BIOGRAPHY
Mai Omer (b. 1985) is a multi-media artist and curator based in London and Tel Aviv. Her work focuses on the intersections between art, politics and education, and explores how communal spaces affect individuals. From 2010 – 2017 she worked as a curator at The Israeli Centre for Digital Art, where she co-founded the Ulam project (2014–ongoing). Omer studied Fine Arts at HaMidrasha Faculty of the Arts, Israel (2009), and received her MA in Visual Sociology from Goldsmiths, London (2018). Her recent works have been exhibited at Raven Row (UK, 2018), Parallel (Canada, 2018), Sadnaot HaOmanim (Israel, 2018), Construction Festival (Ukraine, 2017), and Alfred Gallery (Israel, 2016).
Open Plan is supported by the Freelands Foundation with additional funds from Southwark Council's Youth & Play Grant Programme, the National Lottery Community Fund and other donors.