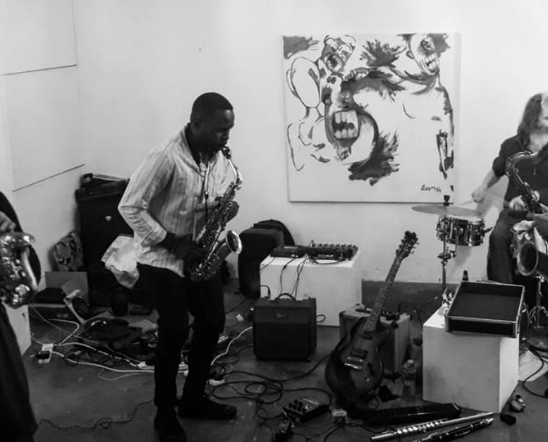 The SLG Bookshop hosts the launch of Kalimba by Petero Kalulé, published by Guillemot Press.
Join us for readings by Petero Kalulé and poets Astra Papachristodoulou and Lisa Kiew accompanied by freeform music with Alec Kronacker (bass), Matt Atkins (percussion), Yifeat Ziv (vocals) and Sebastian Sterkowicz (guitar/bass clarinet).
Copies of Kalimba will be available to purchase on the night.
Petero Kalulé is a Ugandan poet, composer and multi-instrumentalist currently finishing a PhD in law at Queen Mary University of London.
Alec Kronacker is an artist and musician based in London. Current projects include the duo PNAK with Paul Naudin and collaborations with members of the Mopomoso workshop group.
Matt Atkins is a London-based sound artist whose principle interests are reductionism, chance, repetition and texture. He has recently released his work on the labels Falt, Midnight Circles, Invisible City Records, and TQ. He also runs his own label, Minimal Resource Manipulation.
Yifeat Ziv is an experimental vocalist and composer, working in between free-improvisation, contemporary new music, jazz and sound art. She is the co-founder of experimental vocal quartet ABRA Ensemble and vocal jazz trio The Hazelnuts and a recipient of the Siday Fellowship for Musical Creativity.
Sebastian Sterkowicz is a regular at Eddie Prévost's workshop and the Mopomoso Workshop Group and has also performed with the London Improvisors Orchestra. He more recently appeared with drummer Dave Fowler and bass player Jordan Muscatello at Scaledown, also at Arch1 and Skronk open sessions nights.