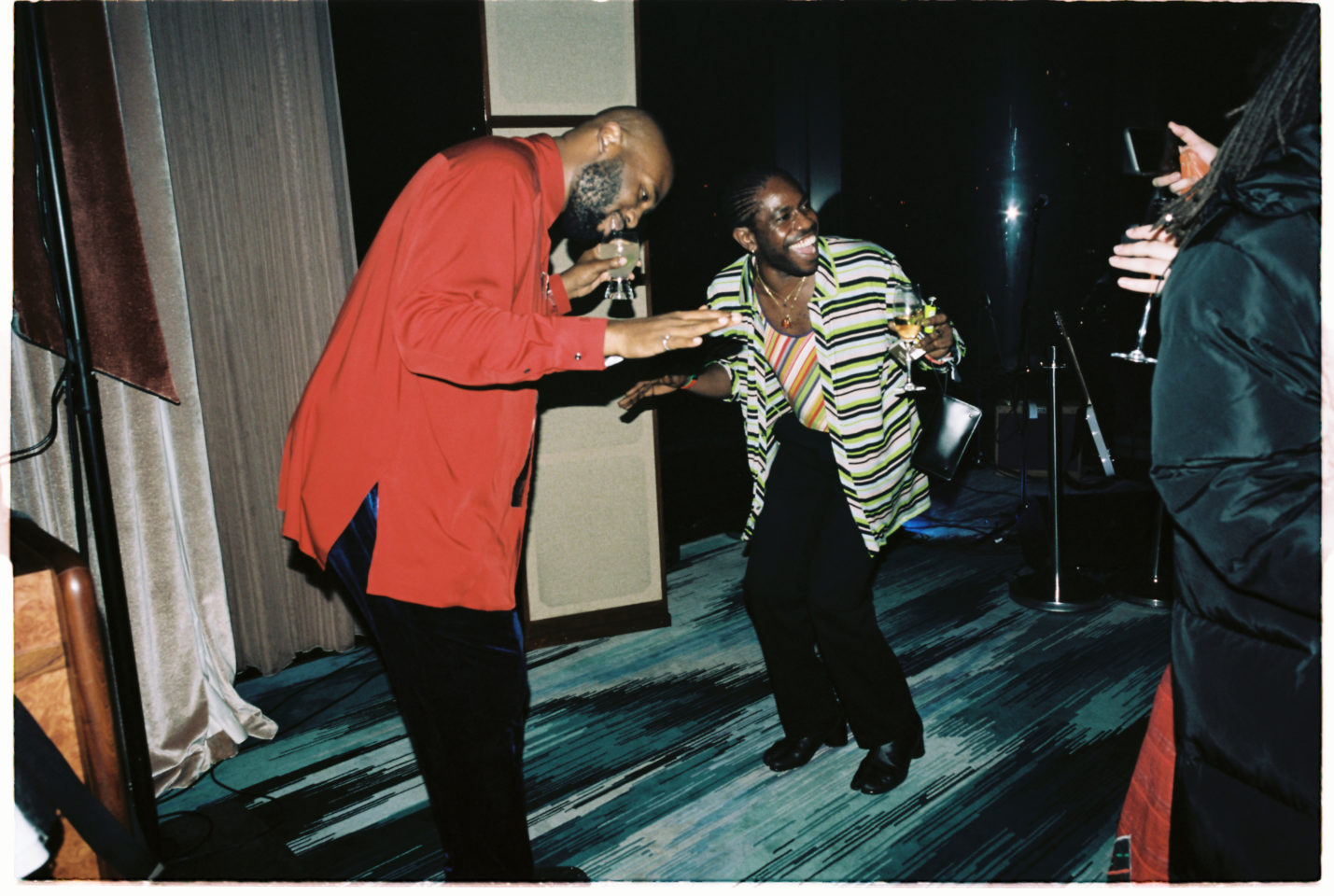 Join us for a day-long event featuring food, fashion, and music, programmed by Kk Obi. In celebration of the SLG's current exhibition, Lagos, Peckham, Repeat: Pilgrimage to the Lakes.
Fashion Designer Kenneth Ize presents his latest collection, exploring nostalgia and upcycling. It draws from vintage clothing, embroidery and lace making tradition. The presentation explores how waste material can be revalued and recontextualised. In 2020, Ize was selected by the British Fashion Council as one of 20 honourees at The Fashion Awards. At the SLG, the presentation follows a conversation with the designer and writer
Artist Chloe Filani presents a performance in the main gallery that incorporates ritual, movement and spoken word.
K Bailey Obazee, Founder and Director of PRIM, a platform for storytelling, presents readings.
In the evening, Tay Iwar performs an intimate set in the Orozco Garden.
With food and drink provided by Tasty.
FULL PROGRAMME:
12pm: Reading and breathwork with artist Chloe Filani, in the Clore Studio
12.30pm: Readings by K Bailey Obazee, in the Clore Studio
2pm: Performance by artist Chloe Filani, in the Main Gallery
3pm: Film screening by Jebi Labembika in the Clore Studio
5pm: Presentation of Kenneth Ize's latest collection, in the Fire Station
6pm: Designer Kenneth Ize in conversation with Kacion Mayers, in the Main Gallery
7pm: Performance by Tay Iwar, in the Orozco Garden
AFTERPARTY:
Join us at Colour Factory in Hackney for the afterparty from 10pm to late. Tickets for this event are sold separately, and our early bird offer of £10 is still live!
---
ABOUT KK OBI
Kk Obi is a Nigerian stylist and Creative Director based between London and Lagos. Having started his career in media and publishing he quickly saw an opportunity to uplift and champion new talents while unpacking diverse realities and urgent discourse within society and culture. This led him to create the biannual print publication and digital platform Boy.Brother.Friend. By examining diaspora identities from London to Lagos, the magazine reaches out an invitation to cross examine intersectionality, male identities and transnational cultures in the world today. Obi contributes to Beauty Papers, Dazed, The Face and Fantastic Man amongst other publications and works with brands including Burberry, Jawara Alleyne, Kenneth Ize and Tommy Hilfiger.
ABOUT BOY.BROTHER.FRIEND
Boy.Brother.Friend is a print publication and digital platform which seeks to examine the diaspora and male identities through contemporary art, fashion, and theory.
ABOUT KENNETH IZE
Lagos-born and based designer Kenneth Ize is reinterpreting traditional West African fabrics and Nigerian craft with his namesake label that he founded in 2013. Ize was a LVMH Prize 2019 finalist. Ize grew up in Austria and studied fashion and design at the University of Applied Arts Vienna.
Working from his studio in Ikoyi, Lagos, Ize collaborates with artists and design groups across Nigeria in Kwara, Kogi and Lagos, as well as supporting a small community of weavers local to Lagos. Ize is also influencing the creative arts curriculum in local schools to create traditional fashion.
In 2019, the brand introduced womenswear and currently counts Ssense, Browns and Machine-A among its stockists. Ize was a finalist for the LVMH Prize 2019 and a joint winner of the Arise Fashion Week Award for "Designer of the Year." In 2020, Ize was selected by the British Fashion Council as one of 20 honourees at The Fashion Awards.
ABOUT TAY IWAR
Tay Iwar is a Nigerian singer, songwriter, and record producer with a vibrant blend of R&B and Afro-fusion, drawing upon classic Afrobeat, hip-hop, and future sounds. His meticulous work ethic and dedication to perfection have propelled him to become a leading figure of the African art renaissance, as seen in his Grammy-nominated feature on Wizkid's "True Love." Tay has worked with other notable figures such as Burna Boy, Dave, Asa, Omah Lay; and also supported Grammy award-winning R&B artist Lucky Daye on tour. Tay Iwar released his fifth EP, "Summer Breeze," on June 9th, 2023.
ABOUT CHLOE FILANI
Chloe AyoDeji Filani, Artist of Poetry, Performance, Black Feminism, Public Speaker and workshop facilitator. Her artistic practice/poetry works with her lived experience of being a Black trans woman and the broader themes of identity of power structures and finding hope in the imagination and storytelling. She has performed poetry and movement works at Late at Tate. She has performed poetics at ICA, HOME, Spoken at Victoria and Albert museum UAL SomersetHouse, BCA and Mind ur Head, at The Yard
ABOUT K BAILEY OBAZEE
K Bailey Obazee is Founder and Director of PRIM, a platform for storytelling which produces OKHA, a monthly queer + Black book club and curates a variety of community focused events and activations.
To date K has collaborated with brands and institutions such as Aesop, Burberry, British Vogue, ICA, and NOW Gallery curating events, workshops, libraries and more. She has also been featured in ES Magazine, Metro, TimeOut and The New York Times. K is also fast becoming one of London's go-to DJs, so far running tunes for some of London's hottest parties such as PDA, Elle Style Awards Afterparty, The Standard's Rooftop opening and Spencer Badu's LFW party.
ABOUT KACION MAYERS
Kacion Mayers is a writer and consultant from London. He is Editorial Director of Dazed magazine. Since graduating from Central Saint Martins, he has worked with Bottega Veneta, Business of Fashion, Off-White and Rimowa. As a freelance writer, his work has been published in British Vogue, AnOther, Luncheon, i-D and BUTT.
Supported by Wolfgang Tillmans.