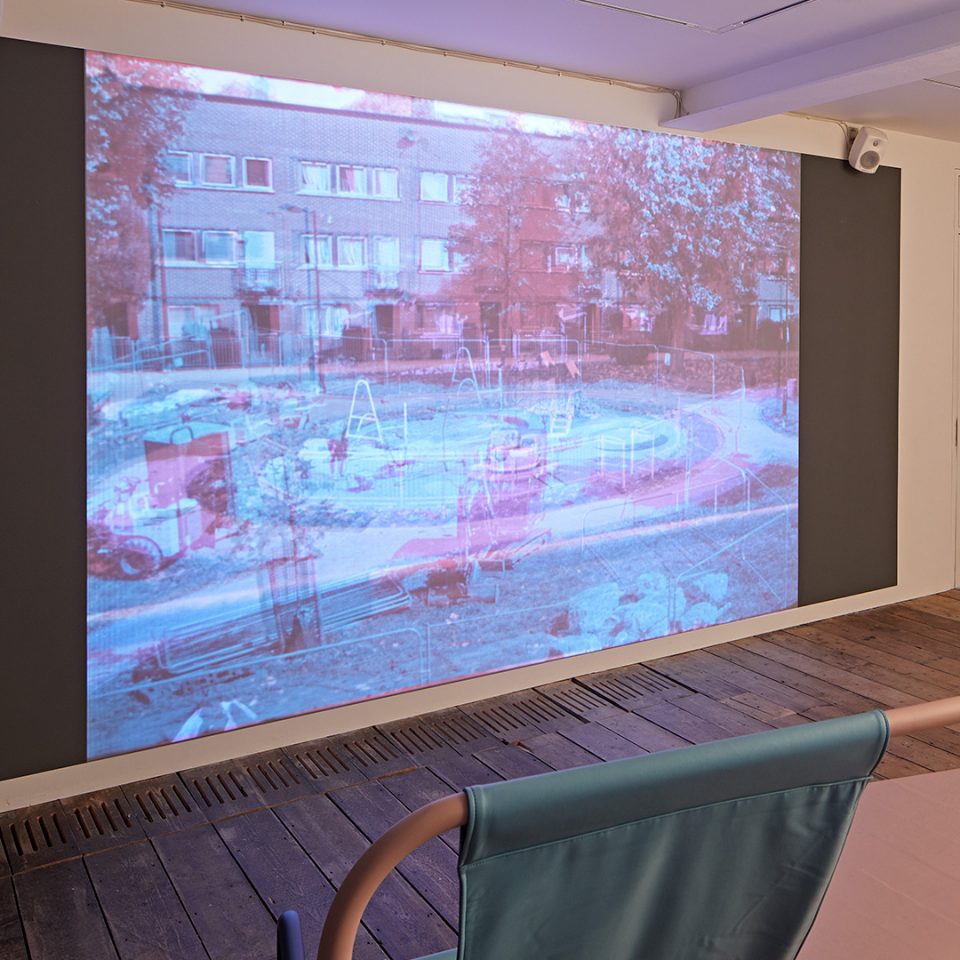 Join artist Céline Condorelli for a live conversation with fellow artists and collaborators, Ben Rivers and Jay Bernard (Bernard will join via Zoom).
In 2019 the South London Gallery commissioned Condorelli to create a playground for the nearby Elmington estate, one of three estates with which the SLG has a long-standing relationship. The film After Work, which will be the topic of this in conversation, records the invisible labour behind the production of elements of the playground.
The film features in the current exhibition 'Céline Condorelli, with Ben Rivers and Jay Bernard: After Work', on until 5 June 2022.
Condorelli's new book titled After Work published by Archive Books, will be launched at a later date and will be available to buy from our bookshop and online. To be the first to hear when it arrives in-store, follow the South London Gallery Bookshop on Instagram.
BIOGRAPHY
Céline Condorelli (IT, UK, FR) is a London -based artist, and was one of the founding directors of Eastside Projects, Birmingham, UK; she is the author and editor of Support Structures published by Sternberg Press (2009). Condorelli combines a number of approaches from developing structures for 'supporting' (the work of others, forms of political imaginary, existing and fictional realities) to broader enquiries into forms of commonality and discursive sites. Recent exhibitions include Our Silver City, 2094, Nottingham Contemporary (2021-2022), Two Years' Vacation, FRAC Lorraine, France and TEA, Spain (2020-2021), Céline Condorelli, Kunsthaus Pasquart, Switzerland, Equipment, Significant Other, Austria, Host/Vœrt, Kunsthal Aarhus, Denmark,  Ausstellungsliege,  Albertinum, Germany (2019), Zanzibar, permanent installation for the Kings Cross Project, United Kingdom, and exhibition at Vera Cortes, Portugal (2018), Proposals for a Qualitative Society (spinning), Stroom Den Haag, Netherlands, Corps à Corps, IMA Brisbane, Australia, including a sculpture garden which won Australian Institute of Architects Art and Architecture Prize (2017), Gwangju Biennial, Liverpool Biennial, Sydney Biennial, and Concrete Distractions, Kunsthalle Lissabon, Portugal (2016), bau bau, HangarBicocca, Italy (2015), Céline Condorelli, Chisenhale Gallery, United Kingdom, Positions, Van Abbemuseum, Netherlands, with Bookworks (2014). Her first monograph, bau bau was published by Mousse (2017).
Ben Rivers was born in Somerset, UK in 1972. He lives and works in London. His films are typically intimate portrayals of solitary beings or isolated communities; his practice as a filmmaker treads a line between documentary and fiction. Rivers uses these themes as a starting point from which to imagine alternative narratives and existences in marginal worlds. Recent exhibitions include the EYE Art & Film Prize with Hito Steyerl and Wang Bing, Amsterdam, (2018); Urth, Renaissance Society, Chicago, (2016); Islands, Kunstverein in Hamburg, Germany (2016); Edgelands, Camden Arts Centre, London, (2015); Fable, Temporary Gallery, Cologne, (2014). In 2013 he was awarded the Artangel Open Commission, the product of which, The Two Eyes Are Not Brothers, was presented at the derelict BBC Television Centre in 2015 and at The Whitworth Gallery, Manchester in 2016. Ben Rivers' first feature-length film, Two Years at Sea, was presented in September 2011 at the 68th Venice International Film Festival and won the FIPRESCI International Critics Prize.
Jay Bernard is a British artist, writer, and poet from Croydon, London. Their multimedia performance work Surge: Side A received the 2017 Ted Hughes Award for new poetry. They co-authored Not Quite Right For Us, a volume of stories, essays, and poems by several writers edited by Sharmilla Beezmohun.
ACCESS
The event is seated.

The room will be dark at times to show a projection.

The event will last a maximum of 2 hours.

Activities involve watching and listening to presentations, and contributing to the discussion with questions


Please email access requirements to lily@southlondongallery.org