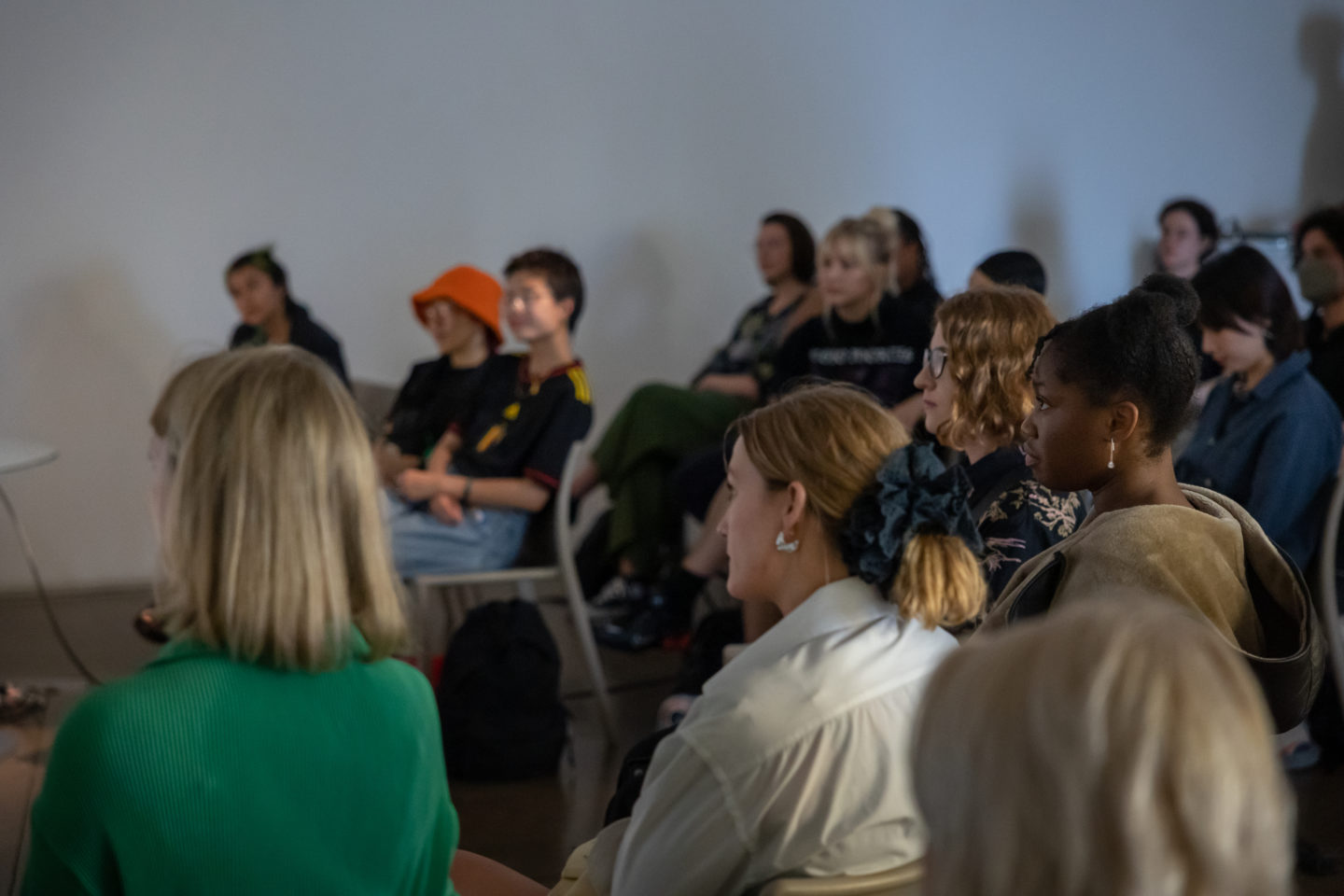 Listen back to the conversation:

Join Folakunle Oshun co-curator of Lagos, Peckham, Repeat for this conversation with artists exploring the themes in the exhibition.
The panel is moderated by Oyindamola Fakeye, Director of CCA Lagos. They will be joined by artists Chiizii, Victor Ehikhamenor and Temitayo Ogunbiyi. 
Lagos, Peckham, Repeat looks at the connections between Lagos in Nigeria and Peckham in south east London. The exhibition highlights the relationships, culture, shared history, communities and art that link the two places. Themes explored include transnational exchange, a sense of place and the contemporary metropolis.
ACCESS
Wheelchair Access and Disabled Toilets are available at this site.

This event is seated.
Please contact mail@southlondongallery.org with access requirements.

 

We offer free tickets for carers, please email mail@southlondongallery.org to reserve your free carers ticket.
ABOUT FOLAKUNLE OSHUN
Folakunle Oshun is an artist and curator currently based in Paris. Oshun earned a B.A. in Visual Art with a major in Sculpture from the University of Lagos, Nigeria, in (2007), and an M.A. in Art History in (2012). He was the first recipient of the Curator-in-Residence grant by the Potsdam City Council, Brandenburg, Germany, in (2017). He is the founder and director of the Lagos Biennial, a non-profit contemporary art platform that privileges adventurous approaches to artmaking, presentation, and critical discourse–aspiring to broach complex social and political problems, cultivate new publics, and establish fresh modes of engagement within the city, as well as throughout the country and internationally. Oshun was invited as guest curator at the Pinakothek der Moderne, Munich (2021) where he curated the group exhibition LOOK AT THIS. He also served as an advisor for the Africa Season (2020). His most recent solo exhibition "Museum of Hope" opened in 2021 at the Berliner Dom.
In 2021, Folakunle Oshun was invited as Guest Professor to the Staatliche Hochschule für Gestaltung Karlsruhe to lead the seminar "Spatial Politics and Story Telling." He is currently a Doctoral candidate at the Heritage Laboratory, of Cergy University, École Nationale Supérieure d'Arts de Paris-Cergy, France, where he also lectures.
ABOUT OYINDAMOLA FAKEYE
Oyindamola Fakeye is the current Executive & Artistic Director of the Centre for Contemporary Art (CCA), Lagos, where she previously co-founded the Video Art Network (VAN) Lagos. She sits on the board of Arts in Medicine Projects and is a Director of Special Projects for the Global Arts in Medicine Fellowship, training art and healthcare practitioners on best practices within the field and is the 2023 Chair of the National Art in Health Week Nigeria. Oyindamola is a Company Director for Res Artis the worldwide professional body for artists residencies and regularly consults to support learning and participation, digital collaboration, entrepreneurship, grant giving and cultural relations through the creative industries.
ABOUT CHIIZII
Chiizii is an interdisciplinary artist, designer and researcher. Born in London, raised in New York and Igbo. Working heavily with but not limited to painting, collage and textile design. Her work centers the specificities of Igbo, Nigerian and African experiences and histories.
Her current research aims to establish the significance of art in the communication and maintenance of Igbo food culture. As well as the use of making art as a learning method and presenting art as a teaching method. Recent shows include 1-54 London, Somerset House 2022, RA Summer Exhibition, Royal Academy 2021, Collective Processes Gucci Circolo 2021.
ABOUT VICTOR EHIKHAMENOR
Victor Ehikhamenor is a Nigerian multimedia artist, photographer and writer. He has been prolific in producing abstract, symbolic and politically/historically motivated works.
A 2020 National Artist in Residence at the Neon Museum, Las Vegas, Nevada, Ehikhamenor is also a 2016 Rockefeller Foundation Bellagio Fellow. He has held several solo exhibitions and his works have been included in numerous group exhibitions and biennales, including: The 57th Venice Biennale as part of the Nigerian Pavilion (2017), 5th Mediations Biennale in Poznan, Poland (2016), The 12th Dak'art Biennale in Dakar, Senegal (2016), Biennale Jogja XIII, Indonesia (2015).
As a writer he has published fiction and critical essays with academic journals, magazines and newspapers round the world including New York Times, Guernica Magazine, BBC, CNN Online, Washington Post, etc.
Ehikhamenor is the founder of Angels and Muse, a thought laboratory dedicated to the promotion and development of contemporary African art and literature in Lagos, Nigeria.
ABOUT TEMITAYO OGUNBIYI
Temitayo Ogunbiyi explores the relationships between environment, line, and representation. Moving between mediums, her work links current events and anthropological histories, and aims to build diverse communities from her perspective as a Nigerian-Jamaican-American. In 2018, she built her first functional playground, appropriating construction materials and conventional household items into a composition of non-prescriptive stimuli. The artist has made six functional playgrounds to date.
Ogunbiyi is the recipient of several fellowships and awards, including a Graham Foundation grant (2022), Foundation for Contemporary Art Emergency Grants (2011, 2022), a Henrike Grohs Award finalist (2022), a 2020-2021 Digital Earth Fellowship, a 2018 Smithsonian Artist in Research Fellowship and a 2014 Ford Foundation Fellowship. Her artwork has been exhibited at the 12th Berlin Biennale, Van Abbemuseum (Eindhoven, Netherlands), Para Site Contemporary Art Center (Hong Kong), Madre Museum (Naples, Italy), the 2nd Lagos Biennial, the Pulitzer Foundation for the Arts, the Centre for Contemporary Art Lagos, the Museum of Contemporary African Diasporan Arts (Brooklyn, NYC), the Perm Art Museum (Perm Russia), a curatorial publication for the 10th Berlin Biennale, and the Fries Museum (Berlin). Her work is in the collections of Merril Lynch/Bank of America, the Museo Madre (Naples, Italy), and Musée quai de branly, and several private collections. She is currently preparing for a solo institutional exhibition in New York City and Basel (Museum Tinguely), and a forthcoming group show at HKW (Berlin). She lives and works in Lagos, with her young family.