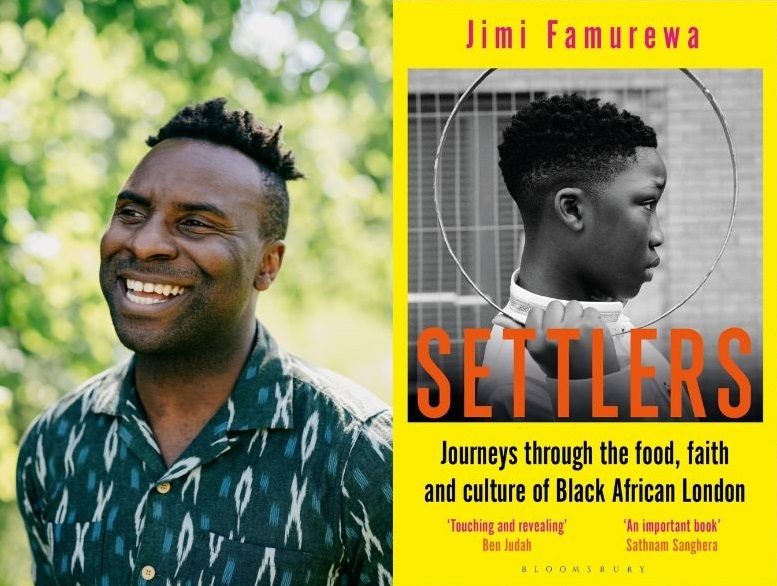 Join writer Jimi Famurewa in conversation with Jendella Benson at the South London Gallery. The event celebrates the launch of the paperback edition of Jimi's book, Settlers: Journeys Through the Food, Faith and Culture of Black African London.
Jimi and Jendella will explore the themes of the book and its links with the SLG's exhibition, Lagos, Peckham, Repeat.
With refreshments and an opportunity to buy a signed copy of the new paperback.
ABOUT SETTLERS
In Settlers, Jimi seeks to understand the ties that bind African Londoners together and link them with their home countries. He visits their places of worship, sits down at their dinner tables, markets and restaurants, visits queer Afrobeat club nights, attends African Saturday schools, attempts to learn their languages and listen to their stories from shopkeepers to activists and artists to politicians.
Jimi also uncovers a darker side, of racial discrimination between White and Black communities and, between Black Africans and Afro-Caribbeans. He investigates the troublesome practice of 'farming' in which young Black Nigerians were sent to live with White British foster parents, examines interactions with the police, and reveals the friction between traditional Black African customs and the stresses of modern life in diaspora.
ABOUT JIMI FAMUREWA
Jimi Famurewa is a British-Nigerian author, broadcaster and freelance journalist. His writing has appeared in the Guardian, Wired, Empire, and Time Out. He is the restaurant critic for the Evening Standard, regular guest judge on the BBC One series MasterChef and was also one of the judges on Channel 4's The Great Cookbook Challenge with Jamie Oliver. In 2021, he won Restaurant Writer of the Year at both the Fortnum & Mason Awards and the Guild of Food Writers Awards. His short story, 'Teddybird', was shortlisted for the 2017 Guardian/4th Estate BAME Short Story Prize and as an interviewer he has profiled Black African Londoners including Idris Elba, John Boyega and Skepta. He lives in South-East London with his family.
ABOUT JENDELLA BENSON
Jendella is of British-Nigerian descent and grew up in Birmingham before moving to South London. She studied graphic design and photography and worked as a freelance photographer and filmmaker before having her first son.
Jendella is author of the novel Hope & Glory and Head of Editorial at Black Ballad – the award-winning digital platform for Black British women. She is also the host of the podcast Black Ballad Presents: The Survival Guide. She has written for The Sunday Times STYLE Magazine, Metro Online and Independent Voices, as well as previously been a columnist for Media Diversified, MTV UK, and Christian Today. In 2017 she completed and self-published her project, Young Motherhood. It was covered in the Guardian, BuzzFeed, The Voice Newspaper, on London Live and in publications across Europe, Africa, America, and South America.
ACCESS
Wheelchair Access and Disabled Toilets are available at this site.

This event is seated.
Please contact mail@southlondongallery.org with access requirements.

 

We offer free tickets for carers, please email mail@southlondongallery.org to reserve your free carers ticket.