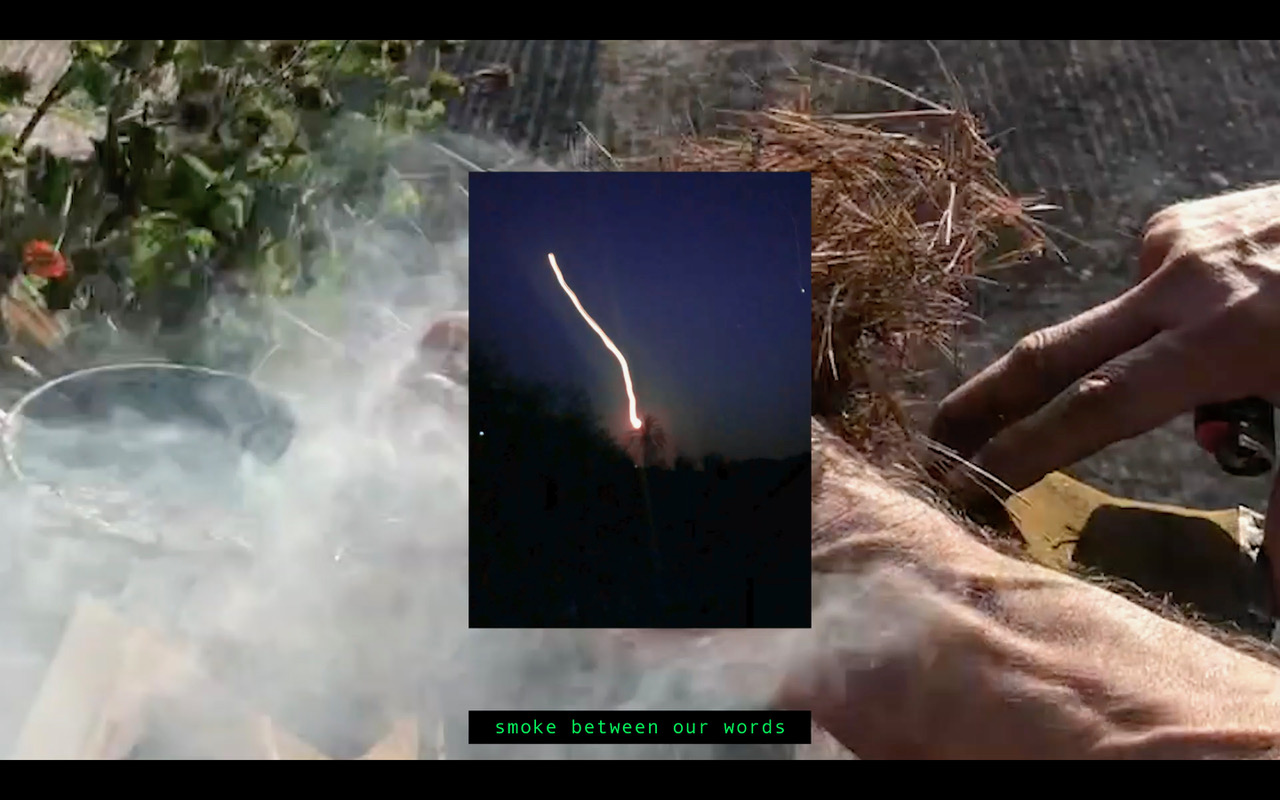 Join us for this online evening of readings, moving image, audio and performances by a number of artists selected for Bloomberg New Contemporaries 2020 who incorporate writing into their practice.
Literature, performance writing and spoken word are increasingly popular forms for contemporary art practice, yet are often challenging to showcase in exhibitions.
This programme aims to support and publicly present experimental writing by a diverse group of emerging artists.
Running order
Anna-Rose Stefatou, On Extinct Moons (and Silent Splinters), 2020, video, 7 minutes, 39 seconds
Rene Matić, HOW TO AVOID BEING ATTACKED, 2019, video, 8 minutes, 20 seconds
Please be aware this work details sensitive racial and queer experiences.
Ahren Warner, AND ONE THING LED TO ANOTHER, OR MORE ACCURATELY, 2021, video, 12 min 39 sec
Please be aware this work includes descriptions of sexually explicit acts.
Short break
Zethu Maseko, You do not belong here, 2021, audio recording and moving image, 12 minutes
Please be aware this work details racially sensitive issues, and references to gender and sexuality based violence.
Sophie Ruigrok, Meeting the Shadow, 2021, audio recording and image, 14 minutes, 56 seconds
Please be aware this work invites the audience to explore personal issues, which may be challenging.
To participate in this performance you will need pens or drawing tools and paper.
BLOOMBERG NEW CONTEMPORARIES 2020 DIGITAL PLATFORM
For 2020, New Contemporaries has launched a specially created digital platform showcasing the work of the 36 selected artists.
Access
Each artists' contribution will last approximately 8-15 minutes, with an additional 5-minute introduction.
Captions will be available via otter.ai, a link will  be available in the top left corner titled Live Stream Captions.
Audience members will not be visible.
There will be a 10 minute break.
To participate in Sophie Ruigrok's performance please have pens or drawing tools and paper.
ABOUT
Zethu Maseko's work explores ancient and contemporary mythology in relation to identity. She practises indigenising her internal and external conversation around the human experience, specifically concerning water and interconnectedness with the land. She works across performance, film, costume, tapestry, sound and often delivers workshops. Zethu describes herself as a cultural worker, artist, curator and is founder and practising member of North London Creative Resistance. She graduated from Goldsmiths, University of London in 2020 with a First Class BA (Hons) in Fine Art and on graduating was awarded the Nicholas and Andrie Tooth Travelling Scholarship and selected for New Contemporaries 2020.
Rene Matić (b. 1997, Peterborough) is an artist currently working in London. Their work brings together themes of post-blackness, glitch feminism and subcultural theory in a meeting place they describe as rude(ness) – bringing to light (or dark) the fated conflicts and contradictions that one encounters while navigating the world in a body like their own. Matić's research reaches back to post-war Britain and the survival tactics and 'tap dances' of Britain's Brown babies. They take their departure point from dance and music movements such as Northern soul, Ska and 2-Tone. Matić's current work predominantly explores the Skinhead movement, its founding as a multicultural marriage between West Indian and white working-class culture and its subsequent co-option by far-right white supremacists. They use this as a metaphor to examine their own experience of living in the Black British diaspora, to excavate white jealousy, the continued legacy of colonialism and the fear of a Black planet – all things which find convergence within and upon their mixed-race identity.
Sophie Ruigrok is an artist working in drawing and painting and is currently exploring sound. She graduated from The Drawing Year at the Royal Drawing School in December 2019 and has since been selected for New Contemporaries 2020. In 2020, she exhibited in London and Amsterdam and took part in a residential programme at an ecological co-op, Montemero, in Almería, Spain. Throughout 2021 she will be an artist in residence and community facilitator at Proposition's Studio's Eco-Syntax residency in Derbyshire, UK. Sophie writes art criticism and has contributed to frieze, Apollo, Dazed, Elephant and thisistomorrow.
Anna-Rose Stefatou (b. 1996) is a Greek-British interdisciplinary artist; she primarily works with moving image and writing. She completed a BA Fine Art at The Slade School of Fine Art in London in 2019, during which she took a semester abroad at The Academy of Fine Arts in Vienna. In her work, poetics and ecology merge through imagery that traces itself back to both cosmic and personal memory archives; the entanglement of time, light and memory are at the centre of her practice. She looks into the landscapes of kinship between human and more-than-human beings, through slippage and rupture.
Ahren Warner writes, makes films and takes photographs. Recent work has included the book and film The sea is spread and cleaved and furled (Prototype, 2020) and a book of poems and photographs, Hello. Your promise has been extracted (Bloodaxe, 2017). His work has been exhibited at venues including the Nikola Tesla Museum, Zagreb, Centro de Cultura Digital, Mexico City and Great North Museum, Newcastle, whilst he also appears regularly at literary events and festivals, including for the BBC Proms, Royal Festival Hall and British Council. A new book, I'm *totally* killing your vibes, is due to be published by Bloodaxe in 2021.