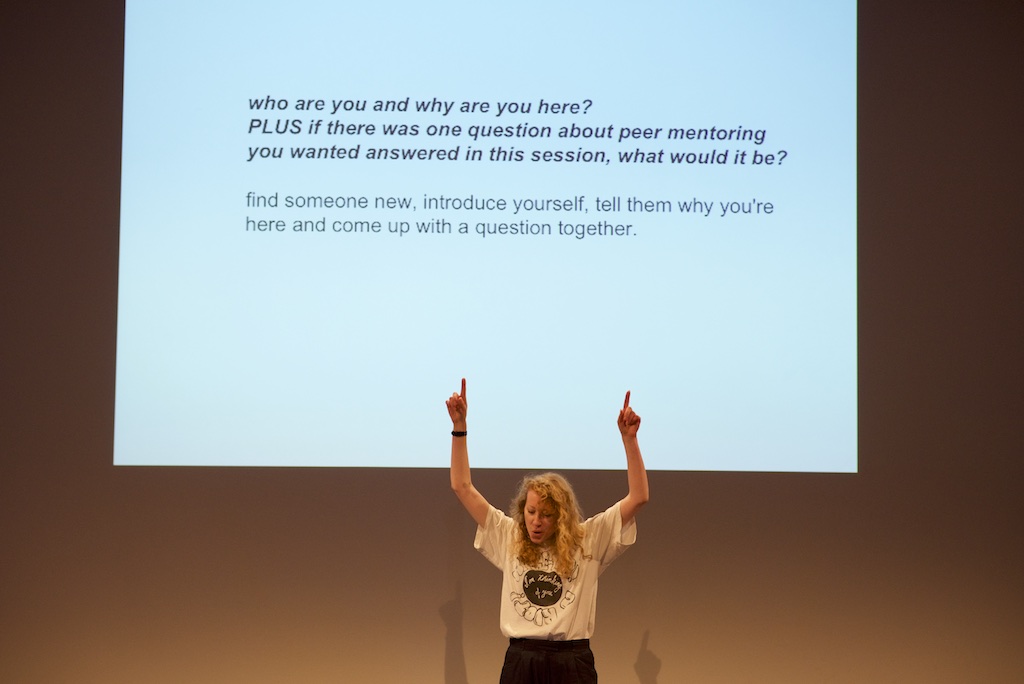 This talk and participatory session is led by artist and peer mentor, Chloe Cooper. Cooper will introduce the practice of peer mentoring and its benefits, suggesting ways to establish groups and models of feedback. As part of the session attendees are asked to share their practice within a small group.
Please bring an example of an artwork that is in development. It could be a photograph, a video on a phone, a hand held sculpture, a drawing in a sketchbook, a set of gestures from a choreography or a section from a performance to perform live.
This session is programmed by Artquest in partnership with New Contemporaries.
BIOGRAPHY
Chloe Cooper works with people in places to bring about some kind of change. She uses performative tours, lectures and instructional videos to propose something quite improbable to be worked through together. Often combined with Chloe's participation in critical forms of art education in museums, galleries and schools, these performances look for alternatives to existing ideas, forms and knowledges. Chloe has been part of a Live Art peer support group since 2008, co-led peer mentoring projects in 2009 and 2010 in association with Live Art Development Agency, Camden Arts Centre and Zabludowicz Collection and is currently leading practice sharing alongside the Learning team at Tate.
Chloe has recently exhibited and performed works at Art Vilnius '14, Vilnius, Lithuania (2014); SpiderS, Smaragd, Berlin (2014); LPV, Tate Britain, London (2013); Until I, I Know You Better, Ti Pi Tin, London (2013); Leeds Leeds Leeds!, blip blip blip, Leeds (2013); Project Visible, Tate Modern (2013); The Everything and Nothing Problem, Ceri Hand Gallery/Jerwood Space, London (2013); Reactor Halls E03: Daniel Oliver presents Live Art Dogging, Primary Studios, Nottingham (2013); Whitstable Biennial, Whitstable (2012); TURN IT ON AGAIN, Motel De Nowhere, London (2012); and Artists in Residence, Whitechapel Gallery, London (2012).