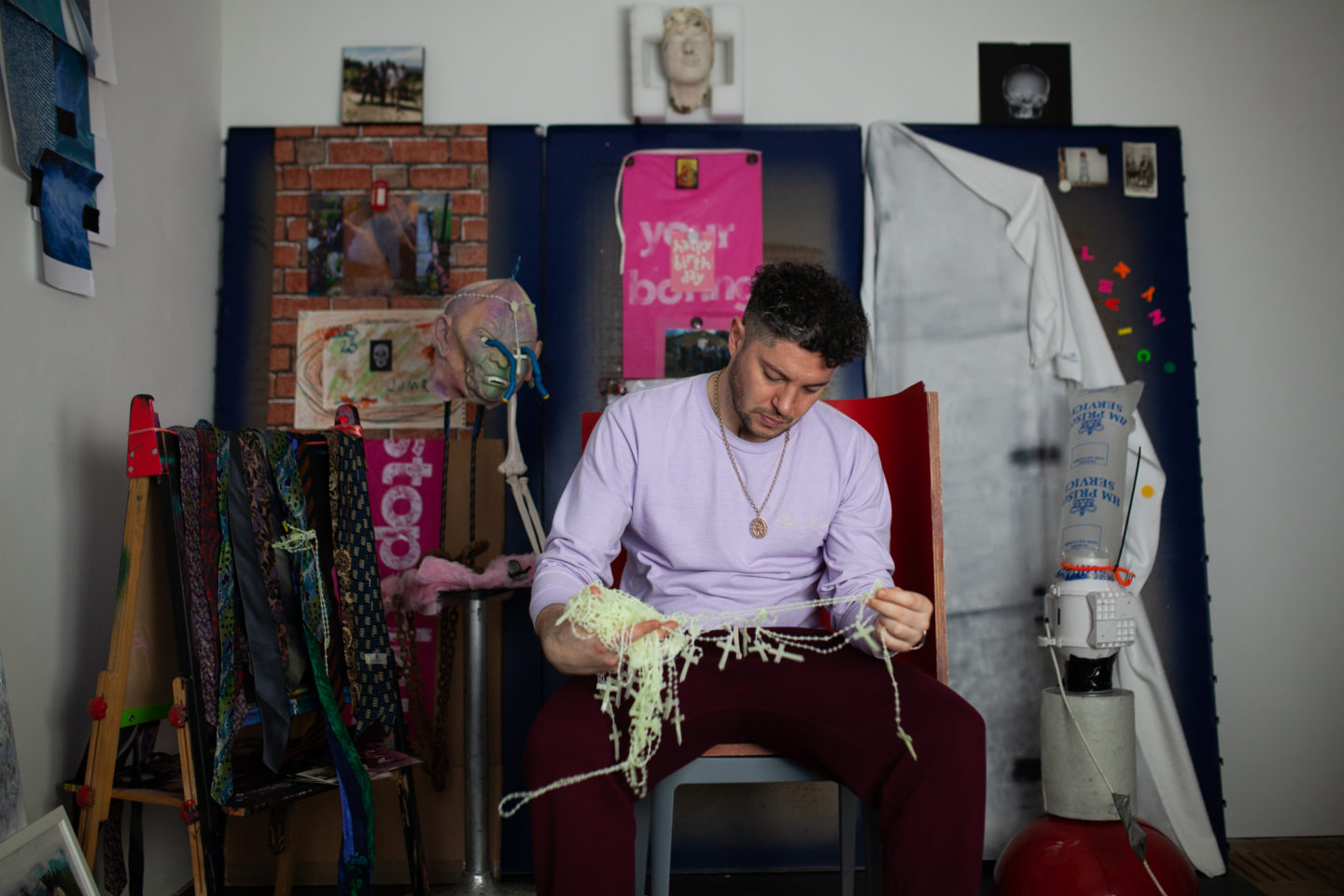 Join us for an evening of live poetry and music curated and hosted by artist and the SLG's 12th Postgraduate Artist in Residence, John Costi. The event will expand on themes explored in Costi's exhibition, Found Football Difficult, on display in the SLG's Fire Station Galleries.
The event also marks the launch of Costi's book The Saga's: Tales of Skullduggery in a Material World which includes poems and a deeply personal archive of legal documents, photos, letters and artworks. Rhett Nicholl and Bill Daggs will present musical performances alongside poems from the publication. Costi and Nicholl's work has been described as 'Haunt' music, taking influence from Grime, Garage, Gospel and Neo-soul.
The event will also include spoken word by Ronnie Hill and Tony Yella AKA Ashley Loxton.
ABOUT JOHN COSTI
John Costi (b.1987) is an artist whose work draws on his Cypriot and Irish heritage, and experience of growing up in London. He creates sculptures, installations, paintings and performance. Often improvised and informed by chance, the work lives in the social sphere. He is interested in dismantling hierarchies of art experience, turning passive audiences into active participants. Costi graduate from Central St Martins MA Fine Art in 2022.
Recent exhibitions include; Tiger Milk, Krabbesholm Højskole, Denmark; Trash Money, Light Eye Mind, London, Inside at Two Temple Place; and performances at V22, London and Tate Modern, London.
ABOUT RHETT NICHOLL
Rhett Nicholl is a soul singer in the truest sense.
Honest, courageous and emotionally revelatory, the 33-year-old's brooding compositions are born out of real struggle, and are testament to the power of music as a lifeline for those at their lowest ebb.
His work sublimates a lived experience of London sub-cultures, exploring the fragments of a human condition typically more inclined to shadows.
ABOUT BILL DAGGS
bill daggs b. 1981, London, is an artist / archivist / musiker, working across disciplines from his London studio. His rhythmic investigations involve, though are not limited to, painting, sculpture, installation, performance, moving image, text and sonic composition
ACCESS
Wheelchair Access and Disabled Toilets are available at this site.

This event is seated.
Please contact mail@southlondongallery.org with access requirements.