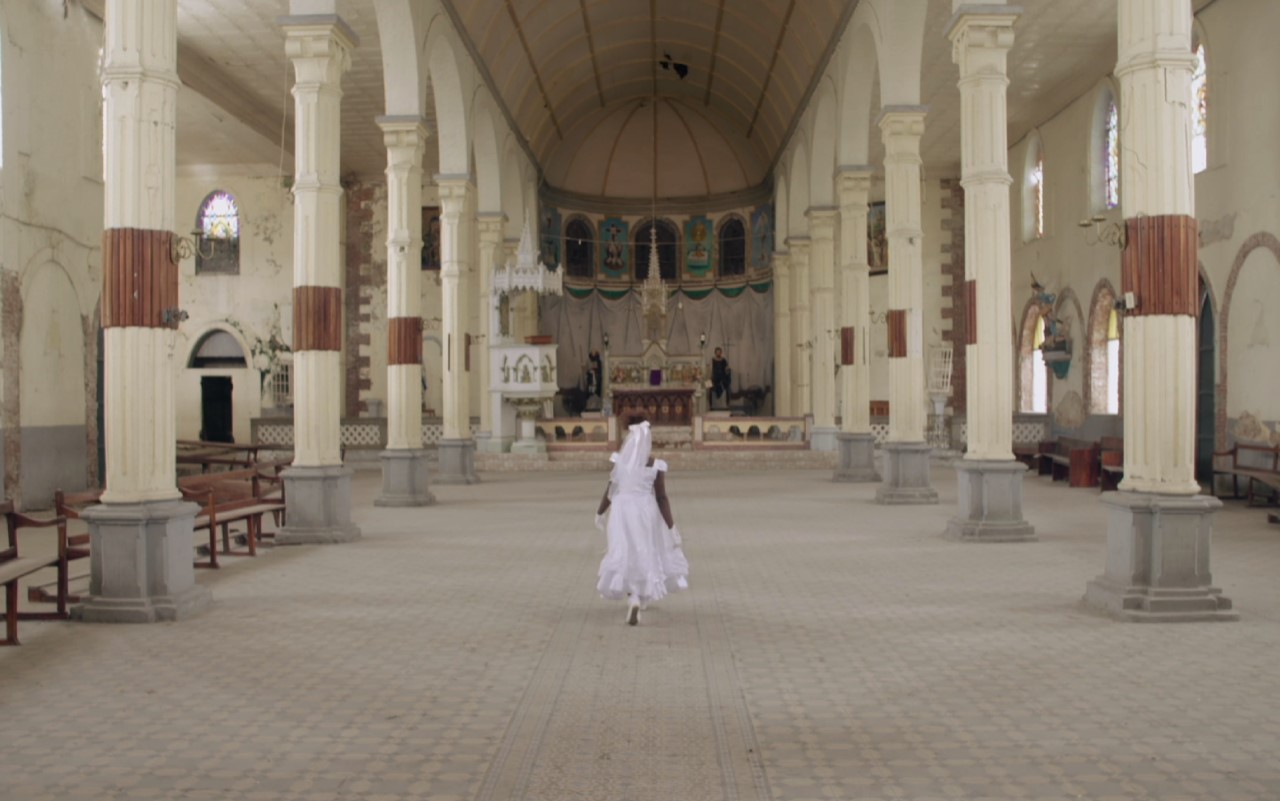 South by South presents Douvan Jou Ka Levé (2017), a film by Gessica Généus, selected by writer and programmer Derica Shields. The film is a personal reflection on the fraught religious divide between Vodou and Christianity in Haiti and an intimate portrayal of family mental illness.
The screening is followed by a panel discussion chaired by Derica Shields, with Kareem Reid, Alinta Sara and Pavan Bivigou.
ABOUT
South by South is the SLG's quarterly programme of bold and innovative cinema from Africa and the diaspora.
Derica Shields is a writer, researcher and cultural worker from London. Her writing has appeared in Flash Art, Frieze, Girls Like Us, Live Art Almanac, the New Inquiry and Rookie. She has presented sound-texts at Cell Projects and Wysing Arts Centre. She is the co-founder of The Future Weird (2013–15), a screening and discussion series centred on experimental, world-unravelling films by African and African descended artists and directors, which presented programmes in Brooklyn, New York City, Philadelphia and Detroit. As part of a 2017 Triple Canopy commission, she is completing a multi-format oral history project about Black people's accounts of the UK welfare state. Her book project commissioned by Hannah Black is forthcoming from Book Works in 2020.
Kareem Reid is a writer from south London. Reid studied Film and Literature at the University of Warwick and is currently studying writing at Royal College of Art, London. His critical essays have recently been featured in art publications ARTS.BLACK, frieze and Luncheon. After launching his club night Body Party in 2015 for Black queer people and the people who love them, he has examined Black nightlife, film and fine art photography with video installations and archival research which converge through his artistic and curatorial practice.
Alinta Sara is the co-founder of Bokantaj, a collaborative initiative that aims to raise greater awareness about the histories and universal themes that connect communities in the global south. Her current research is on the Afro Brazilian architectural heritage in the Bight of Benin and reflects on the link between collective memory, space and architecture. Sara works as a lecturer at the Centre for Languages, Culture and Communication at Imperial College and as a freelance workshop producer with arts organisations in London including the October Gallery, Lon-Art and the Africa Centre.
Pavan Bivigou is a writer from London. With a background in global consumer research and experience as trend forecaster, her interests are film, fashion and the future. Her writing has been featured in Sight and Sound Magazine, This Recording and The New Inquiry.