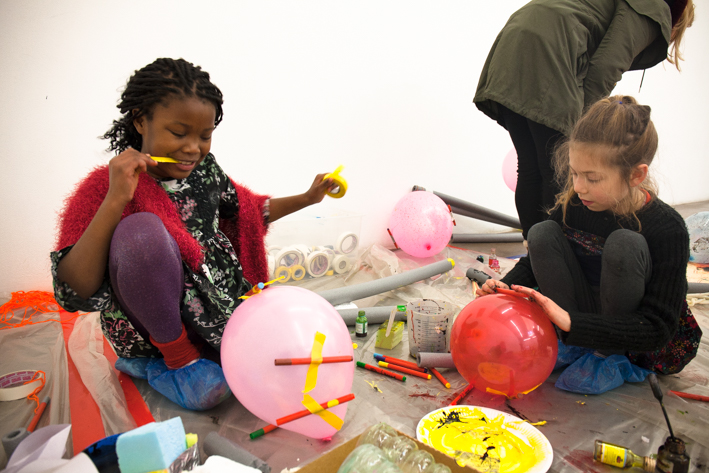 Join the Art Assassins and Lucie Kordacova to customise clothes and fabric with embroidery, patchwork and collage.
Please bring along your old clothes and any fabric you'd like to to customise, some materials will be provided.
Over the last 18 months the Art Assassins have been researching the history of the pioneering health movement the Peckham Experiment, considering its relevance to health, self-organisation and art today. This event is inspired by the clothes exchanges which took place between members at the Peckham Experiment.
Sunday Spot is an ongoing series of free, drop-in family activities which takes place every Sunday from 2-4pm, suitable for children aged 3-12 years. All sessions are inclusive, for more information on access to the gallery please read here.
BIOGRAPHY
Art Assassins are group of young beings who meet every Tuesday night. Through their collaborative projects they have defined a unique peer-led approach and created platforms which represent themselves and their ideas.
Previous projects have seen the Art Assassins present a night of .gifs, sound and sculpture in collaboration with Alicia Reyes McNamara, Dot Dot Dot (2017); perform with Network 11 at Frieze London, Sonorous (2016); create their own shampoo for their exhibition at DKUK, Liquid Rye (2016); create an accumulative online archive, #allinsouthlondon (2016); curate the exhibition Invisible Hours (2015); broadcast live through the night from a secret forest location, Bivvy Broadcast (2014); team up with a young people's group in Johannesburg to record and release their own cassette, We are us and You are You (2014); develop one of the first collaboratively designed video games made by young people, Arcade Peckham (2014); and takeover the London airwaves for 24 hours, Resonance FM Takeover (2013).
Lucie Kordacova is a Czech artist and curator based in London. Through a largely collaborative practice, her work takes the form of installations, sculptures and videos. She utilises these mediums as a means to both facilitate and interrogate the dynamics between different communities in constructed environments. Lucie is a co-founder of the curatorial platform sixtysevencollective and is involved in the volunteer-run organisation Deptford Cinema. She is also a co-curator of the Ferrara Residency, a one-month artist residency project organised annually in the city of Ferrara, Italy. Some of her recent projects include: RAM reading group, Index – The Swedish Contemporary Art Foundation, Stockholm in 2018; a bath of self-esteem, Galleria del Carbone and GATE|Porta, Ferrara in 2017; Watching a Strange Theatre, Deptford X Gallery and the Old Tidemill Garden in 2017 and she is an award winner of Deptford X Fringe, 2016; The Prague National Gallery, OFF2 BIENNALE, Prague in 2016; Biennale of Young Arts, MMOMA, Moscow in 2014. She has a BA in Fashion Design from the Technical University in Liberec and an MA in Fine Arts from J.E Purkyne University. She also studied at the Academy of Fine Arts in Prague and at the Academy of Fine Art and Design in Bratislava. She is an alumni of the REcreative Film School 2017.