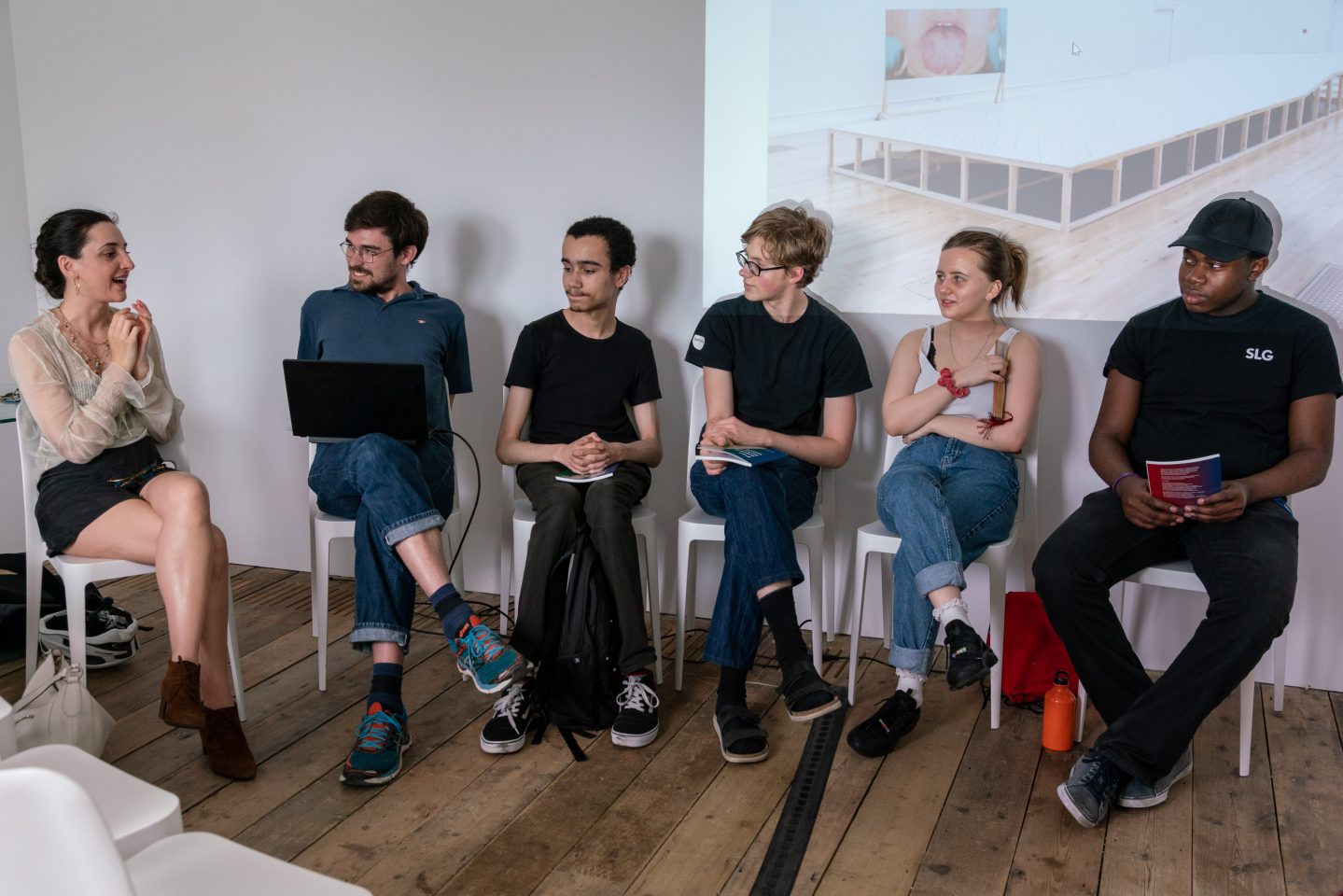 Starting a career in the arts?
Join us for a weekend of pop-up events led by artists, culture professionals, alternative art and design schools and peer-led organisations.
On the second day of the event, discover alternative options for art education, and get practical advice on how to spread the word about your projects, collaborate with audiences, work with children and young people.
Conversations throughout the weekend raise important questions around representation in the arts, a culture of free labour and its impact on the workforce.
PROGRAMME
SUNDAY 8 SEPTEMBER
Workshop: Precarity handbook
11am-6pm, Gallery 1, Fire Station, Free
Artist Nicole Jesse leads a drop-in workshop focusing on the challenges faced by people beginning their careers in the creative industry. Over the weekend, responses from participants are joined together to make chapters of a handbook that people can assemble and take away. The book will think through and map out alternative routes towards a creative career, and include visitors' reflections as the weekend progresses. Nicole Jesse is part of artist duo TO THE POWER OF with Pixie Tan, the original founder of The Precariat Self Help Handbook.
FAIR: Alternative Arts Programmes
11am-6pm, Gallery 2 & 3, Fire Station, Free
Discover more about new models for education across the UK in this fair for organisations that run alternative arts learning programmes.
Stalls include:
Workshop: Working with Publics
1-2pm, Kitchen, Fire Station, Free
Amy McDonell and Eva Sajovic lead a session in the Kitchen on collaborating with audiences. Join them to make and break bread while asking the question: what is an audience and how do I work with them? Amy is a curator and researcher whose practice engages with contemporary themes of collectivity, collaborative exhibition making and political participation. Eva is a socially engaged artist photographer. Her practice covers two strands: participatory social action projects and photographic social portraiture produced in collaboration with the subject.
Talk: How to tell the world about your work
2-3pm, Gallery 4, Fire Station, Free
Rachel Cass (Head of Communications, SLG), introduces ideas for how to communicate about your projects and ideas in a clear and engaging way. She considers simple, effective ways to engage with press, audiences and stakeholders.
Talk: Artists' Websites
3-4pm, Gallery 4, Fire Station, Free
Paul Crook (Young People's Programme Manager, SLG), leads a session on websites for artists and creative practitioners. Using live examples this talk outlines the considerations which need to be taken in order to create a successful website. It also covers practical advice and technical tips on setting up a website and preparing content.
Talk: Working with Gallery and Museum Education Programmes
4–5pm, Gallery 4, Fire Station, Free
Sarah Coffils (SLG Head of Education) and Jemma Egan (artist) discuss current commission, Family Members, for the South London Gallery and discuss aspects of working with different education programmes.