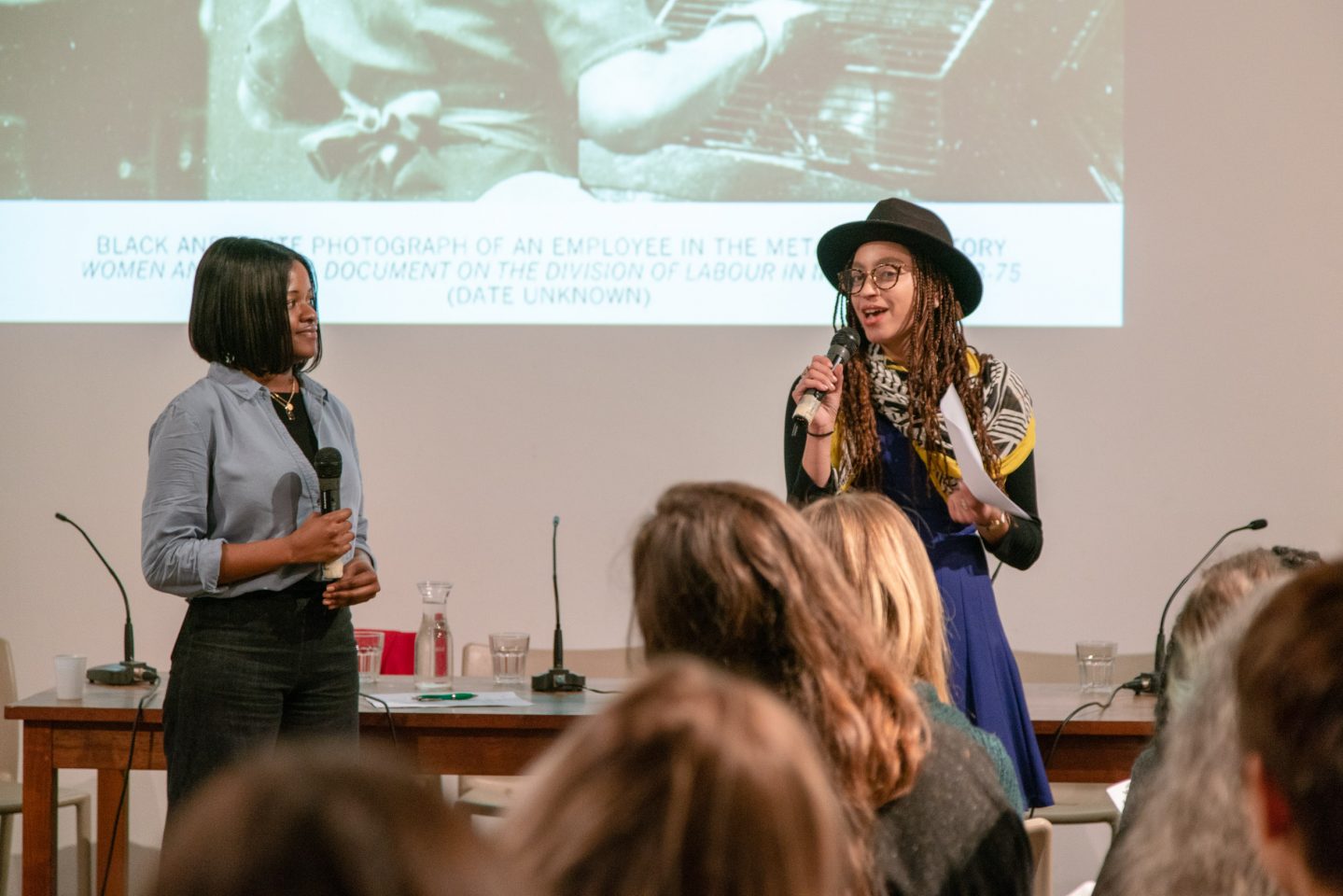 Clore Studio, Main Building & Fire Station Galleries 1, 2, 3 & 4
Starting a career in the arts?
Join us for a weekend of pop-up events led by artists, culture professionals, alternative art and design schools and peer-led organisations.
On the first day of the event, get practical advice on how to develop your work, build a peer support network, apply for funding and navigate the cultural industry.
Conversations throughout the weekend raise important questions around representation in the arts, a culture of free labour and its impact on the workforce.
PROGRAMME
SATURDAY 7 SEPTEMBER
Work-in-Progress Surgery (FULLY BOOKED)
11am-4pm, Clore Studio, Main Building, Free
This session is now fully booked.
Workshop: Precarity handbook
11am-6pm, Gallery 1, Fire Station, Free
Artist Nicole Jesse leads a drop-in workshop focusing on the challenges faced by people beginning their careers in the creative industry. Over the weekend, responses from participants are joined together to make chapters of a handbook that people can assemble and take away. The book will think through and map out alternative routes towards a creative career, and include visitors' reflections as the weekend progresses. Nicole Jesse is part of artist duo TO THE POWER OF with Pixie Tan, the original founder of The Precariat Self Help Handbook.
Fair: Creative Opportunities for Young People in south east London
11am-6pm, Gallery 2 & 3, Fire Station, Free
Discover more about local organisations in this fair for young people leaving full time education.
Stalls include:
Q+A: THE SLG RESEARCH, TRAINING AND DEVELOPMENT PROGRAMME
11.30AM-1.30PM, ATTIC, FIRE STATION, FREE
Join Leah Morris, 2018-19 Residents' Programme Assistant, and Ben Messih, Heritage Education Manager, to discover more about the South London Gallery's alternatively-accredited apprenticeship programme. The SLG's Programme Assistants are year-long entry-level posts paid at London Living Wage, designed to support pathways into the arts and heritage sectors for people under-represented in museums, galleries and heritage organisations.
Alongside a range of hands-on programme delivery, SLG Programme Assistants benefit from participation on a 12-month Research, Training and Development programme, built on independent research, studio visits, mentoring and formal training opportunities. Find out more about applying for these posts in an informal Q+A with Leah and Ben. Applications for the 2019-20 Heritage Programme Assistant, and 2019-20 Residents' Programme Assistant close on 18 September, click here for more information.
Talk: Fundraising Masterclass
11.30am-12.30pm, Gallery 4, Fire Station, Free
Young Arts Fundraisers, a voluntary organisation of sector professionals working in fundraising, introduce different income strands to support your projects.
Talk: Tools for Peer Learning
2-3pm, Gallery 4, Fire Station, Free
Ehryn Torrell and Lily Hill, members of Feminist Duration Reading Group, lead a talk on tools for peer learning.
Panel Discussion: Should you work for free?
4-6pm, Clore Studio, Main Building, Free
A panel discussion with organisations from across the UK debates the value of volunteering, a culture of unpaid labour and whether you should ever work for free. Panelists include: Aisha Al-Abdallah (Member, REcreative Editorial Board), Rachel Santa Cruz, (Young Trustee at the Roundhouse), Katriona Beales (Artist and Founder, Artists Union England), and Directors of The Bower, a collaborative project between Louisa Bailey and Joyce Cronin.