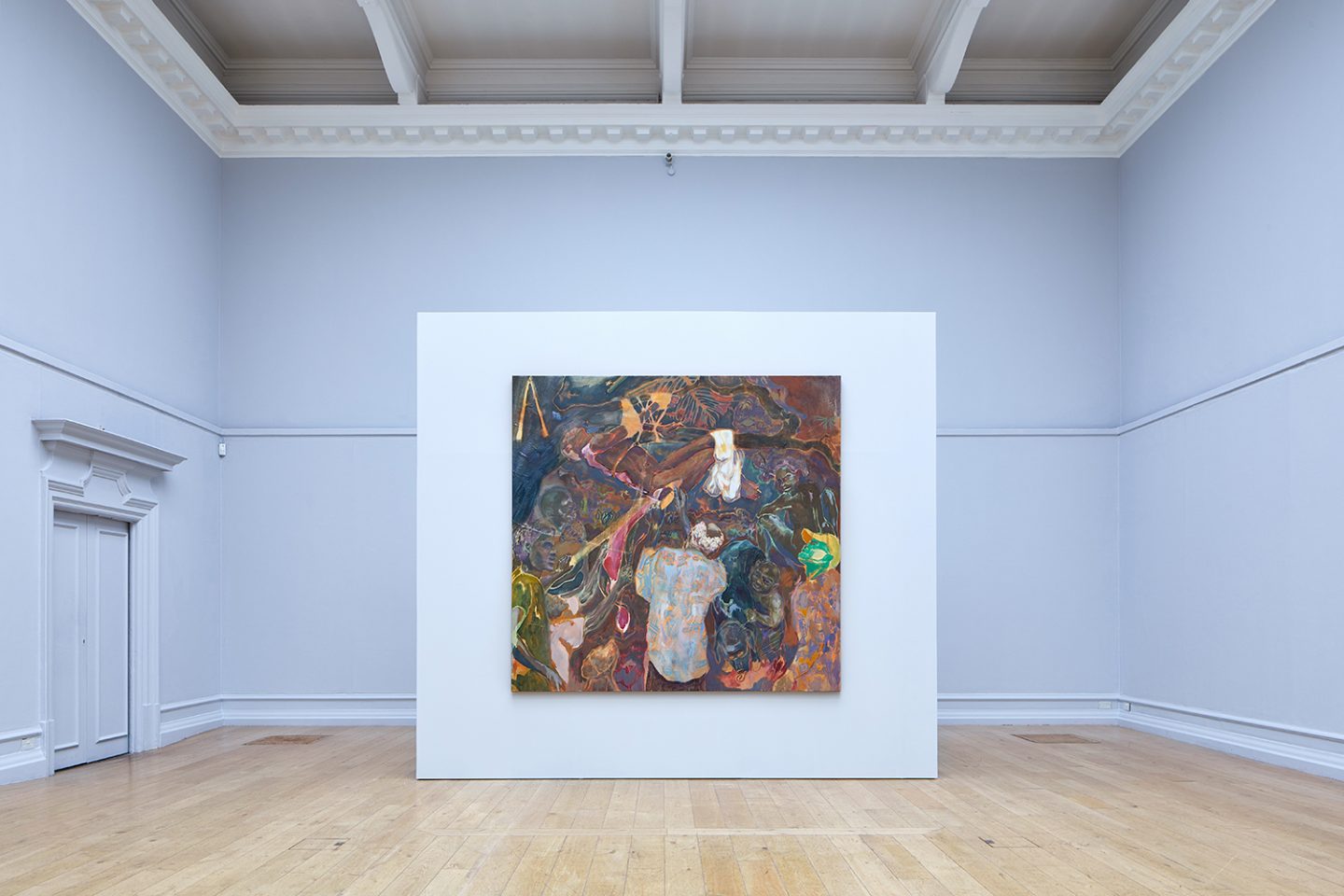 Free exhibition
Main Gallery
The jarring interplay between the seductiveness of his surfaces and his sinister subjects animates his work
Big washes of colour, endless intertwined details: ghostly, aggressive, subtle, colourful, dark.
This solo exhibition by London-based, Kenyan-born artist, Michael Armitage, brings together a new body of work that draws on the chapel-like qualities of the SLG's main space.
His large-scale paintings explore the ambiguous boundaries between religion, folklore and social consensus, particularly in relation to issues of mental health in East Africa.
Referencing historical and contemporary news stories, internet gossip, and the artist's own experiences of Kenya, the paintings blend dream-like figuration with compositional references to Titian, Gauguin and other masters of Western art history.
Painted on Ugandan lubugo bark cloth, the texture and ruptures within this distinctive material are integrated into Armitage's surreal imagery, the surface beauty of which often belies the disturbing subject matter upon which it is based.
Michael Armitage: The Chapel is accompanied by a publication with essays by Mukami Kuria and Roger Malbert, and a conversation between Michael Armitage and SLG director, Margot Heller.
BIOGRAPHY
Michael Armitage received his BA in Fine Art from the Slade School of Fine Art 2007 and has a Postgraduate Diploma from the Royal Academy Schools 2010. Recent solo exhibitions include Peace Coma, Turner Contemporary, Margate; Strange Fruit, White Cube, Hong Kong, (both 2017) and Michael Armitage/ MATRIX 263, Berkeley Art Museum and Pacific Film Archive (2016). Group exhibitions include; Drawing Biennial, London (2017); Imitation of Life: Melodrama and Race in the 21st Century, HOME, Manchester, 2016; La vie Moderne, La 13th Biennale de Lyon, Lyon; I am because of you, Yuan Museum, Beijing, (all 2015); 100 Painters of Tomorrow, Beers Contemporary, London (2014); Tomorrow : London, South London Gallery (2014) ; Connecting Worlds, UBM, London (2013); Myth and Market (with John Tiney);Studio 1 :1, London (2013) ; Drawing Biennial 2013, Drawing Room, London (2013) and RA Schools Show, Royal Academy Schools Studios, London (2010).