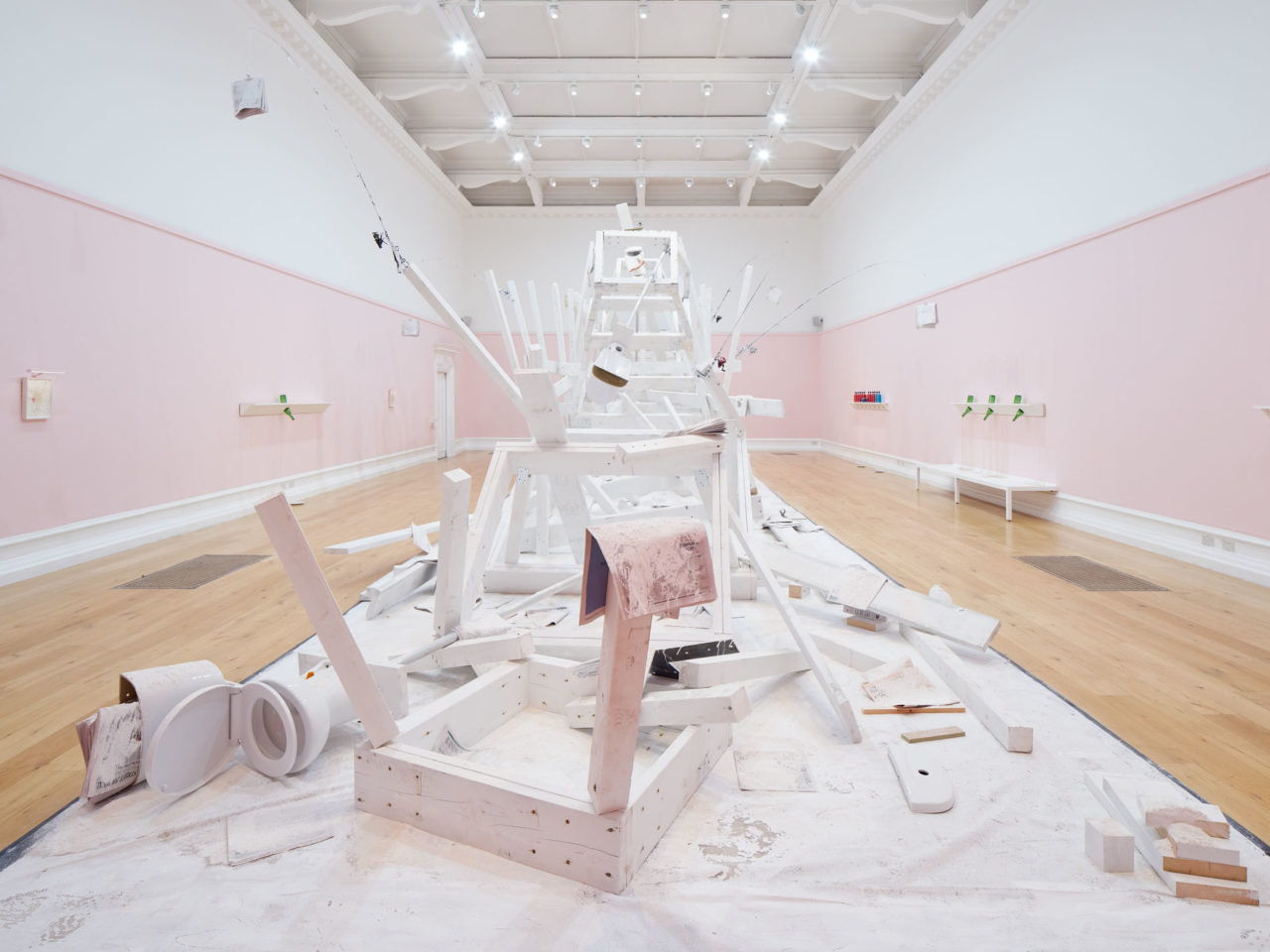 Free exhibition
Main Gallery & Fire Station Galleries
★★★★ – Time Out
Pope.L's wide ranging practice spans writing, painting, performance, installation, sculpture and video, which will be explored across both the SLG's Main Gallery and Fire Station. Hospital is the artist's first solo exhibition in a London institution.
With roots in philosophy and theatre, Pope.L's career since the 1970s has centred on society, politics and contemporary culture. The work often reveals contradictory and provocative themes in language, gender, race, economics and community. 
Pope.L's exhibition brings together a set of installations and interventions, all of which are reconfigurations of previous works. In the Main Gallery three large-scale wooden towers are in states of gradual collapse. They are a reworking of the towers on top of which the artist, wearing only a jock strap and covered in flour, sat on a toilet and consumed newspaper pages in his performance, Eating the Wall Street Journal, 2000. For this latest version Pope.L has removed the live performance element, shifting the focus to the dynamic of the toppling tower structures and viewers' capacity to imagine what might have happened or what is still to come. 
Further installations across the four galleries in the SLG's Fire Station explore ideas of memory, decay, forgetfulness, convalescence or mourning. The artist describes them as "sites where personal and institutional metaphors of care metastasize into scenes of spills, shelves with holes, fallen towers, broken bottles, dripping liquids, always something ongoing, always something undone and wanting fixed with dust or stains or trampled flowers. Hospital is that sensation of lying on your back on a stretcher in a hallway staring at the veins in the ceiling above while it stares right back". 
Quiet hour
There is a loud sound work in the Main Gallery. Every Wednesday from 7.30-8.30pm, there will be a quiet hour where this work does not play.
Get to know Pope. L
Read an interview with the artist and find out more about the show on The Art Newspaper. 
Artist biography
Pope.L (also known as William Pope.L; b.1955, Newark, New Jersey) is an artist best known for his provocative performances and public installations. While centering on themes such as gender and race, his works explore the systems, conflicts, and beliefs inherent to our society and culture. Pope.L studied at Pratt Institute and Montclair State College, where he received a BA in 1978. He also participated in the Independent Study Program at the Whitney and received an MFA in 1981 from Rutgers University. His works have been exhibited at many significant institutions, including the Anthology Film Archives, Franklin Furnace, Artist Space, Museum of Modern Art, New Museum, Performa, The Sculpture Center, the 2002 and 2017 Whitney Biennials, the Carpenter Center in Boston and the Geffen at MOCA Los Angeles. 
Exhibition supported by
Lead donor: Simon Nixon
Gallery support: Modern Art, London; Mitchell-Innes & Nash, New York; Vielmetter Los Angeles
Exhibition donors: Shane Akeroyd; De Ying Foundation; Elie Khouri Art Foundation; Jill and Peter Kraus
Additional support from the Pope.L Exhibition Supporters' Circle
Support us
The South London Gallery is a charity, all donations, large or small, make a difference.
Click here to find out how to support the SLG.
Access
There is a loud sound work in the Main Gallery. Every Wednesday from 7.30-8.30pm, there will be a quiet hour where this work does not play.
There are bright lights, both LEDs and strip lighting.
One of the rooms is dark, with no over head lighting. Visitors are invited to use torches to explore the artwork.
At the doorways to two of the galleries, there are red, butcher curtains that need to be pulled back. Please ask a member of staff if you need them to be pushed aside for you.