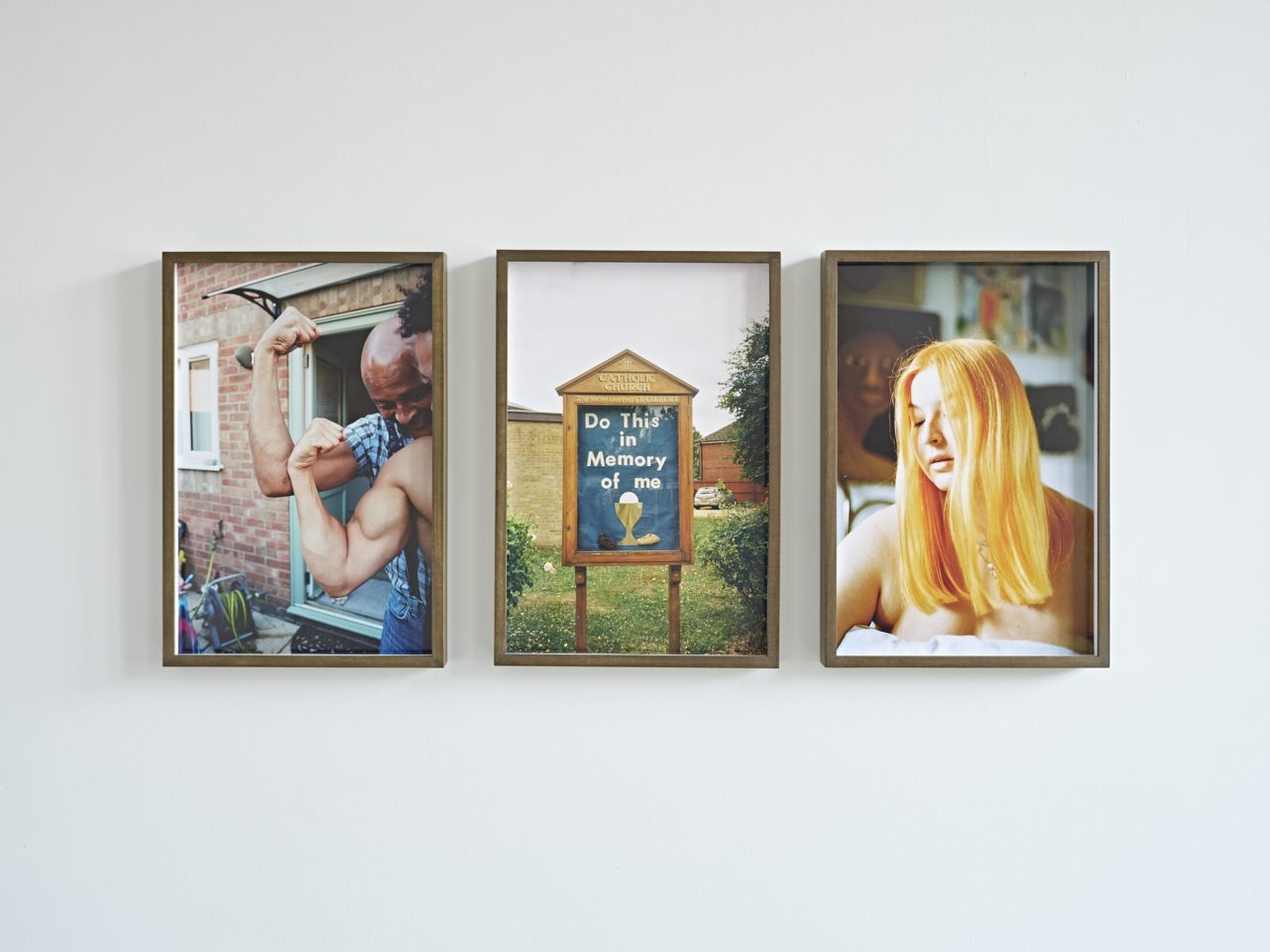 upon this rock is a solo exhibition by British artist Rene Matić. It will continue their long-term interrogation of 'Britishness', exploring how the nation's past manifests in its present. The exhibition will also address themes of subculture, faith and family.
A new installation of bronze and wood sculptures focuses on the figure of 'the crucified skinhead' – a long-standing symbol used to convey a sense of persecution and alienation. Matić's work frequently makes reference to the Skinhead movement, which originally emerged in the mid-1960s as a cultural exchange between Caribbean and white working-class communities. The exhibition will place subculture and spirituality in dialogue, positioning subculture as religion – as saviour or guide.
The exhibition will premiere a new film work centring on the figure of Matić's father, Paul. Also featured are new images from the artist's ongoing photography series entitled flags for countries that don't exist but bodies that do (2018 – ongoing). This series is a personal diary documenting Matić's community and family (chosen and otherwise), as well as being a portrait and deconstruction of contemporary Britain.
upon this rock is something of a love letter to the artist's father, who features in a new film work Many Rivers. 'I always wanted to tell my dad's story', Matić says. Born 'out of wedlock' to a white Irish Catholic woman and a man from St. Lucia in 1962, under the weight of prejudice from the church, Matić's grandmother left her new family unit for Ireland and was never heard of again. The film uncovering this history is 'an attempt at filling these gaps for him, because my whole life he's kind of been tortured by this ambiguity. I set out to learn and to tell this story, which is really a story, again, about the cause and effect of pain and suffering – and what saves us?'

– Extract from an interview with Rene Matić on Plinth UK.
ABOUT RENE MATIĆ
Rene Matić (b. 1997, Peterborough) is an artist, writer and poet based in London. Their work brings together themes of post-blackness, glitch feminism and subcultural theory in a meeting place they describe as rude(ness) – to interrupt and exist in/between. Matić takes their departure point from dance and music movements such as Northern soul, Ska and 2-Tone, using them as sites to queer and re-imagine the intimacies between West Indian and white working-class culture in Britain.
Recent solo exhibitions include in spite of, instead of, Quench Gallery, Margate, UK (2022), flags for countries that don't exist but bodies that do, Arcadia Missa, London, UK (2021), Born British Die British, VITRINE Gallery, London, UK (2021). Recent group exhibitions include Crowd Control, High Art, Arles, FR (2022); Queerdirect, Sadie Coles HQ, London, UK (2022); Arcadia, Bold Tendencies, London, UK (2021); Bloomberg New Contemporaries, South London Gallery, London, UK (2021) and Friends and Friends of Friends, Schlossmuseum, Linz, AT (2020). Matić's work is in several prominent collections including Tate, London, UK; Fondation Louis Vuitton, Paris, FR; UK Government Art Collection, London, UK; Martin Parr Foundation, Bristol, UK.
The new film work that will premier in this exhibition was originally commissioned by Film and Video Umbrella for BEYOND. 
This film contains descriptions of child abuse and a reference to suicide.