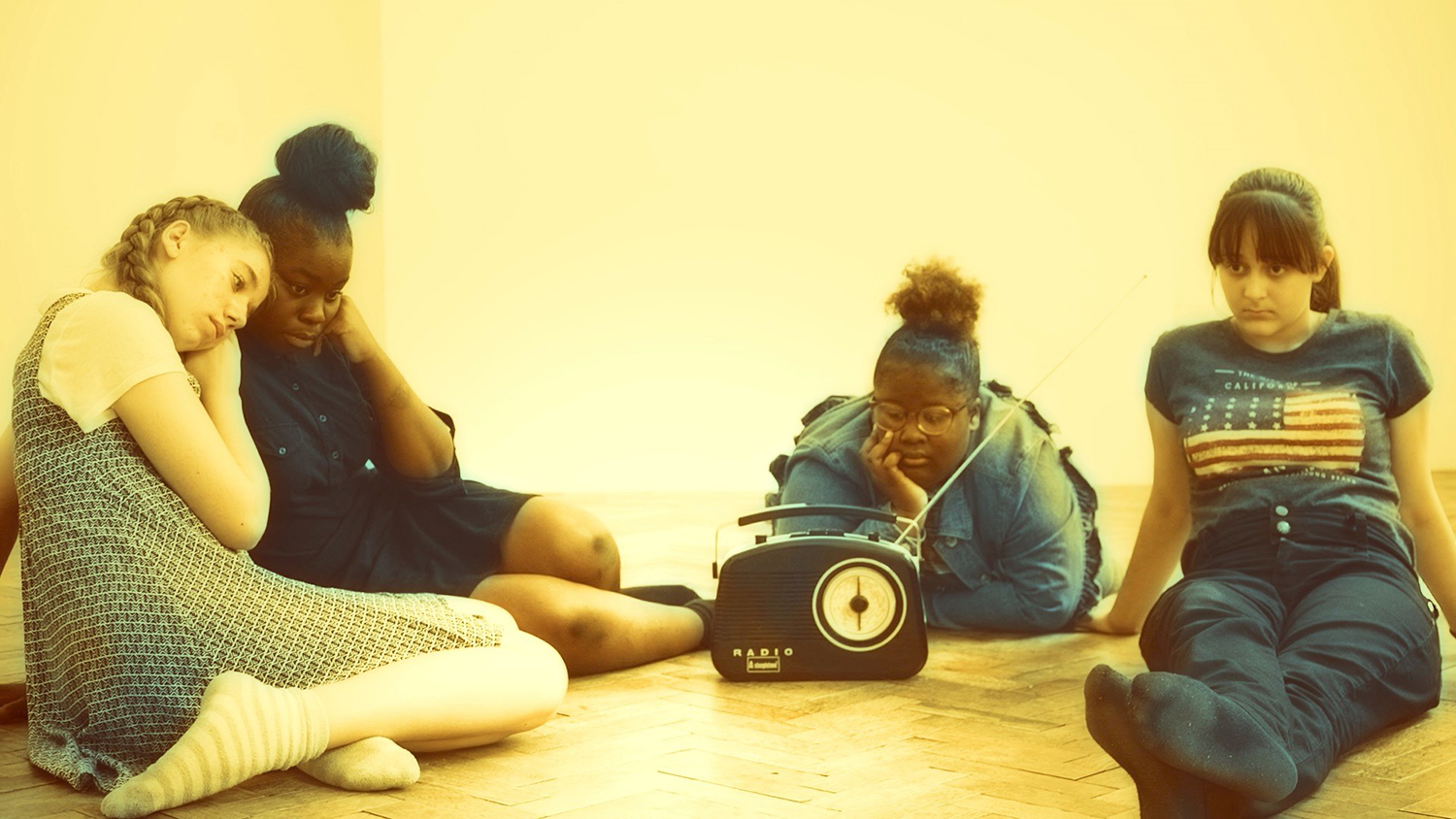 Free exhibition
Studio, Fire Station
The Resounding Bell is a seven-part short film series and live performance by Rory Pilgrim, co-developed with a council of women aged 22 – 94, who live and work locally, and a group of young women from Harris Girls Academy, East Dulwich.
The Resounding Bell explores how we might amplify otherwise unheard stories from the past that are in danger of being left silent for generations to come. With our lives dominated by digital communication, the intersecting episodes reflect on how we can come together from different generations to share stories, ask questions and listen in order to understand the past and move forward into the future.
The council, an intergenerational collective of seven women, met to explore and share stories of care, community, migration, technology and war; to ask questions of the past and to propose questions for the future. At the Fire Station, the group of young women responded to these narratives, in sessions which took on a rhythm of call and response. Broadcast online and in the Fire Station Studio, Pilgrim's episodes ultimately prompt us to reconsider how we might resonate our past and futures within the urgency of the present.
The final episode, As Close to the Future As Possible, was live broadcast from the Old Waiting Room at Peckham Rye Station on Sunday 21 October.
The Resounding Bell was commissioned through the South London Gallery's critical heritage programme, Evidence of Us.
Biography
Rory Pilgrim (Bristol, 1988). Centred on emancipatory concerns, Pilgrim's work aims to challenge the very nature of how we come together, speak, listen and strive for social change through sharing and voicing personal experience. Strongly influenced by the origins of activist, feminist and socially engaged art, Pilgrim works collaboratively with others through different methods of dialogue, collaboration and workshops. Creating connections between activism, spirituality, music, technology and community, Rory works in wide range of media including sound, song writing, film and live performance. Recent Solo Shows include: Rowing, London (2017), Plymouth Art Centre, Plymouth (2017), Flat Time House, London (2016), Site Gallery, Sheffield (2016), Andriesse-Eyck Gallery, Amsterdam NL (2015) and sic! Raum für Kunst, Luzern CH (2014). In 2016 Pilgrim was nominated for the Dolf Henkes Prize in 2016 at TENT, Rotterdam and was the 2014 winner of the CoCA Prize.