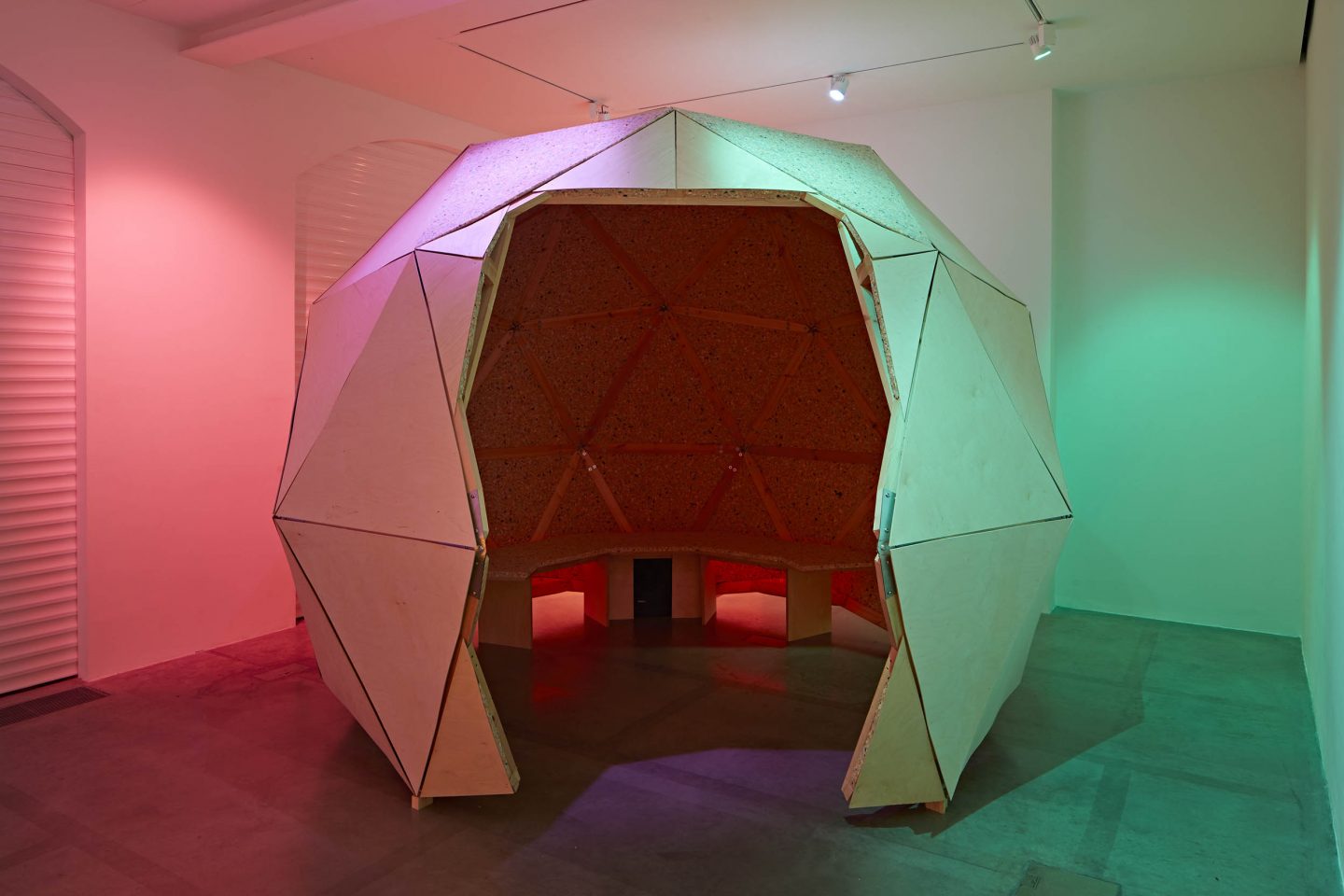 Free exhibition
Fire Station Galleries
Following six months as the eleventh SLG Postgraduate Artist in Residence, Shamica Ruddock, presents an exhibition on the ground floor of the Fire Station. A newly-commissioned installation consists of a sound work housed within a purpose built listening environment.
Visitors can travel through sonic and cosmic worlds via the 30-minute soundscape in this meditative space. Shamica is a research-based artist often working between sound, text and moving image. During the residency, they continued to investigate Black Technopoetics, the relationship between race, technology and sound, looking at the history of Black sound culture through the narratives of sci-fi and spiritualism. A vinyl record including sounds from the installation and inserts that hold contextual cues will be distributed during the exhibition's run.
As a starting point, Shamica considered the structure of a vinyl record, taking the record sleeve, liner notes and the record itself as inspiration to think about sound spatially. Outside of the gallery space, the fire station windows show diagrams produced from Shamica's research.
Shamica uses sound as a means of transportation through time, cultures, and space. Their use of drum patterns in the audio work points to the long history of Black sound culture and music production. Working with funk and disco drum pattern books from the 1960s and 1970s, they have drawn from various forms of Black sound culture to collapse different temporalities into the present.
Inspiration for the shape of the listening dome comes from a bulbous fruit called the calabash gourd. For at least 10,000 years, the calabash, or bottle gourd, has been used in African-Caribbean cultures to eat, create domestic objects and musical instruments. It also has spiritual significance related to cosmogony, the branch of science that deals with the origin of the universe, especially the solar system.
Listen to Shamica Ruddock discuss their work with artist and DJ Ashley Holmes in a conversation at the South London Gallery in May 2022
BIOGRAPHY
Shamica Ruddock recently completed Open School East Associates Programme and has studied at Kings College, London and the University of California, Los Angeles.  
Previous presentations include Margate NOW Festival, Margate, UK, New Contemporaries South London Gallery, London, UK and Treasure Hill Artist Village, Taipei, Taiwan. Ruddock has received the Flamin Fellowship, Film London; the Eccles Centre Visiting Fellow, with The British Library; a Jerwood Creative Bursary, Jerwood Arts and the Francis Chagrin Award, Sound and Music.