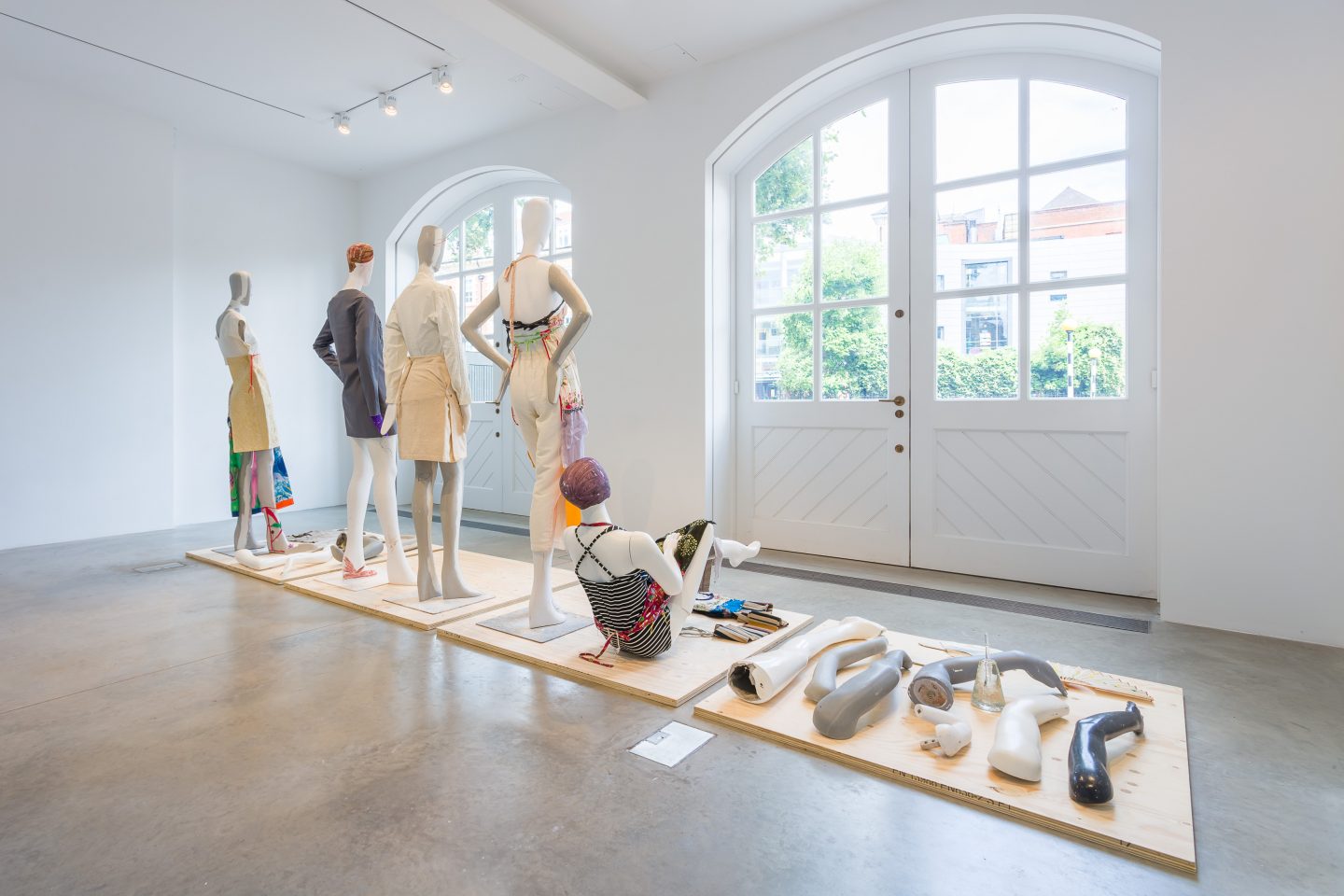 Free exhibition
Fire Station Galleries
…both universal—we have all been children—and profoundly intimate.
While you live, shine
Life exists only for a short while
and time demands its due
200BC Epitaph of Seikiles
American artist Susan Cianciolo's practice draws together elements inspired by craft, fashion and daily domestic life. Fabric off-cuts, buttons, cardboard boxes, diary pages and her young daughter's drawings become integral parts of works in which the seemingly casual and low-fi nature of their construction is at odds with the precision of their compositions.
In Gallery 1, the mannequins in Platforms 1-4 were salvaged by Cianciolo from mannequin-designer Ralph Pucci's workshop in the 1990s. At that time she became known for her RUN clothing lines, made in collaboration with friends, students and relatives, shown on live models in downtown New York galleries and sold in high-end stores. Some 25 years later, Cianciolo customised and installed them on low platforms before dressing them in inimitable garments to create a sculptural installation that draws on fashion, craft and bricolage but ultimately occupies a territory entirely of its own.
The integration and transformation of archival material into new works is characteristic of Cianciolo's approach. In 2001 she started to make an ongoing series of Kits, a group of which is shown in Gallery 2. Originally called Fluxus Boxes, the Kits are filled with fragments from Cianciolo's life and past works. Like much of her output, they are inspired by her memories and visions. These DIY boxes of materials, photographs, objects and collage invite the user to construct their own costumes, talismans or rituals.
Over the past year Cianciolo has focused on making a series of Games, developed with her 11 year-old daughter Lilac and inspired by the way in which games become such a natural part of living with children. On the opening night of the exhibition, a new performance entitled Scene 10 – The Celebration and the Games sees the Games activated by Cianciolo's collaborators, students and friends wearing hand-made costumes, adding a further dimension to her unerring integration of her art and life.
Cianciolo's very particular sensibility is both intimate and generous, elevating domestic labour and existence, but equally inspired by her deep spirituality.
Susan Cianciolo (b. 1969, Rhode Island, US) lives and works in New York.