Puer Deorum is a multidisciplinary artist based in south London, whose work includes performance, costume design and sculptural prop-making. They recently worked with Michelle Williams Gamaker to produce costumes for Thieves, a film which is on display as part of the exhibition Our Mountains Are Painted On Glass at the SLG.
We sat down with Deorum to find out more about their practice, and the experience of working with Michelle Williams Gamaker.
You've produced costume designs for Michelle Williams Gamaker's 2021 film The Bang Straws, as well as designing the Silver Maiden's costume in Thieves. How did you first start working together, and how has this experience impacted your practice?
We started working together towards the end of 2020 when Michelle asked me to make the costume for The Bang Straws out of grass, which was super exciting to me because it was around a time where I was really forming a connection to nature. Dahong said it felt like the costume was armour while she was wearing it, which was really fulfilling and warming to hear.
It's been amazing working with Michelle as she used to be my tutor at Goldsmiths (she was one of the people who interviewed me for the course). Since I was a student, I really resonated with her practice and the way her concept of decolonisation unfolds through intentional casting and rewriting/reclaiming narratives. The way she works is really inspiring, there's a whole cast and crew of people, and many more who really believe in her vision. There's an undeniable sense of trust throughout the whole process of the development of her films. It's been amazing seeing her work expand and bloom throughout the years I've known her.
How did you get into designing costumes?
I got into designing costumes and making sets while I was a student because my art practice has always centred on performance, whether that's live, documented or just energetically captured in some way or form. It creates a distinct visual world that I, or other performers, belong in, to create an entire universe with sensorial context outside of the site that the work is presented in, carving out space. I see it almost as if I'm creating a live, 3D painting – quite literally because my brain formulates ideas in vivid images. 
How important is collaboration to your practice, and is this something that has developed over time?
Collaboration is important if you vibe with people energetically and you have similar ways of viewing the world, whether that's physical or metaphysical. I would say I'm quite a spiritual person so energies and trust are important to me. It's the most beautiful feeling when you resonate with people and bounce off of each other in a fun, non-pressured way. I'm a fan of art that doesn't take itself too seriously, where you can instantly get a sense of playfulness and can sense the joy in creation, even when the subject matter is of a darker nature. 
What was your favourite part of working on Thieves? And what sort of atmosphere did Williams Gamaker create on set?
My favourite part about working on Thieves was the freedom I had in making the costume, Michelle just trusted me. And also seeing the final film in situ with the installation felt so magical. It was incredible to see the way Ananya portrayed the Silver Maiden after having seen and cross-referenced the original sequence while making the costume. The atmosphere was very fluid on set. Michelle is one of the most caring people I know, it just pours out of her. It's very special to feel like you are being held without even necessarily speaking.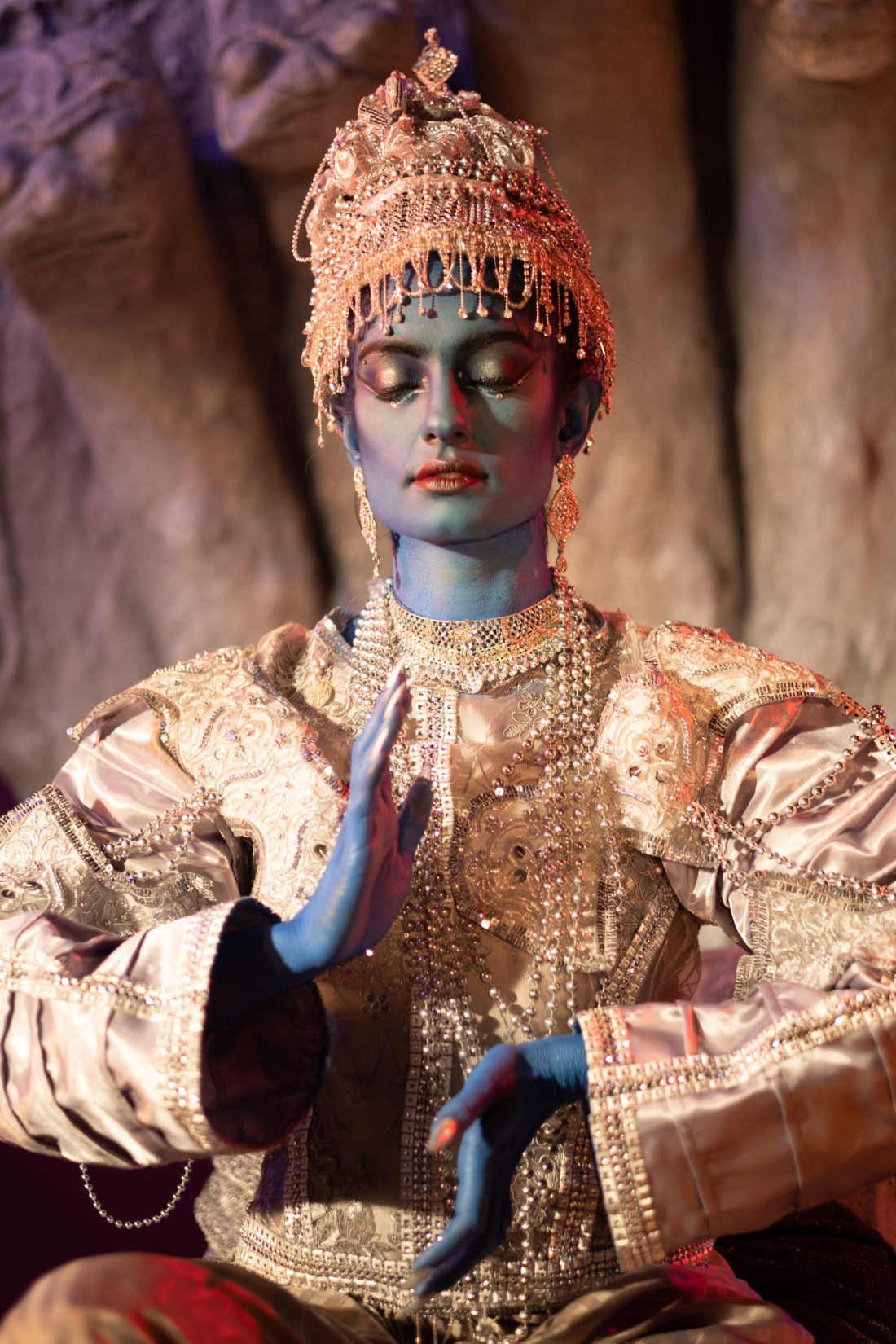 As part of the SLG's series of schools workshops you'll be facilitating sessions catered to primary, secondary and SEND schools. What have you got lined up for these workshops? What are you looking forward to? 
Responding to Thieves and the installation of Our Mountains are Painted on Glass, we will be making dioramas and engaging in collective storytelling. I'm super excited to see how and where the students place themselves or their characters and where the narratives go. I like having broad parameters because the fear that vagueness can cause really forces you to make light-hearted decisions and artworks that are more playful, allowing people's autonomous and instinctive voices to radiate. 
As a multi-disciplinary artist whose practice includes performance, costume, and photography, how do these different art forms overlap and intersect for you? Do the different media inspire and inform each other in your practice? 
My art definitely roots from my own lived experiences, emotions and relationships. There isn't one single language that can depict the depth and layers of feelings humans experience even in one day. I tangibly felt this when I started keeping a diary everyday and physically saw the very monotonous depictions that my day-to-day life would take in solely written language. 
Everything evolves from wanting to share my internal world through whatever medium makes sense in the moment. We all have million dollar ideas but we stop ourselves because we think we have to focus on one goal or pathway. Life is too short! I always remind myself that I'm a human before I'm an artist, that the nature of curiosity and wonder should be celebrated, magnified and protected dearly. It makes life worth living through mundanity.
What's next for you? Tell us about something you're currently working on!
I'm expanding what interdisciplinary means to me and experimenting with different processes of creating, adding new textures from mediums I haven't necessarily used in the past due to feeling like I had to conform or "master" certain mediums. I don't want to give too much away but my thoughts and ideas aren't flowing in the same river anymore, they're spilling out and taking different forms.