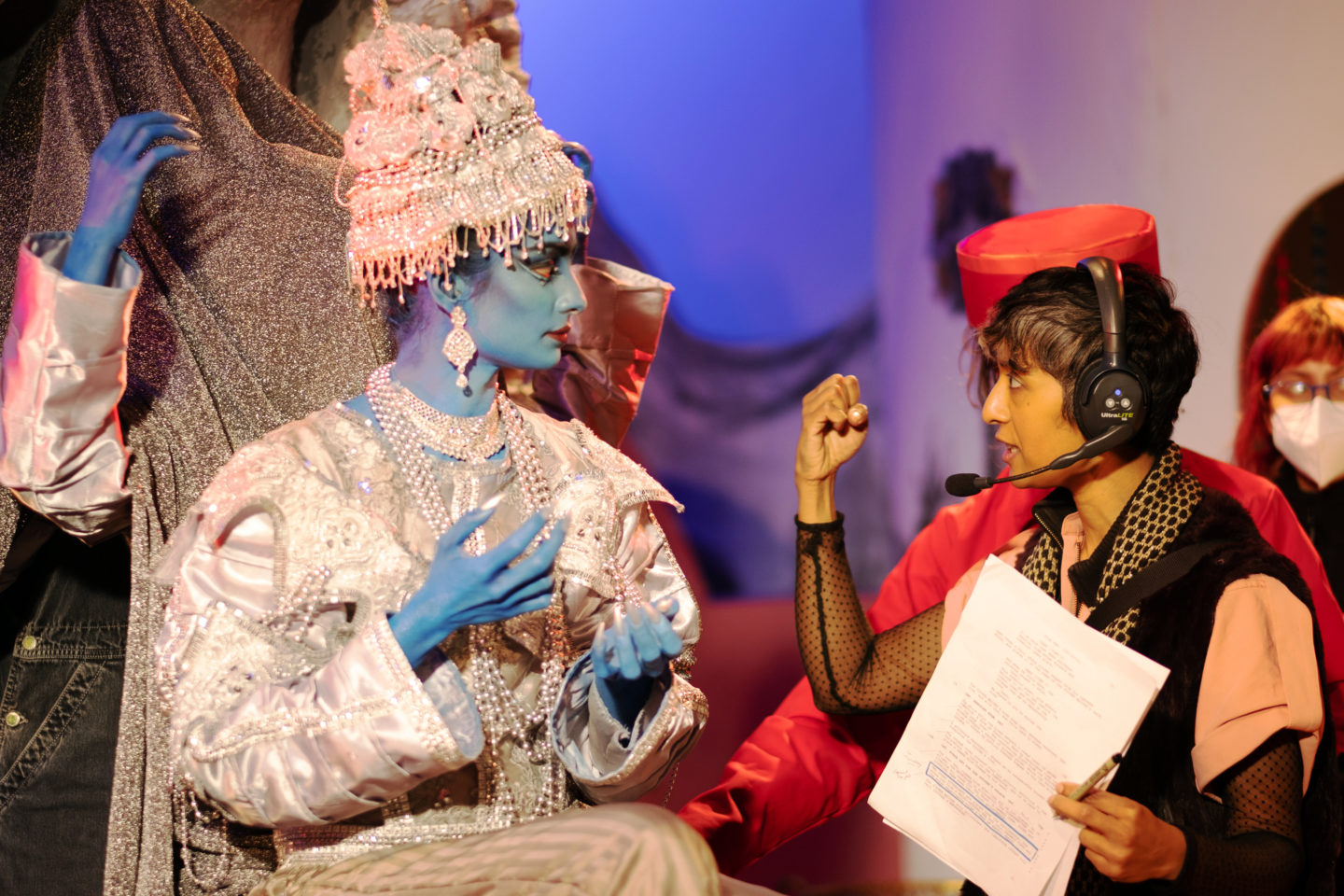 Free exhibition
Main Gallery
Through her practice British-Sri Lankan artist Michelle Williams Gamaker explores race, identity, her love of cinema and the power of storytelling.
Williams Gamaker's solo exhibition, Our Mountains Are Painted on Glass, premieres a new film work, titled Thieves, at the South London Gallery.
Known for her inventive filmmaking and screenwriting, Williams Gamaker draws on and celebrates the classic movies she watched growing up. Taking inspiration from early Hollywood and British cinema, Thieves is a fantasy adventure retelling of The Thief of Bagdad. The Thief of Bagdad is a silent, black and white film from 1924, which was remade in colour in 1940.
Williams Gamaker reimagines the marginalised characters as claiming leading roles in her film, played in the originals by Chinese-American actor Anna May Wong and Indian-born American actor Sabu.  Now, both characters reclaim the story as their own, challenging the racial discrimination of the film industry. Told as a movie within a movie, in Thieves Anna May Wong is found on set by Sabu, but there is something wrong: she is in black-and-white while everything else is in Technicolor, and both find themselves trapped in their screen-images. Both must navigate the structural violence on set (in this case, the casting of white actors to replace actors of colour) by joining forces to overthrow the set and those in charge.
Thieves is a vivid retelling, blending classic analogue methods with contemporary practices. The artist celebrates the best of past and present filmmaking and shares her love of cinema through the stories she unpicks.
Drawing out elements of the film's set, Thieves will be screened in the main gallery alongside sculpture, props, and archival cinema materials.
Thieves was awarded a Film London FLAMIN Production Award 2022 and co-commissioned by FLAMIN, the South London Gallery and Dundee Contemporary Arts (DCA), where it will further develop in late 2023.
"I see this mode of filmmaking as critical affection. I deeply love old cinema classics, but they are riddled with injustices that can no longer be overlooked. I lean heavily on the magic of cinema, and I turn the fiction machine on itself by sabotaging the casting process: the previously marginalised actors have a chance to come back: they have a voice, they are politically astute, and, crucially, their agency is restored."
– Michelle Williams Gamaker
ABOUT MICHELLE WILLIAMS 
GAMAKER
Award winning moving image artist Michelle Williams Gamaker (b.1979, London) has developed Fictional Activism to interrogate 20th Century cinema, by retelling the histories of marginalised actors and by proposing critical alternatives to colonial storytelling in British and Hollywood studio films. She is joint winner of Film London's Jarman Award (2020) and has an extensive national and international profile, including prestigious BFI London Film Festivals (2017, 2018, 2021), Aesthetica (winner of Best Experimental Film, 2021) and Raindance (2022). Recent exhibitions include I Multiply Each Day, Gus Fisher Gallery, Auckland (2021), The Whitechapel London Open 2022, Like There is Hope and I Can Dream of Another World at Hauser & Wirth and a major public commission Springfield Eternal in the atrium of Springfield Hospital for charity Hospital Rooms, opening in 2023.
Our Mountains are Painted on Glass has been co-commissioned with Dundee Contemporary Arts (DCA), where it will be shown in late 2023. Williams Gamaker's work is in the Arts Council Collection and her entire filmography has been recognised and preserved by the BFI National Film Archive. She is a Studio Artist at Gasworks, where she is also trustee. Williams Gamaker is Reader in BA Fine Art at Goldsmiths College, University of London, and is currently a British Academy Wolfson Fellow. She champions emerging artists, most recently as Selector for the prestigious John Moore's Painting Prize (2020) and Bloomberg New Contemporaries 2021.
To be the first to find out about events related to the exhibition, sign up to our mailing list.