Playing for the Future is the outcome of a remote peer-learning residency between Rumpus Room and Art Block exploring collaborative art making, play and learning in response to the needs of our communities.
Rumpus Room were commissioned to redesign Art Block in spring 2020.
Following the outbreak of Covid-19, they led an online exchange in collaboration with Art Block's Art & Play team and featuring Play Radical and Decolonize the Art World to share experiences of art and playwork and how we can work in the future.
Publication
The outcome of the conversations and actions shared during this exchange culminated in a free publication of practical worksheets, ideas and inspiration for art and playworkers across gallery and education settings.
The content was written and produced by the Rumpus Room team, Usma Ashraf, Nadia Rossi and Rachel Walker, designed by Saffa Khan and printed in Glasgow by Tender Hands Press.
It is available to view for free here:
Art Block commission
Informed by the mutual exchange between Rumpus Room and Art Block and as lockdown restrictions relax, Art Block reopens from Saturday 17 April with a presentation of guiding principles, prompts and activities to be explored by children and young people at Art Block throughout 2021.
These include projected video prompts for mural making, posters and vinyl designs created in response to the online exchange, an adaptable wooden and steel framework inspired by Ken Isaac's guide to building your own living structures from 1974 and a super-sized version of a card game featured in the publication. These are brought together using the colours red, green, yellow and blue.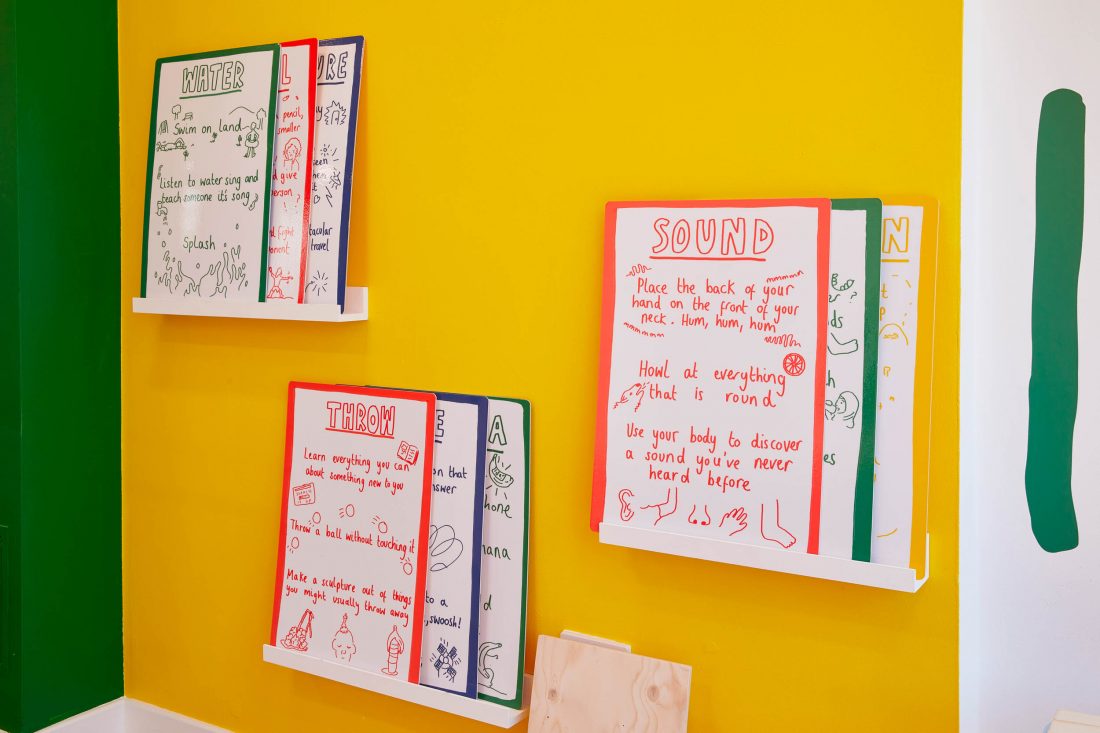 ABOUT
Art Block is the South London Gallery's free space on Sceaux Gardens Estate for local children and families to make things, be creative, and play.
Rumpus Room works in collaboration with artists and playworkers, children, young people and families who are a part of the Rumpus Room studio, based in Govanhill, Glasgow, Scotland. The Playing for the Future project was produced with Rumpus Room artists Nadia Rossi and Rachel Walker and playworker Usma Ashraf.
Rumpus Room is an artist-led initiative dedicated to collaborative arts practice rooted in mutual exchange with children and young people in order to challenge how we play, learn and make art. Rumpus Room considers alternative ways of learning; facilitating shared spaces for art and social action between artists, children, families and young people.
Rumpus Room is focused on the principles of community, autonomy, experimentation, risk and the desire to work long-term to develop positive and sustained relationships that cultivate meaningful social action and mutual exchange in the places we live, work and learn.
Max Alexander of Play Radical is a playworker, artist and consultant who specialises in working with children and young people who are disabled and/or have additional support needs working across school, playground and community settings. Max is currently based in Edinburgh, Scotland and runs Play Radical, a platform that aims to create space to celebrate and recognise the infinite ways we play, communicate and relate to each other as both children and adults. In particular, Play Radical celebrates those types of play which are often unseen, ignored and offer ways of communicating or relating that often aren't valued by wider society.
Decolonize The Art World is an anti-colonial art history incubator tended by Ghanaian-British writer, curator, and community educator Yaa Addae, and a research coordinator, Sabrina Citra. Started in June 2020 during the global reckoning with racist structures, in this case, the art world, their pedagogy is one of dreamwork. Through memes, essays, and dream tanks, they imagine a way out of inherited colonial cultural infrastructures.
Yaa Addae, also known as yaa the plant, is a Ghanaian-British multidisciplinary strategist. The emancipatory potential of play is central to her practice, as is dreamwork. Rooted in indigenous African invention, Yaa works to reimagine cultural infrastructure and expand the means of producing art histories. Currently based in Accra, Ghana, they mostly daydream about regenerative creative ecosystems via an art futurist studio, A-kra, which offers an online anticolonial art theory incubator (Decolonize The Art World) and rhizomatic residency program (The Imaginarium).
Sabrina Citra is a researcher working across academia, art and the social sciences. She is currently affiliated to King's College London, where she is working in collaboration with Prof. Andy Sumner to further multidisciplinary learning by propelling the use of social science fiction as a research methodology. Sabrina was born and raised in Indonesia and carries with her a strong belief in a communitarian philosophy within arts and cultural-based engagements. She is currently a co-dreamer of Decolonize The Art World and working to build a digital archive for an exploration of Indonesian culture.
Saffa Khan is an artist focusing on illustration and print through DIY culture, creating tangible, self-published printed matter on the themes of identity, community and mental health. They utilise print as an accessible medium to skill-share and platform marginalised communities with their risograph press, Tender Hands. Tender Hands is a small community-focused risograph press, specialising in creative skill-sharing workshops and publishing and distributing printed matter by marginalised creatives, grassroots and non-profit organisations.
Open Plan is supported by Freelands Foundation with additional funds from Southwark Council's Youth & Play Grant Programme, the National Lottery Community Fund and other donors.