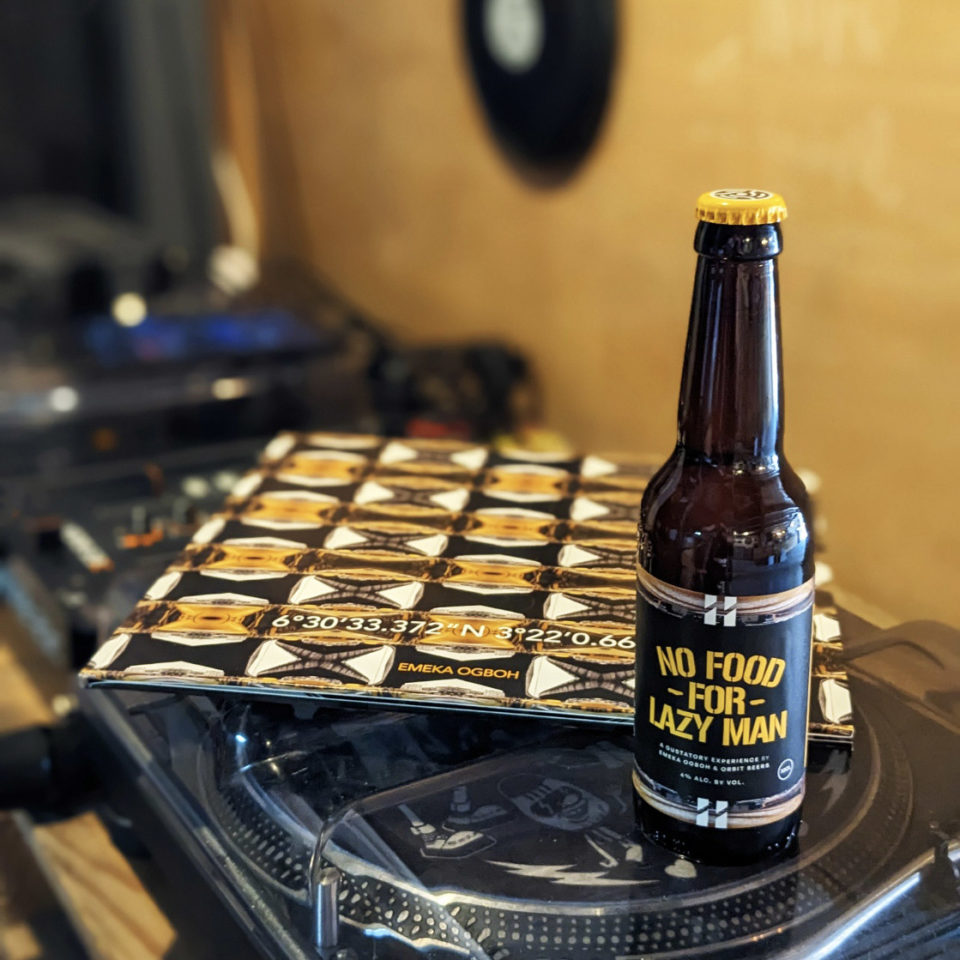 Orbit Taproom, 225 & 228 Fielding St, SE17 3HD
Join artist Emeka Ogboh at Orbit Beers Taproom for the launch of his new beer collaboration No Food for Lazy Man. The beer will be accompanied by food from Cue Point LDN and a DJ set by Ogboh.
"No Food For Lazy Man" is a popular saying in Lagos that encapsulates the hustle and bustle of the megacity. The saying extends to the hearts and minds of those who emigrate in search of a better life. This beer celebrates migrant resilience. It connects Peckham and Lagos through south London based brewery, Orbit.
The beer was fermented under Ogboh's Lagos Soundscapes so that the beer is, according to the artist, "vibrating to the sound of Lagos". The recipe uses English hop varieties along with Nigerian alligator pepper, calabash nutmeg and sugar cane.
This beer is available to buy in the SLG Bookshop online and in-person and in our café, South London Louie.
Please note, attendees at this event must be over 18.
Orbit Taproom has step free access.
ABOUT EMEKA OGBOH
Emeka Ogboh engages with places by using all five human senses: sight, hearing, taste, smell, and touch. His art installations and culinary creations incorporate sensory elements to explore how private, public, collective memories and histories are translated, transformed, and encoded into different sensorial experiences. Ogboh's works delve into how sensory perceptions capture our connections to the world, shape our comprehension of reality, and offer a backdrop for examining critical issues such as migration, globalization, and post-colonialism
Ogboh has participated in numerous international exhibitions including documenta 14, (2017), Athens and Kassel, Skulptur Projekte Münster (2017), the 56th edition of La Biennale di Venezia, Italy (2015), and Dakar Biennale (2014).
ABOUT ORBIT
Established in South London in 2014, Orbit Beers are deeply rooted in European brewing traditions with a modern approach. They take classic styles and make them their own, with an eye for finesse and drinkability.
They love the incredible balance of German beers and the complexity of flavours that Belgian yeasts produce. They love hops, the spicy elegance of classic European ones, the zesty aromas of New Zealand varieties, and the fruity extremes of their American counterparts.
Orbit's work is inspired by the ethos of their favourite record labels, who hold music and art above all else. Likewise, Orbit Beers accept no compromises when it comes to making their beer.