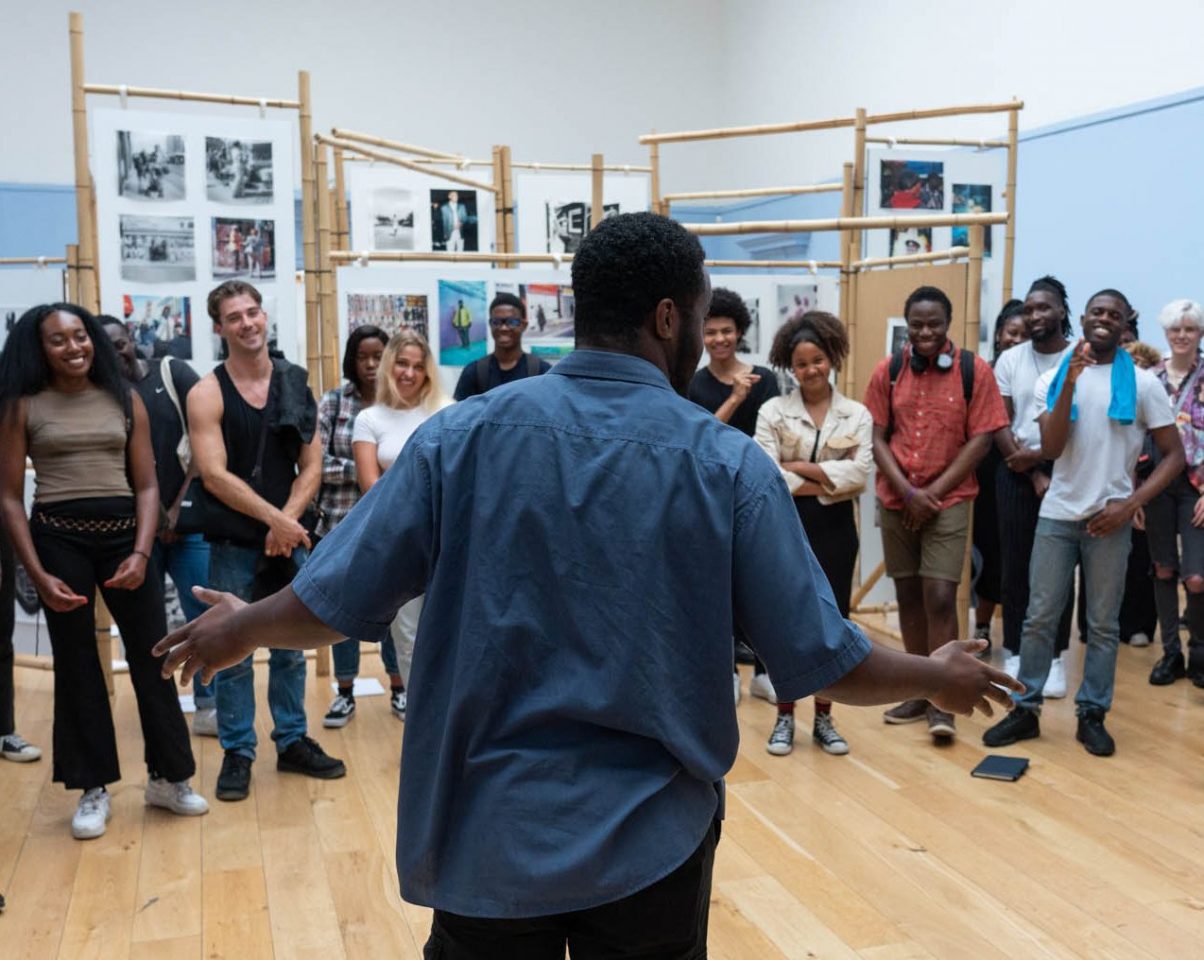 Flow Fridays returns with an evening of spoken word and lyrical rhythm.
Eight young poets present their personal explorations of British colonialism, inspired by sound and image from West Africa to London.
Hosted by Flow Fridays founder Akhera Williams, with a special guest performance by esteemed poet and playwright, Inua Ellams (The Barbershop Chronicles and Three Sisters) the show blends encounters between historical archives and lived experiences.
The performances will last approximately 1 hour followed by a 30 minute Q&A with Inua Ellams.
Flow Fridays x Entanglements is inspired by Entanglements: Who Makes History? a project bringing the people of the past into conversation with the people of today, led by the South London Gallery's youth forum, Art Assassins. 

 Poets
Inua Ellams
Akhera Williams
Sadie Moir
Victor Sarpong
Rosa Arthur
Destiny Batesa
Tito Molokwu
Antonia Olivares
Please note the event will be live streamed on the SLG's YouTube channel and also recorded and shared online at a later date.
Click here to register for a free place
About
Flow Fridays is a London based poetry platform for young people, exploring socio-political issues through words. The platform shines a light on the stories of young people of colour living in the UK and is a forum to express the complexity of the past and present from the voices of the future.
ACCESS
The event will last approximately 1 hour and 30 minutes.
There will be no breaks.
Audience members will not be visible during the event.
The event will not be captioned.
A recording of the event with captions will be made available on YouTube at a later date.
The SLG takes event moderation very seriously. As such, to prevent the possibility of any offensive or inappropriate comments being shared during our online events, the chat function is disabled and only performers are able to speak throughout. Attendees are warmly invited to use the Q&A functionality to ask questions, which are visible for the event hosts only.
Supported by the National Lottery Heritage Fund, Oscar Humphries and Sophie Oakley and the SLG Council