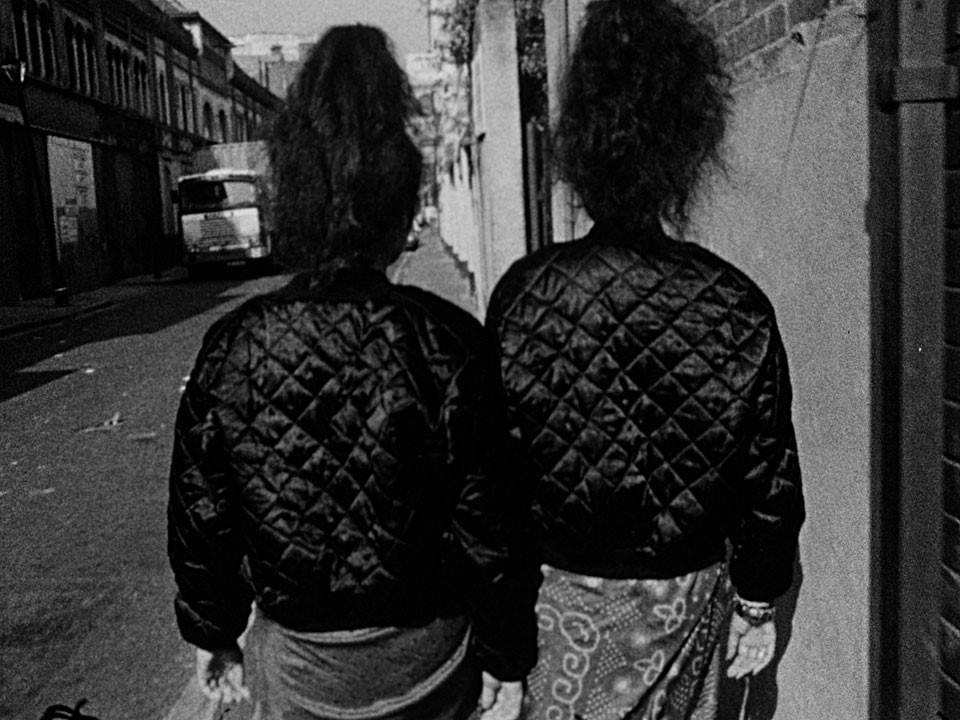 Join us as we launch the Local History Weekend with a special evening curated by the Narration Group.
From 7-8pm participate in a collective reading and discussion of Audre Lorde's The Master's Tools Will Never Dismantle the Master's House. Alongside, watch a selection of short films that critically engage with the concept of PERIPHERY as navigated by people of colour and browse a selection of books courtesy of the Black Feminist Bookshop that have influenced and inspired the collective in the Reading Room, Gallery 3.
Visitors are invited to add their own stories to a giant interactive map of the local area, whilst listening to a soundtrack scored by the group.  Join artists and participants in the Kitchen for special cocktails mixed by SLG Flavour Cravers for the evening.
Four new displays programmed for the Local History Weekend will be on view until 9pm.
With support from Company Drinks.
FILMS
Amrou Al-Kadhi, Clash, 2017. 8 min
Jessica Ashman, I Don't Protest, I Just Dance In My Shadow, 2017. 5 min 20 sec
Jessica Ashman, Hold Tight, 2017. 5 min 20 sec
Shawanda Corbett, Evocation of Buked, 2018. 4 min 26 sec
Alnoor Dewshi, Latifah & Himli's Nomadic Uncle, 1992. 15 min
Ufuoma Essi, All That You Can't Leave Behind, 2019. 14 min 25 sec
Deborah Findlater, Jezzy, 2017. 5 min 7 sec
Evan Ifekoya, The Gender Song, 2014. 2 min 32 sec
Jessie McLaughlin, luv letters on queer paper: bless the telephone, 2016. 2 min 29 sec
Jessie McLaughlin, luv letters on queer paper: Jealous Dog, 2016. 2 min 28 sec
Jade Onojeruo, The Colour Brown, 2018. 11 min 10 sec
Shamica Ruddock, Mediations On Body, 2019. 1 min 32 sec
Michelle Williams Gamaker, Brown Queers, 2017. 24 min 25 sec
BIOGRAPHIES
The Narration Group is a collective of women and non-binary people of colour who meet fortnightly at the South London Gallery to discuss, dissect and reclaim their narratives. They are: Amy Leung, Davinia-Ann Robinson, Jade Onojeruo, Jessica Ashman, Jessie McLaughlin, Leah Morris, Olivia Barnett-Naghshineh, Shamica Ruddock, Ufuoma Essi.
Amy Leung is a London-based artist working across sculpture, drawing and workshops to explore the articulation and communication of joy. She is an arts educator and is interested in the intersections in which community, craft, objects and cultural identity meet. Amy is currently the Radio Coordinator at Lyndhurst Primary School in Camberwell and has previously facilitated projects with Firstsite Gallery Colchester and the South London Gallery.
Davinia-Ann Robinson is a contemporary visual artist exploring the cultural politics of emotions and the implications of these emotions for Black Female bodies in colonial spaces. Davinia's work draws from personal experiences, critical research in Black Feminist Thought, Gender and Race Studies. Davinia also works in art education at the South London Gallery and is one quarter of the SLG's Heritage Team; she also works as an Artist Facilitator for Bow Arts. Davinia is an Arts Council England Developing Your Creative Practice grant recipient and is a 2018/2019 Artist In Residence at the Florence Trust.
Jessica Ashman is a BAFTA Scotland award-winning animator, artist and arts educator.  Jessica's work focuses on creating experimental narratives that explore gender, identity and race, using traditional animation techniques, installation and music performance.  Jessica teaches at Goldsmiths, The University for the Creative Arts and the University of Hertfordshire as well as running arts workshops for the ICA, Tate Modern and the Wellcome Trust. Her work has been supported by Animate Projects, Jerwood Visual Arts Bursary, Arts Council England, UK Film Council and Channel 4's Random Acts. She also sings and plays guitar in her RnB punk band, Secret Power .
Jessie McLaughlin is an amateur artist, curator and wannabe footballer and boxer. They work from a soft, queer, brown (and sometimes sad) perspective, examining structures of privilege, oppression and exclusion, and searching for joy and community. They have worked with and for organisations including Tate, Live Art Development Agency and the Whitechapel Gallery. Currently they are doing an ARHC-funded Fine Art PhD with Goldsmiths and Tate.
Leah Morris is a visual storyteller whose practice includes making sad films that look happy and writing children's stories. Her work centres on themes of isolation, connections and memories. Since graduating from Kingston University in 2016 with a BA in Filmmaking, she has produced a film in collaboration with Channel 4's Random Acts and her films have been shown at the BFI, ICA and the South London Gallery. Leah continues to work on her film and animation practice whilst also working with children and food in her art and play practice at the South London Gallery.
Jade Onojeruo's practice as an interdisciplinary artist is underpinned by a hyper-awareness of the ways gender and race can be felt as a phenomenological experience. Jade is particularly interested in how the communal experiences of 'exclusion' and 'unwomening' are shared amongst women of colour. Jade works in gallery education and exploring institutional archives, which has allowed her to question their purpose and structures in order to understand and highlight ways in which the effects of colonisation have silently seeped into societal habits. In her practice, Jade uses black feminist archival techniques to re-write and re-code narratives to include marginalised and misrepresented groups.
Shamica Ruddock is a filmmaker and arts educator with a background in cultural heritage, specifically archives, collections and community engagement. Situated at the intersection between art and heritage, they are interested in interrogating memory, the legacies we inherit and our tools for cultural preservation. They seek to challenge the ways in which mainstream media and many public institutions often maintain ownership over cultural representation,  through reconfiguring relationships between stories told and story teller. Shamica has previously been commissioned by the South London Gallery, led workshops with the Barbican, and exhibited work with 198 Contemporary Arts & Learning.
Olivia Barnett-Naghshineh has recently graduated with a PhD in anthropology and finds herself often confused about where she fits in. As a white-passing mixed-culture Iranian English girl, her interests lie in the politics of whiteness and issues of representation, whilst recognising she is embedded in many of the structures of privilege.  Much of her analysis comes from experience living in settler-colonial contexts of Aotearoa New Zealand and Australia as well as non-white contexts of Papua New Guinea and Togo. Her non-academic writing covers politics, arts and economics and her academic research focuses on food and gift economies, gender relations and the impacts of capitalism on everyday social relationships.
Ufuoma Essi is a video artist and filmmaker from south east London. She graduated from UCL in 2018 with a History BA and her work explores intersectional themes of race, gender, class and sexuality. The archive is important to her, as it is through these links that she continuously questions and plays with the order, the discrepancies, the silences, the interruptions and the assaults of the historical narrative. Ufuoma's work has been featured in exhibitions at The Croydon Art Store, The Barbican Centre and she was recently selected by Chisenhale Studios for Into The Wild 2019.