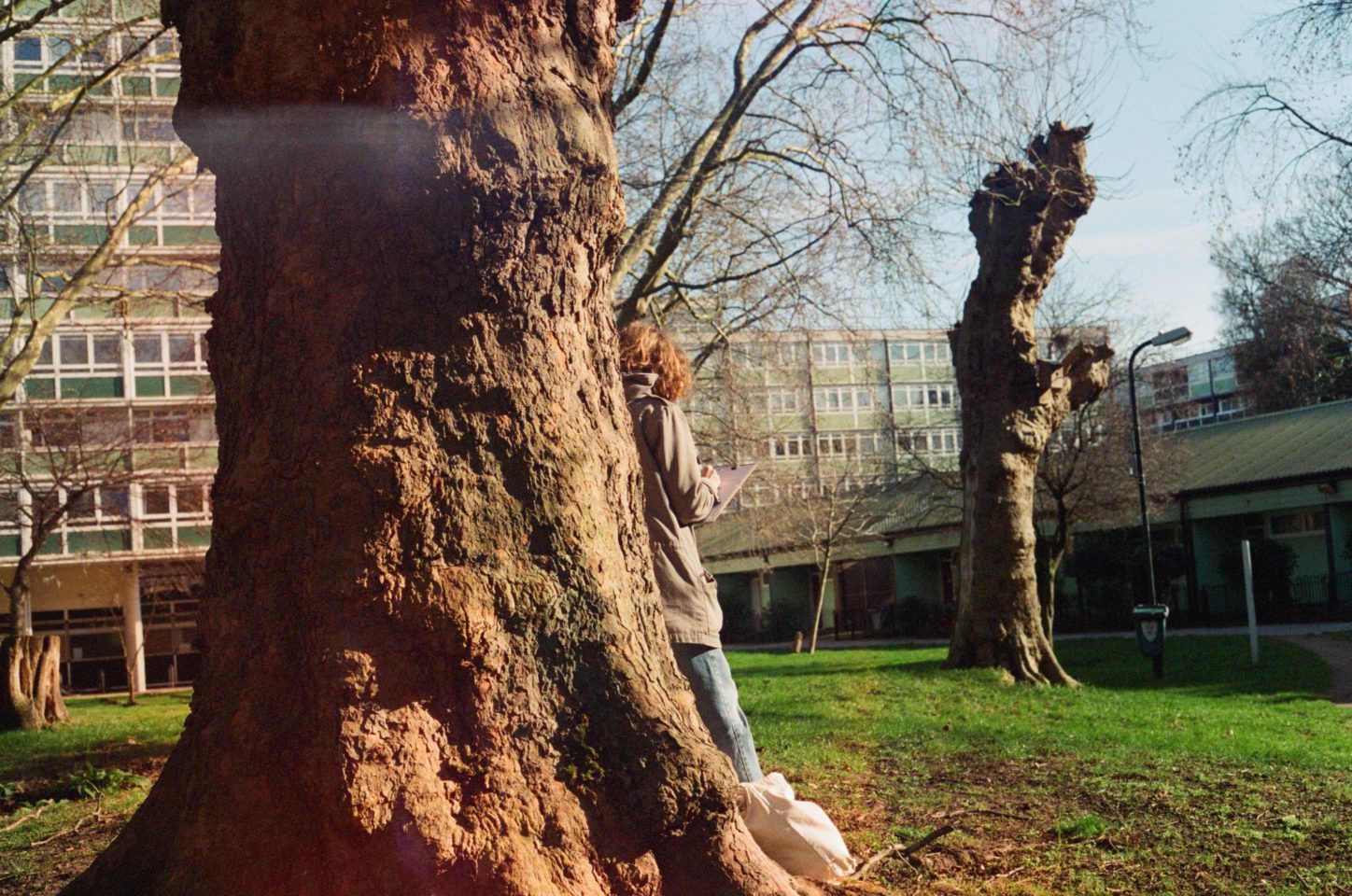 South London Gallery Bookshop
Join us for the launch of ZONING, a zine exploring techniques of place-based writing.
The publication documents a series of writing workshops run by Fieldnotes across London in 2022. The workshops experimented with methods such as concrete poetry, psychogeography and frottage as means of mapping the urban landscape, creating systems of observation and notation. Drawing from works by writers including Robert Walser, Georges Perec, Kōbō Abe, Raymond Queneau and Anne Carson a number of prompts were devised for each workshop location which participants responded to. The publication includes a selection of these exercises, responses and reference materials which combine to produce an alternative or aberrant map of London from Bloomsbury to Thamesmead.
On Sat 15 April, Declan Wiffen will be reading from 'Three Cruising Texts' his contribution to Fieldnotes Issue 3.
There will also be drinks and 'exquisite corpse' collaborative writing exercises for those who would like to take part. All materials will be provided.
Participants from the 2022 workshops are especially welcome and will receive a free copy of the publication.
ABOUT ZONING
ZONING is dedicated to all those who participated and to the organisations that hosted the sessions: South London Gallery, TACO!, Pushkin House, Whitechapel Gallery and Open House Festival.
Workshop sessions were led by Elaine Tam (Fieldnotes Senior Editor, curator and writer) and Bella Marrin (Fieldnotes Editor, artist and writer). Fieldnotes is a biannual print journal publishing new writing and artworks with a focus on practices that work between disciplines and against type. The purpose of the journal is to provide a test site for ideas and research; a space for experimental modes and new prototypes.
ABOUT FIELDNOTES
Fieldnotes Issue 4 was published in November 2022. This issue, titled 'Lines of Flight', contains new writing and artwork from Adeola Titiloye, ajw, Fanny Howe, Will Alexander, Michael O'Mahony, Agnieszka Szczotka, Renee Gladman & Isabel Mallet, Can Xue, Karen Gernant & Chen Zeping, Tony Brooks, Nwuguru Chidiebere Sullivan, Mat Jenner, Alba Schloessingk, Camille Roy, Pete Segall, Johanna Hedva, Beihua Guo, Cedar Sigo and KP Culver. It is available to buy online from www.fieldnotes.site and in the South London Gallery Bookshop.
ACCESS
The café and the bookshop are both wheelchair accessible.
Seating is available if needed.
A quiet space is also available – please speak to a member of staff on the evening if needed.
For any other access requirements please email mail@southlondongallery.org